It's been a minute since I've posted on here. It's been pretty hectic between navigating the COVID-19 world and prepping for/attending a family wedding and Catholic family fest in Ohio. Even without all the extra "stuff" going on, I'm in a season of extra busy. Most days this picture is an accurate description of my life.
Squished between kids and trying to hang on for the wild ride that is family life. Juggling the abnormal pandemic world while also doing all the normal everyday things like laundry, dishes and meal planning.
We have been home more in the past months than we have been in a long time but somehow I'm still so BUSY. Having a baby and a toddler and two school aged kids who are all home all the time just seems to increase the amount of busy, even if we don't go anywhere all week.
Half way through the year, I keep realizing how important my word and quote for 2020 are turning out to be. My word for the year is "Exhale". My quote for the year from Matthew Kelly is "Busy is not your friend, busy destroys virtue".
Even with so many things cancelled this year that essentially freed up my time, my life has still been so full. I desperately need the reminder to breathe deeply, live slowly and find nuggets of quiet, prayer and rest in the midst of the constant crazy. It's becoming more and more apparent in my life that the busy will somehow still be there no matter what happens.

So I've found that I have to prioritize what are the most important to-dos of each day. I have to focus on the moment in front of me and hold fast to interior peace through prayer and recreation. I have to claim the calm or the busyness and chaos tend to claim me!
2020 Goals & Setbacks
At the beginning of this year I made a list of goals, as is my annual custom, not knowing at the time that the pandemic would come and rattle all my personal plans for the year.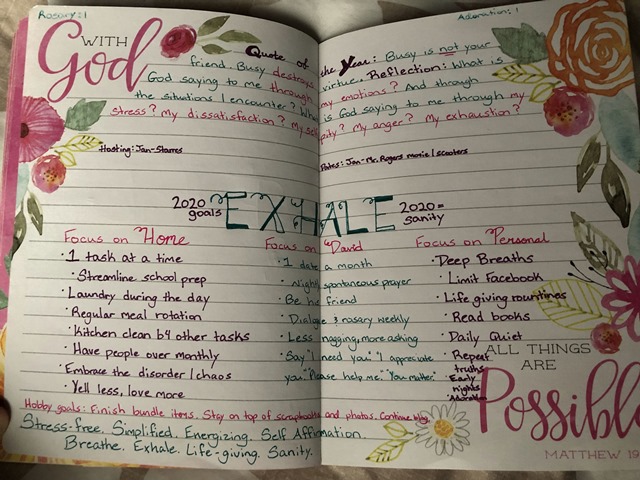 Honestly most of my goals for 2020 were still doable since they involved housework, prayer and my relationship with my spouse. All things that I could have done at home either way. I don't even remember how well I did with most of my goals the first two months of the year since I had a newborn and I just kind of wrote off those months as transition time with a new baby. But the pandemic chaos came and threw me emotionally and mentally off my rocker so that it was hard for me to stay on track.
Or maybe that was just my excuse.

You see, most of my personal goals for this year revolved around changing habits and bad habits die hard. I wanted to limit Facebook and other social media. But COVID-19 just increased my usage. My excuse was I needed to stay updated on all the latest developments and I tend to get my news from Facebook so naturally I was on it more. But when you use Facebook for current news and updates, you get all the drama and media hype as well.
Plus, everyone was staying at home so I needed to keep in contact with others online to not feel totally isolated. And staying home all the time, meant that I was naturally scrolling my phone more when I felt bored or wanted an escape, which is a bad habit I've developed, even before the pandemic hit. I'm guessing I'm not the only one.
Have you noticed that when you have nowhere to go and no activities on the calendar that you suddenly have to come to grips with where you think your value lies? Isn't is easy to feel important and loved just because you have a bunch of commitments and plans and social events? Then, when all those are stripped away, to realize you don't feel worth as much because you are not doing as much? I've had to struggle with that this year and I tried to fill that gap with more social media consumption to "stay connected" to the outside world and to feel I was"doing" something. Newsflash: It didn't work.
The goals of prayerful quiet time that I planned for the year would have helped to boost my sense of self worth and belonging (because ultimately our sense of self worth comes from growing in relationship with God), if I had only stuck with them. Instead they got pushed to the back burner this spring as I made excuses based on my situation. I had planned to do more reading, more self affirmation, more deep breaths a s well as more quiet time and prayer. But I was planning on my older two kids being in school most of the day for the first half of the year which would give me more quiet and free time. By mid March we were remote schooling and they were home ALL the time.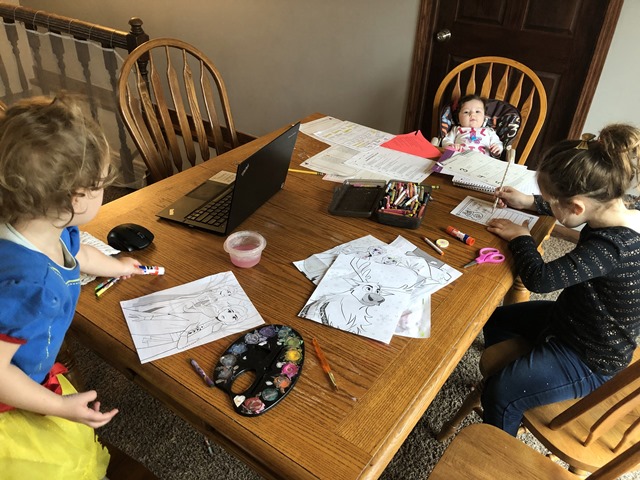 Although in many ways, it was nice to be able to have my kids home more and to get an inside look at their schooling and be more hands-on with their learning, it was definitely very time consuming and energy depleting, not to mention much messier than I would prefer!
Between all four kids I seemed to be needed constantly so that quiet time for personal prayer and reflection? There was next to none.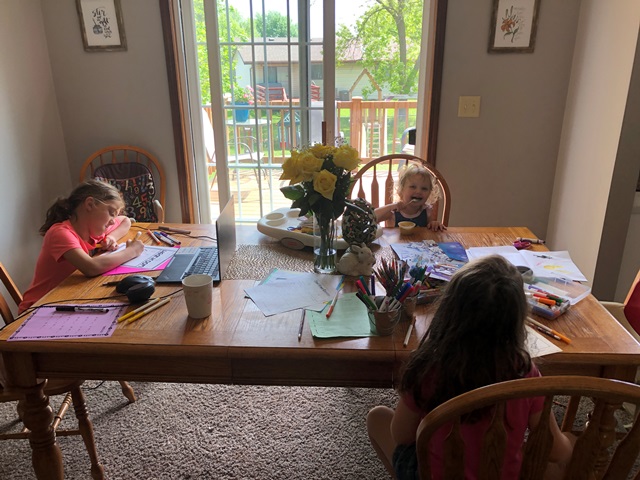 Sure, I could have gotten up early and snuck that time in most mornings but again, the excuses. I'm too tired from being up late scrolling Facebook to check the latest news. I'm too worn out from taking care of the kids all day. I don't want to get up early to extend the same chaotic stay at home day tomorrow .
These excuses kept me from making the right choice.
I wanted to get laundry done during the day instead of at night which was my usual custom, I wanted to develop a weekly meal plan and be more efficient with cleaning the kitchen and focusing on one household task at a time. I wanted to yell less, love more and have a calmer, more orderly home. That all got thrown out the window with the remote schooling situation. And we ended up eating out more just for a chance to get out of the house and go through a drive thru. So that threw off my meal plan game.
I wanted to be a better friend to my husband. I wanted to be more affirming of him and have more deep conversations and prayer time together. The first month of COVID-19 I felt like we were just both trying to survive and I was so stressed and overwhelmed I didn't have room left for him. Or so I told myself.
Pandemic Perks
But even with all the failures, looking back on the first half of 2020, there were some good things that came out of it, even if they were much different than I imagined. And I did work toward some of my yearly goals, even if the progress made seemed much slower and more hidden than I wanted. But if I look closely, I can see how God used the pandemic situation and quarantine to help me grow in the areas I needed, even if it looked different than my expectations.
One major lesson that I learned during the spring quarantine was how much we take for granted. There is a lot of heartbreak that happens when suddenly all the end of the school year events are cancelled, the kids didn't get to hug their teachers goodbye, and all the musical programs are cancelled. Not to mention that our music teacher was leaving our school so we didn't get to have a proper last spring concert and goodbye.
All the fun places I used to take the kids to were closed and it was unknown when anything will be opened again. Having all the spring sports cancelled when you are a sports loving family was one of the hardest things.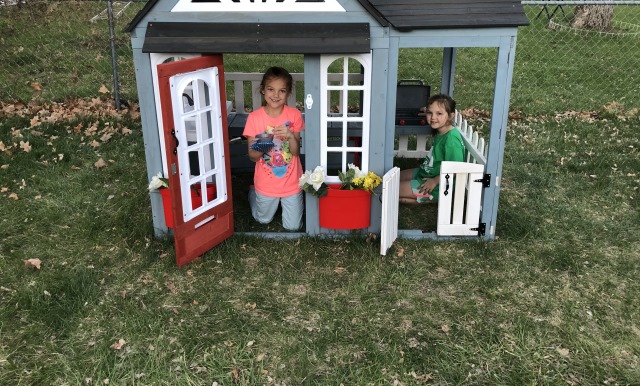 We filled the recreational gap the best we could with lots of take out, building a playhouse in the back yard, driving through an inverse parade with dressed up characters at the children's museum, buying new bikes for the girls and taking family walks. Daddy also started working from home so even though it was a bit of an adjustment at first it was a huge blessing to have him around more and he was able to have extra time with the kids during work breaks.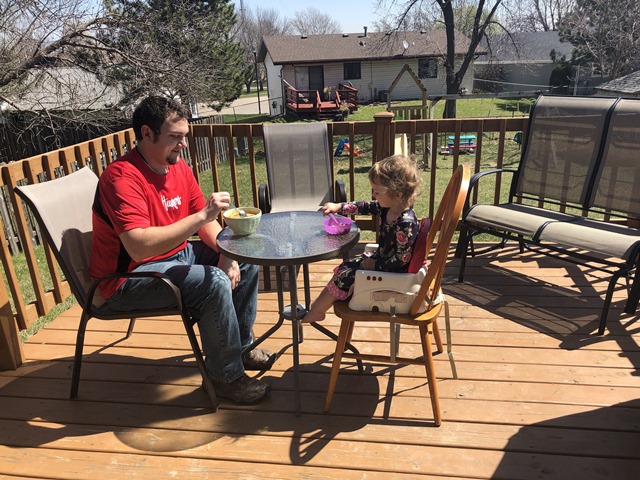 Part of me lamented that we didn't do more fun things during this time, mostly because I would see the creative leisurely things people were doing on Facebook and feel like we were missing out. Even though I was doing the best I could with the energy and time I had. Again, social media causing comparative problems for my mental state. But I kept scrolling anyway.
Facebook's Good Side
I have a love/hate relationship with Facebook as you might have noticed. It does have it's benefits can be very useful. For instance it allowed us to stream daily and weekned Masses. The worst thing for us as Catholics to have shut down was the public Mass. To not be able to receive Jesus and attend church in person, especially at Easter was an especially hard trial. The good that came out of it was appreciating the Eucharist and the sacramental graces more, and being able to watch different priests and hear multiple homilies on Sunday, (the one week I tuned into three different homilies).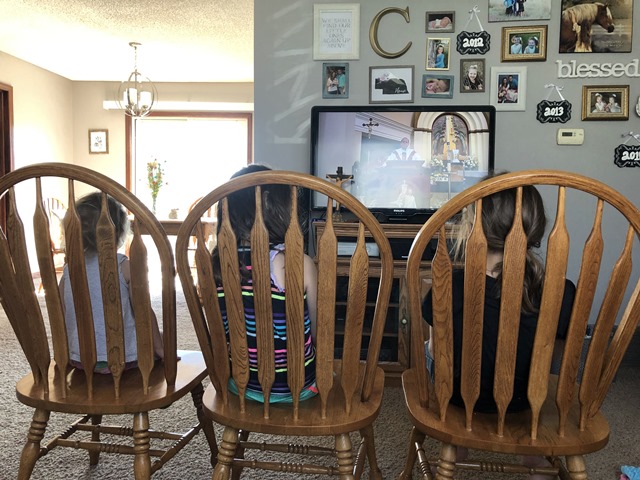 It also gave us the chance to develop our domestic church and liturgical living at home much more than usual. I have never done do many liturgical activities with the kids during Holy Week as I did this year, like the washing of the feet on Holy Thursday. Hopefully those traditions will continue next year now that we started them.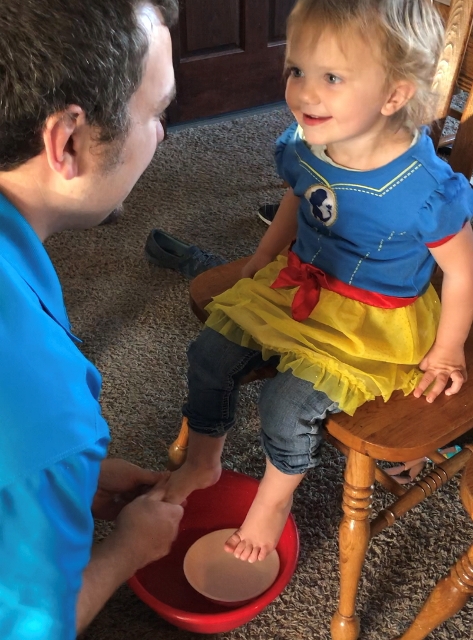 In April, we started participating in virtual date nights through our diocese which helped us to reconnect as spouses, pray together spontaneously, and add extra date nights at home to our list. We were still able to get an actual date night in once a month too so that was one goal we kept in the midst of COVID.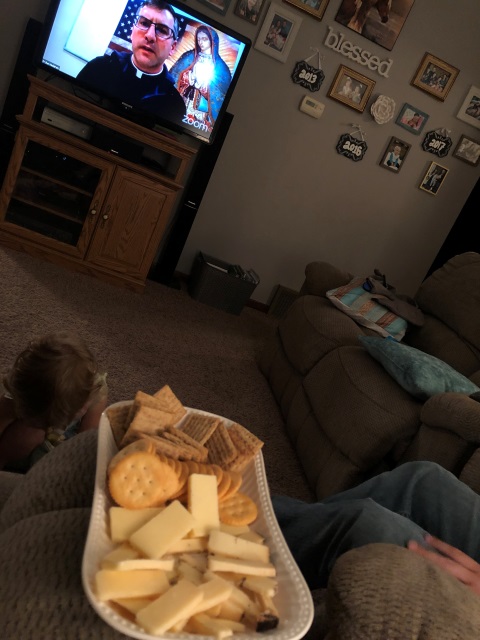 Plus, these events were on Facebook so I would have missed them happening if I hadn't been on social media. Another thing on Facebook that I'm grateful I didn't miss was our city's "Great Egg Hunt". Everyone was asked to color paper eggs and tape them to their fronts windows and doors. Then you could drive around with your kids and "hunt" for eggs from the car. We participated in this in April and then in the paper flower hunt in May.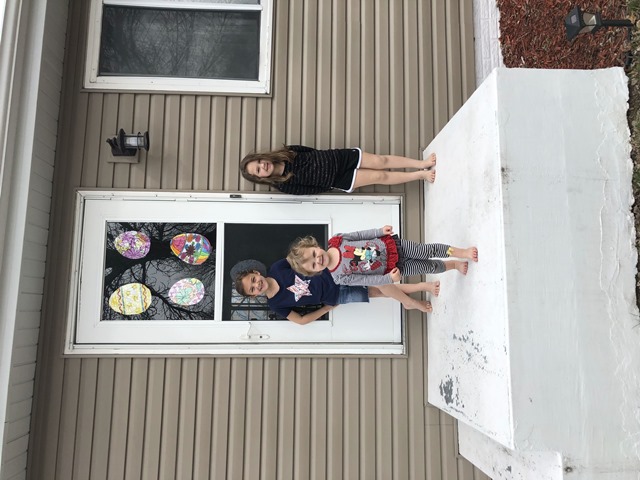 There were ideas for chalk and window art on Facebook that we participated in as well. All of these were great ways to have fun at home and pass the time during quarantine. Again, I would have missed some of these things if I hadn't been on Facebook.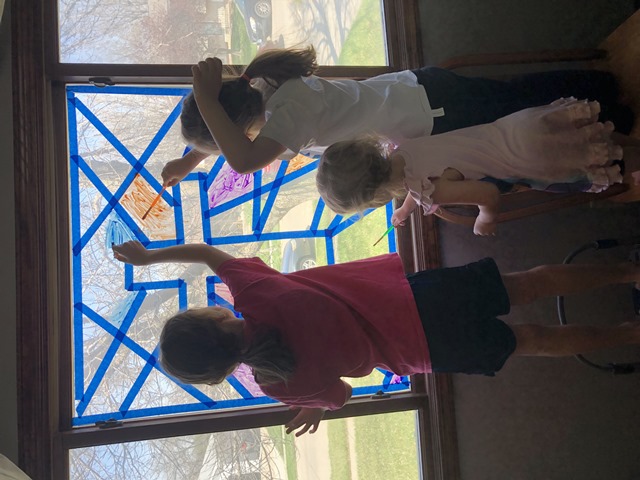 I come away from the first half of 2020 realizing that although social media is not obviously all bad, for me it tends to be a distraction and a time thief most of the time. Sure, there were many helpful and inspirational things that came from the frequent scrolling to help me navigate, quarantine and remote schooling and social isolation. But still, I was online way more than I wanted to be the first half of the year. Social media needs to be in moderation and unfortunately, time and again, I've found I don't have the self control for that moderation.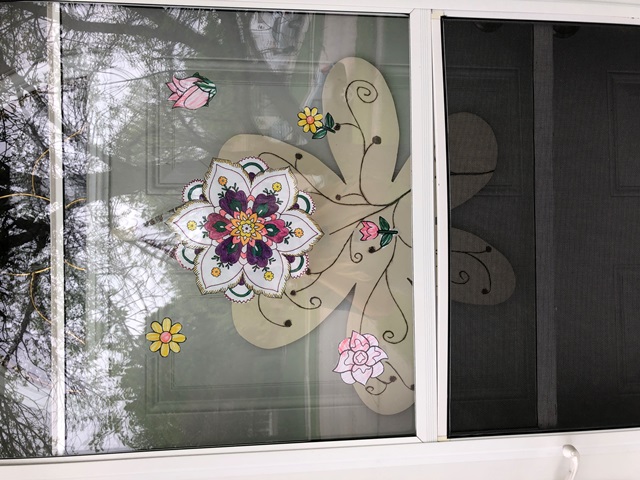 Even now that we have reached mid-summer and we are going more places and in more activities now than the spring, I still catch myself mindlessly scrolling and restlessly researching when I'm at home. Like I said, bad habit die hard.
I've noticed that it's not helpful towards my mental health the majority of the time.
Either I'm comparing myself to the perfect looking snippets of others' lives, or I'm feeling angry, frustrated and anxious after seeing click bait headlines, sensational news clips, strong opinions that are different than my own or scary predictions of the future. Not to mention how staring at a small moving screen for long periods of time doesn't leave you feeling that great in general. It's quite simply draining and I get caught in an emotional and time wasting downward spiral. Sound familiar?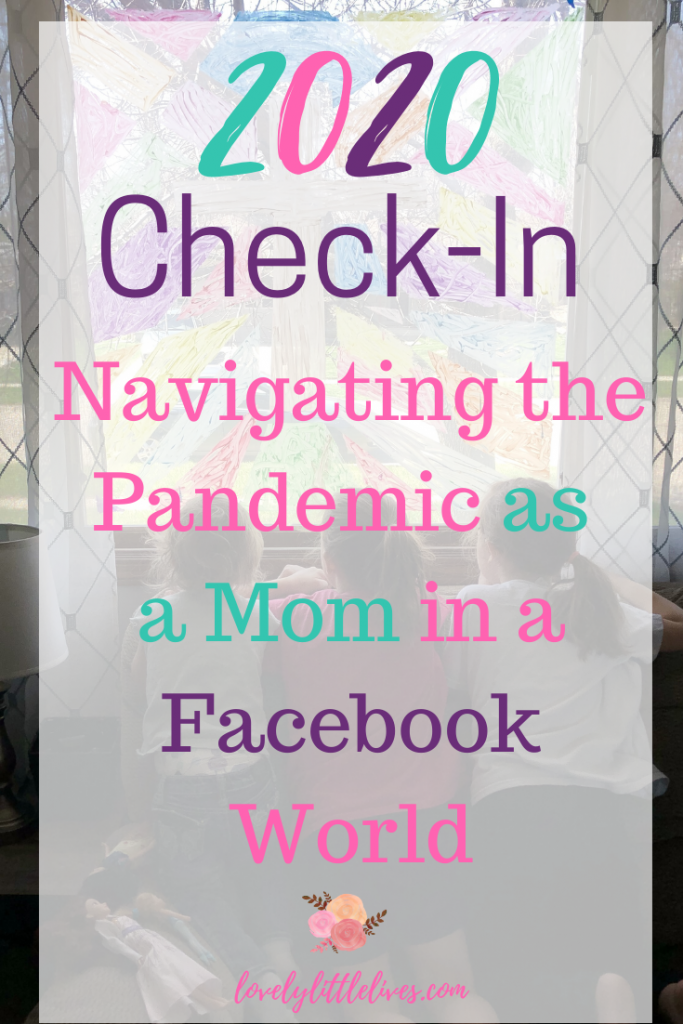 Social media depletes me so I'm low on motivation to get things done, low on patience with my kids, low on kindness towards my spouse. I become overwhelmed by all the things I have to do because I wasted time online and then that overwhelm results in frustration and sulkiness, which in turn affects my relationships and my productivity.
Is it possible that part of the reason I feel so busy and restless is because half of my time is consumed by staring at my phone? I think it's very possible.

When I make a conscious effort to stay off of social media (Facebook in particular), I start to notice I can breathe more freely. I feel more alive, more authentic, more productive and more fulfilled. The online virtual world is, in a sense, sterile, cold and fake. We have made it into another world that we escape to and live in constantly but it's not nearly the same as engaging, connecting and being present in real life.


If I just can put the phone down more, there is guaranteed to be more time in my day to check off the to-do list, to pray and be silent, to be that affectionate friend to my husband, to spend meaningful time with my children, and maybe, just maybe, even find extra space to carve out self care time like reading, deep breathing and relaxing.
Goals for the Rest of the Year
So for the second half of 2020, I'm resolving once again to limit Facebook in my life so that I have more space for everything else.
I've already been able to establish some goal accomplishing routines this summer that I hope to continue. I've been able to streamline laundry and kitchen tasks so that in the evenings I'm able to relax and recreate a little more instead of feeling like I'm always playing catch -up on the household.
My husband and I have gotten into a better rhythm of connecting, conversing and praying the family rosary with our kids. Thanks to grace, hard work, heart to heart conversations and all those extra virtual date nights. And I'm reading and praying more. I'm currently making my way through(affiliate link) Praying with a Pen which is a great guide to prayer journaling (I need more of this in my life, I've already found it to be a fruitful practice the few times I've utilized it).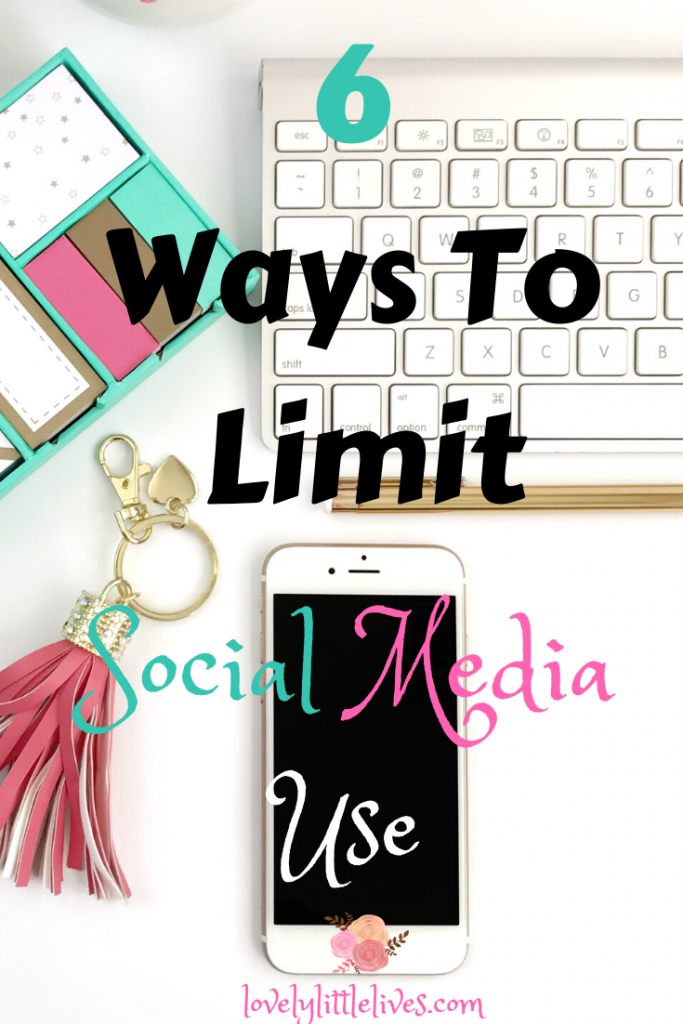 How to Limit Social Media
Although it's been rough start to the year, I think I'm making strides towards my goals, no matter how small or scattered those strides may be. And staying clear of social media pit falls seems to be a large part of my path to success. For me the one to avoid is Facebook and sometime Instagram but these simple tips could work for limiting any of the social media platforms:
Resolving to check social media only a few times a day for a set amount of time.
Catching myself before starting the mindless subconscious scroll.
Putting a daily reminder on my phone lock screen to stop scrolling.
Keeping my phone on the charger instead of carrying it around the house.
Deleting the apps off my phone for a little while if needed.
Finding things to do that are recreational and restful that don't involve my phone.
A little self control goes a long way but as I know too well, it's a tough virtue to maintain. Even if I do well with staying off my phone today, there's no guarantee I won't fall back into the scrolling habit tomorrow. The battle is ongoing but I believe it is well worth pursuing if it helps my interior peace and overall well being.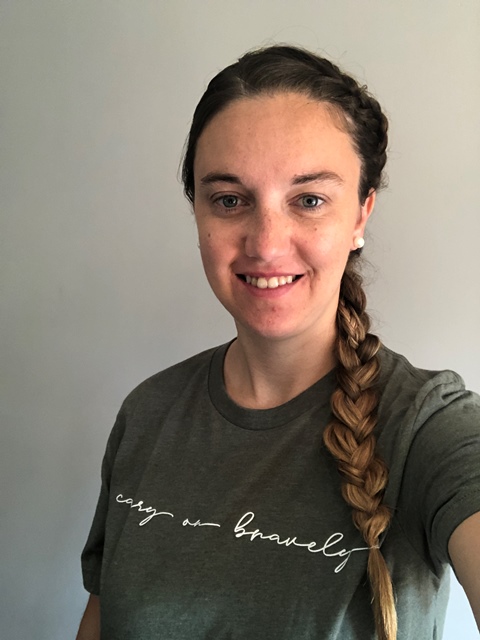 But each day there is the hope of beginning again and making the right choice while having positive motivational attitude. As St. Zelie says "Carry on bravely" (which has become my second quote for this crazy, uncertain, endurance-producing year). If we choose, 2020 can be a year we didn't just survive. Despite all the trials and struggles and setbacks, (and no matter what the future half of 2020 holds), we can choose to thrive.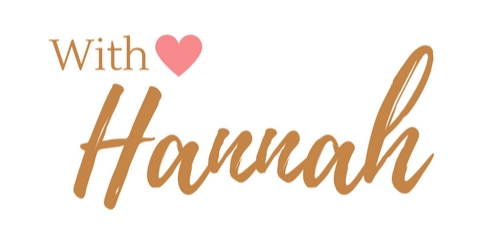 "Finally, brothers, whatever is true, whatever is honorable, whatever is just, whatever is pure, whatever is lovely, whatever is gracious, if there is any excellence and if there is anything worthy of praise, think about these things. " Philippians 4:8.