Quarantined because of coronavirus with everything cancelled and our family time now taking up all of our time. That is where we all find ourselves these days. As I was thinking of things to do with my kids for two weeks (or longer) while we are all stuck at home and "social distancing", I came up with the idea of 14 days of Disney princess activities in quarantine because well there are 14 official Disney princesses and 14 days equals 2 weeks.
So if you wanted something fun to do with your little girls (aka the little princesses), while you are at home for 14 days or more, you could potentially pick a Disney princess for each day and do themed activities around each one. Since there is a lot of ideas here, you could spread out each princess over a couple of days or just pick your favorite ones.
Affiliate links included below which means if you click through or purchase something through my links, I'll receive a small compensation at no cost to you. See full disclosure here.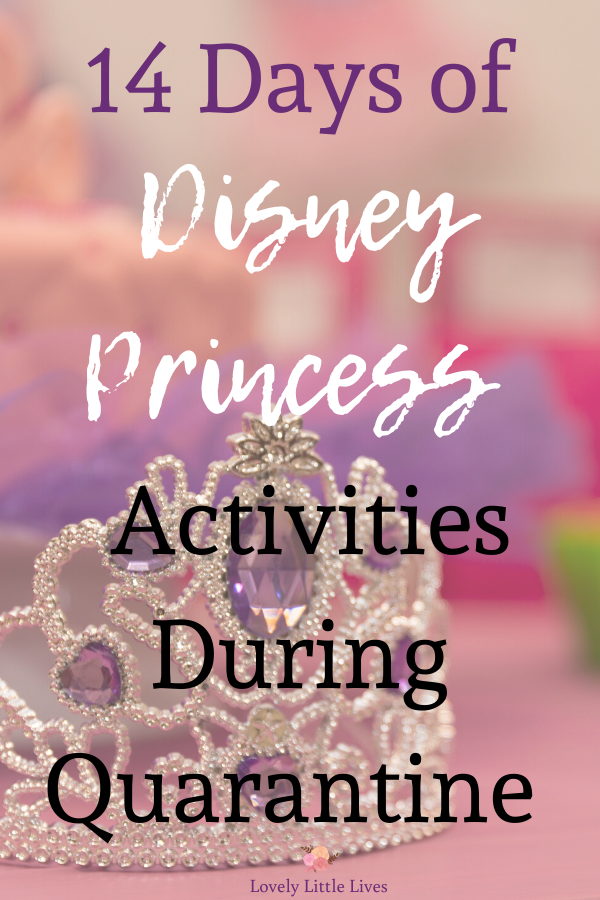 If you wanted to add a few extra days you could do a Tinkerbell day, a Sophia day, an Elena day and an Anastasia day. But for our purposes, I'm going to focus on the ones that are officially labeled as Disney princesses as well as Elsa and Anna who apparently are not actually part of the official Disney princess line up. Crazy, right? They are so popular that they got their own franchise but I figured I would include them, so that we can reach the 14 day quota!
Disney Princess Activities & Themes
So how would you create a theme around each princess? Well you can go as elaborate or as simple as you want. Some of the ideas may be better suited for older girls (like my 6 and 7 year olds), and some of the ideas can be done with toddlers (like my two year old) or preschoolers.
You can adapt the activities to fit the ages and interests of your daughters and you can either just pick one thing to do per day or you can do all the things. I would suggest just going down the line of princesses starting with Snow White and following the Disney princess activities that I've outlined below. Some themed elements to include for each day: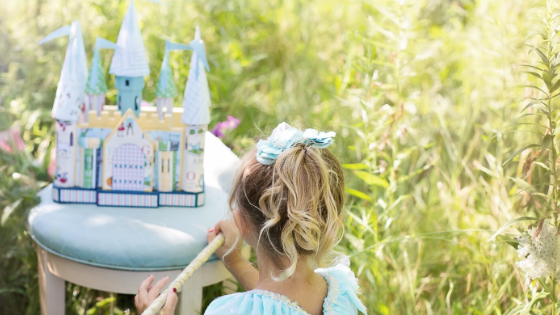 A meal and/or a snack (we have this Disney princess cookbook which will give you a ton of menu ideas).
A game/craft/activity (if you want to go the really simple inexpensive route you can just print off coloring pages for each princess.
The movie/soundtrack/book (Disney+ or Amazon Prime should have all the movies if you don't own them already).
Themed dress up clothes, (if you have princess loving daughters like I do you probably already have a stash of dress up clothes they can use).
You can do this in any order but I would recommend you have your little princess/princesses dress up for each day, gather their themed dolls/toys (if they already own some princess ones), let them dance and sing to the soundtrack, do the activity/craft, play the game, read the book and watch the movie together. Prepare the themed meal or snack depending on what time of day it is appropriate for. Most of the food ideas I share are for lunch or dinner. The snack option is so that you can have a super easy themed idea if you don't want to plan a whole meal.
Obviously you can do whatever you want, there are plenty of ideas online to choose from but here are my suggestions for each princess. Hopefully if you are like us where you already have a bunch of princess dress up clothes, movies and toys, you won't need to buy very much but there are links below for anything you might want to purchase.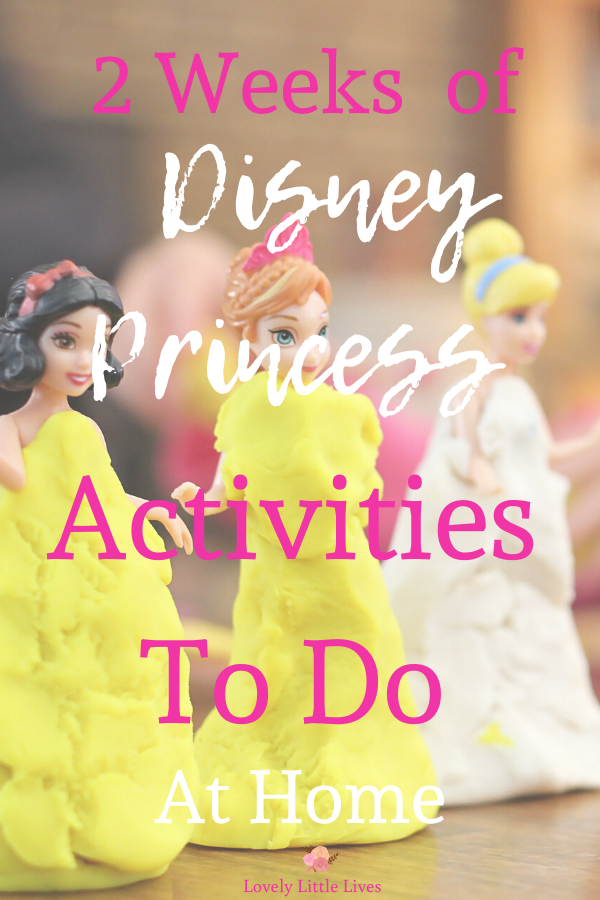 Snow White
Meal: Snow White Menu
Snack: Poison Apple Cookies
Activity: Snow White Dot to Dot
Game: Snow White Bingo
Snow White Media: Movie, Soundtrack, Book
Dress Up Clothes: Snow White
Cinderella
Meal: Cinderella Party Menu
Snack and Craft: Butterfly Snacks or regular cheese sticks for Jaq and Gus
Activity: Color by Number or Bibbidi-bobbidi-boo Bubbles
Game: Cinderella Lost Slipper
Cinderella Media: Movie,Soundtrack, Book
Aurora (Sleeping Beauty)
Menu: Sleeping Beauty Meal
Snack: Strawberry Rosebuds
Activity: Make it Pink, Make it Blue
Craft: Princess Crown
Aurora Media: Movie, Soundtrack, Book
Dress up Clothes: Sleeping Beauty
Ariel (The Little Mermaid)
Meal: Little Mermaid Menu
Snack: Goldfish
Craft: Princess Purse
Activity: Mermaid Slime
Ariel Media: Movie, Soundtrack, Book
Dress Up Clothes: Little Mermaid
Belle (Beauty and the Beast)
Meal: Dinner Party Menu
Snack: Try the Grey Stuff
Activities: Belle Paper Doll or 15 Beauty and the Beast Activities
Media: Movie, Soundtrack, Book
Dress Up Clothes: Belle
Jasmine ( Aladdin)
Meal: Magic Carpet Flatbread Pizza
Snack: Jasmine Party's Worth of snacks and desserts
Craft: Toilet Paper Roll Characters
Activity: Printable Games
Media: Movie, Soundtrack, Book
Dress Up Clothes: Princess Jasmine
Pocahontas
Meal: Native American Meal
Snack: Feather Pops
Craft: Fringed Bag or Popsicle Stick Teepees
Media: Movie, Soundtrack, Book
Dress Up Clothes: Pocahontas
Mulan
Meal: Mulan Menu
Snack: Cheese Swords
Activity: Jade Necklace
Media: Movie, Soundtrack, Book
Dress Up Clothes: Mulan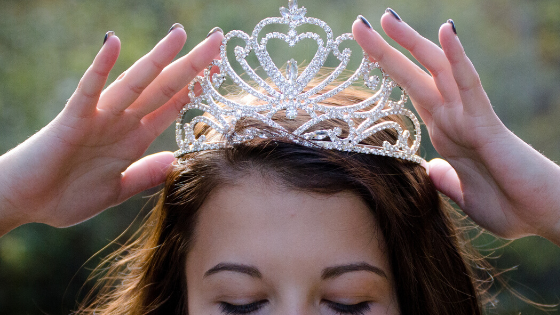 Tiana (The Princess and the Frog)
Meal: Tiana Menu
Snack: Frog Eggs
Activity: 3D Paper Doll
Game: Lilly Pad Hopscotch
Media: Movie, Soundtrack, Book
Dress Up Clothes: Tiana
Rapunzel (Tangled)
Meal: Tangled Dinner Menu
Snack: Rapunzel Paintbrushes
Activity: Easy Tangled Games and Activities
Media: Movie, Soundtrack, Book
Dress Up Clothes: Rapunzel
Merida (Brave)
Meal: Merida Menu
Snack: Chocolate Teddy Grahams
Activities: Merida Footprint Art or Coat Hanger Bow
Media: Movie, Soundtrack, Book
Dress Up Clothes: Merida
Moana
Meal: Moana Menu
Snack: Goldfish
Craft: Sea shell picture frame
Media: Movie, Soundtrack, Book
Dress Up Clothes: Moana
Elsa and Anna (Frozen)
Meal: Frozen Party Menu
Snack: Frozen Popcorn
Activities: Elsa Wands or Toilet Paper Roll Ola or Princess Anna Shoes
Media: Movie, Soundtrack, Book
Dress Up Clothes: Elsa and Anna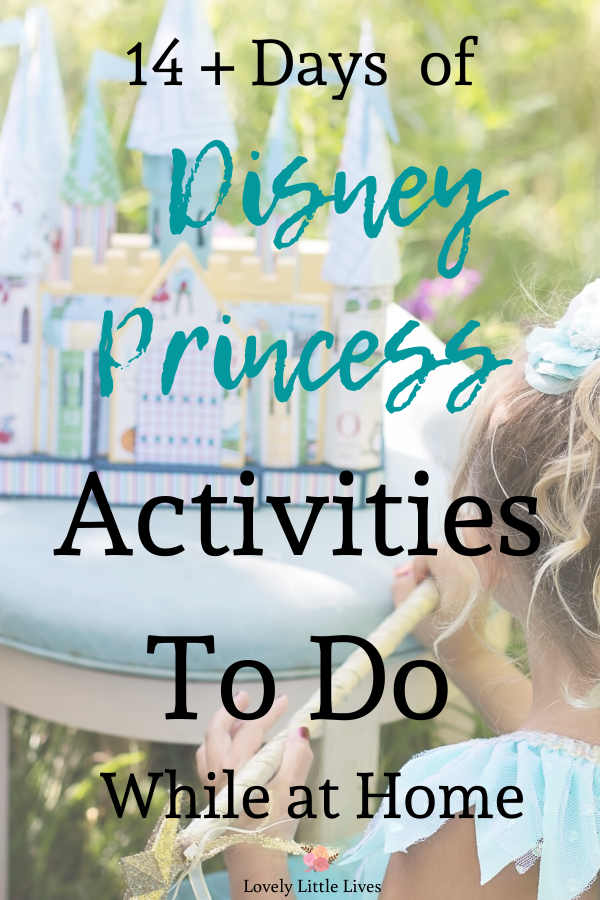 Bonus Day Theme
For a bonus, you can do a themed all inclusive princess spa day!
You can watch this short and sweet Disney princess medley collection. You can buy princess nail polish and paint everyone's finger and toe nails. Then you can set up a beauty station with kid's makeup and hair styling equipment and have a fantastic girly day!
Add on Disney Princess Activities
Drawing the princesses is really fun for older girls. My daughters who are 6 and 7 have loved learning how to draw the princesses on Kids Art Hub
Princess board games could be substituted for the other games or activities listed. There are all sorts of options on Amazon. You could also just buy a couple packs of princess stickers, activity books or other princess craft kits if you don't want to get the materials for individual crafts.
Don't let this overwhelm you. If you want to do all of the Disney princess activities for 14 days, go for it! If it's too much, you could just pick one or two ideas to use each day or you could stretch each princess theme out for a week, it's really up to you. Have fun with it, get creative and take lots of pictures! If we have to be quarantined, it might as well be with the princesses!
A Real Quarantined Princess
Don't forget that Rapunzel is the queen of quarantine! She spent almost 18 years locked up in a tower and she is completely isolated from her kingdom that is apparently called CORONA! I'm not even kidding! She definitely knows a thing or two about how to effectively stay occupied at home:
She has a mixture of chores, hobbies and self care to keep her busy including joyful singing, dancing and chattering with those within her home, aka Pascal and Mother Gothel, all the while wondering when her life will begin. It all starts with "7am, the usual morning lineup, start on the chores"…..
Sweep
Polish and Wax
Do Laundry
Mop and Shine Up
Sweep Again
Read a Book (or maybe two or three)
Play Guitar
Cook
Puzzles
Baking
Stretch
Sketch
Take a Climb
Sew a Dress
Re-Read Books
Paint more Walls
Brush and Brush My Hair
Sing and Dance
Talk with the People we Love
And of course….Wonder when will my life begin?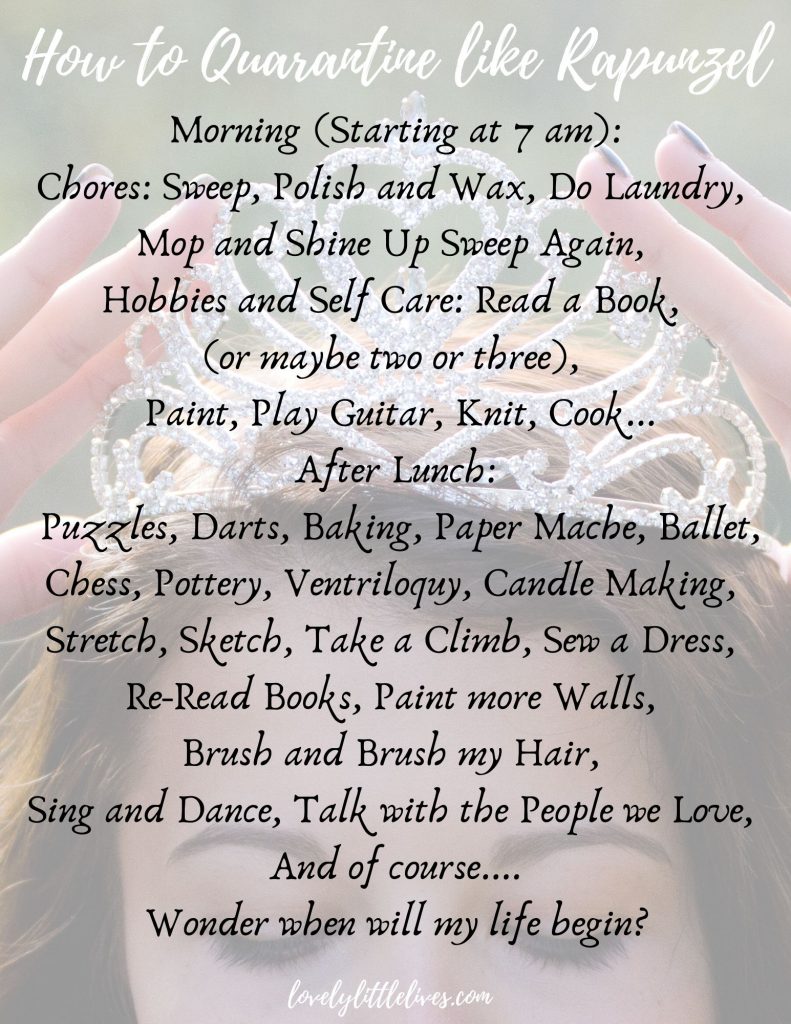 That's quite the list of things to do! Lots of ideas to keep us busy and joyful during this extended time at home while we look forward to when this is all over and we can be as free as Rapunzel in the woods!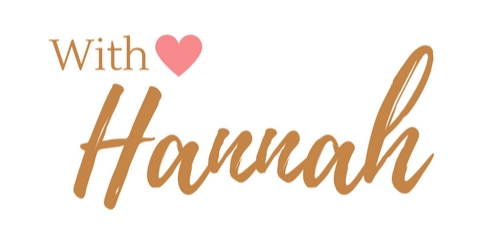 "Finally, brothers, whatever is true, whatever is honorable, whatever is just, whatever is pure, whatever is lovely, whatever is gracious, if there is any excellence and if there is anything worthy of praise, think about these things. " Philippians 4:8.