I usually don't get very crafty, in fact, I used to be anti-craft because it takes a lot of work and thought, supply prepping and clean up but I must be getting more ambitious because this Easter I did THREE crafts within a week! They are still really simple and use basic craft supplies that most households already have but they are fun and help create a joyful Easter mood. Make for a nursing home, send to family members or just craft with your own kids  Here is what we did thanks to my friend Pinterest!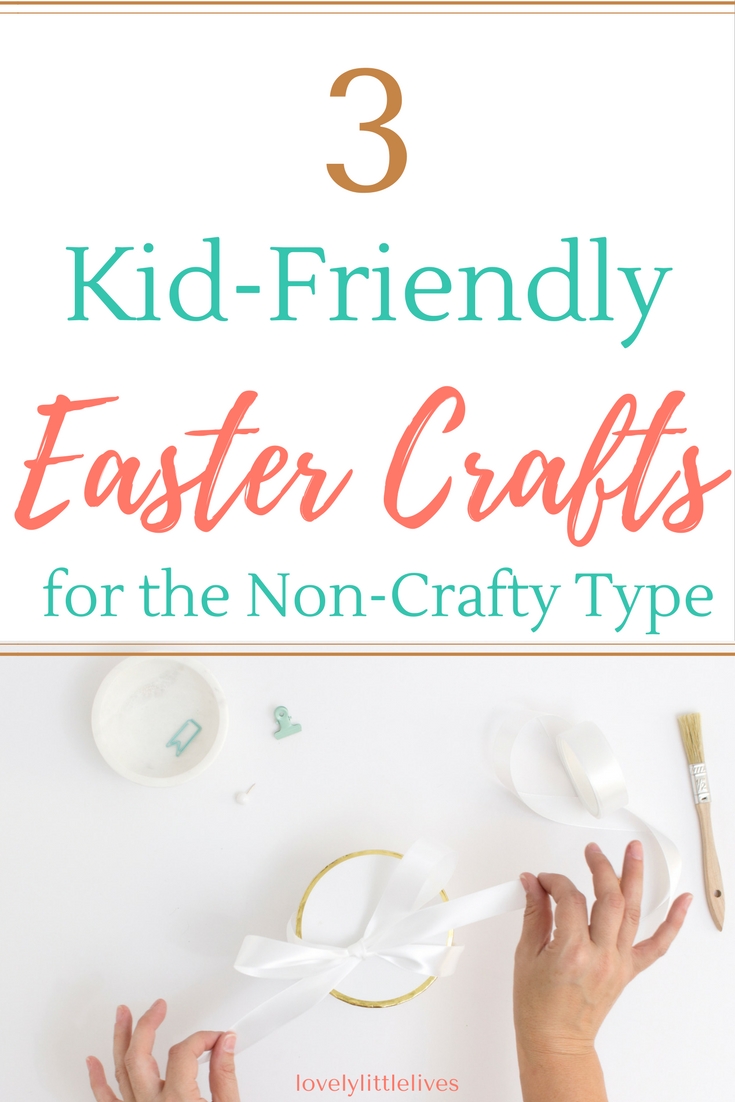 Tissue Paper Cross Cards
What you need:
Tissue paper squares (We cut ours out of regular tissue paper sheets).
Paint brushes and glue ( I used original Modge Podge).
Card stock and markers ( I used a pad of 8 and 1/2 by 11-inch card stock sheets from Walmart and cut them in half to make flat cards, A really inexpensive way to make your own blank cards)
How to Make: Draw a cross shape on the cardstock, apply glue to the inside of the cross, stick on the tissue squares to cover up the glue, use markers to write an Easter message or bible verse around the cross.
Tape & Paint Cross Cards
What you need:
Card stock and markers (again I cut regular pages in half to make a flat card).
Paint and brushes ( we used basic kids watercolors from the Walmart art aisle).
Masking tape
How to Make: Stick masking tape on the card to make a cross, paint over it with a variety of paint colors, let dry and carefully peel off the masking tape, add a message with markers and they are ready to hang or mail out.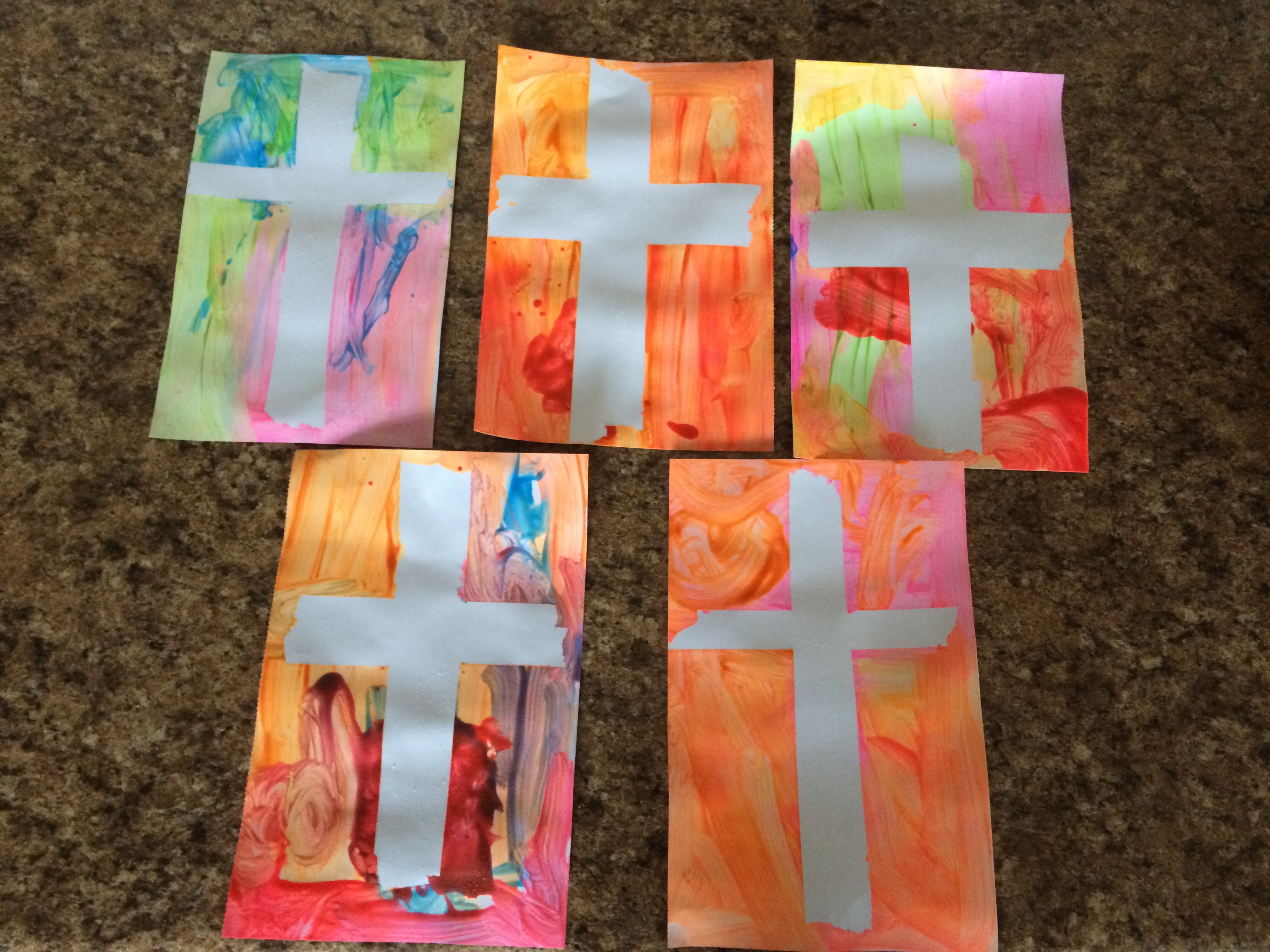 Egg Garland
What you need:
Colored Construction paper
Scissors and hole punch
Craft glue and glitter
Stickers, paint and markers
String and stapler
How to Make: Cut out egg shapes from construction paper, do a variety of stickers, coloring, finger painting and glue with glitter designs, punch holes on the tips of the eggs, string together and hang. Ours were sliding all over the place so I ended up stapling the eggs to each other. Next time I will have to try heavier paper so the eggs aren't so flimsy but for a cheap, fun Easter decoration I think it worked well.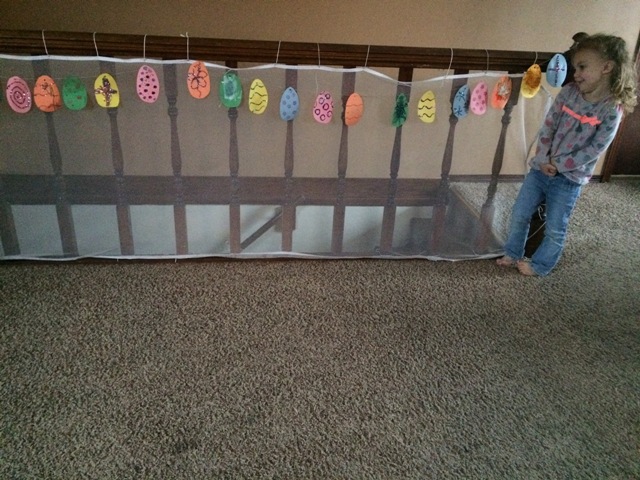 Whew, 3 crafts in 7 days?! I think I'm all "crafted out!" More activity ideas for Easter are below. If you click on or buy through one of the product links, I'll receive a small compensation. All opinions are my own.  See the full disclosure here.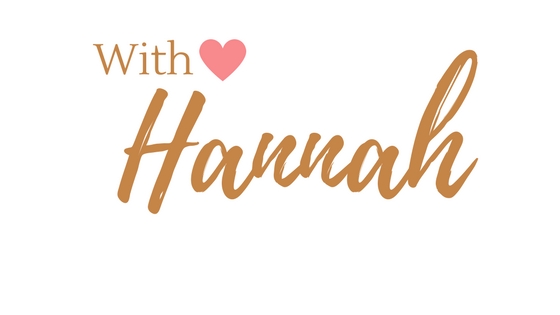 "Finally, brothers and sisters, whatever is true, whatever is noble, whatever is right, whatever is pure, whatever is lovely, whatever is admirable—if anything is excellent or praiseworthy—think about such things" Philippians 4:8.