Gold, purple, dark blue and teal. Those are the colors that symbolize Princess Jasmine from the Aladdin movie. They are the perfect starting point to planning and brainstorming Jasmine birthday party ideas. Gold sparkly letters strung across gold thread with the words "Turning 7 is a Whole New World. Purple, blue and gold sprinkles scattered across white frosting, teal cups, teal tablecloths, and a teal Jasmine costume for the birthday girl with shiny balloons and shimmery plates to match.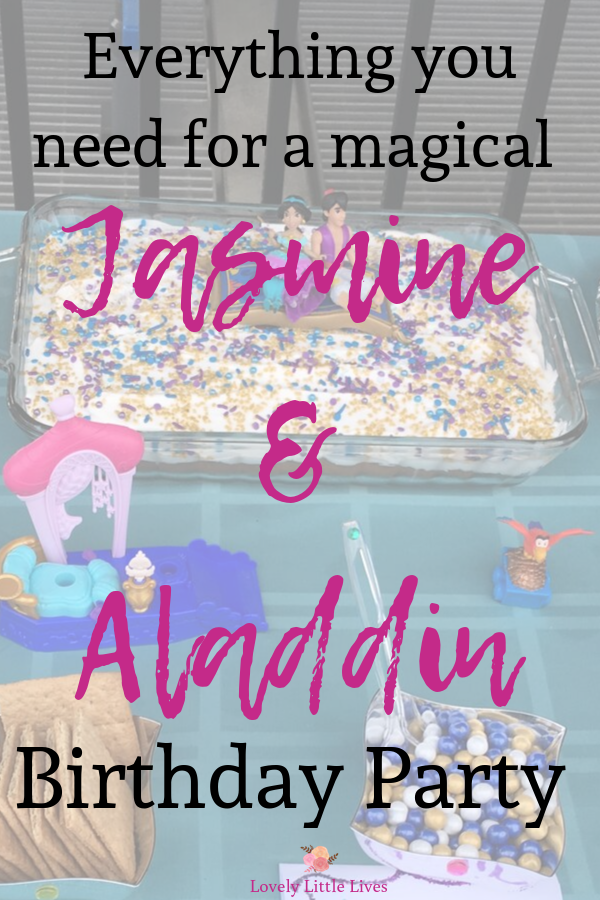 The songs A Whole New World and Arabian Nights playing over the loudspeaker into the warm evening air, the melodies floating over the pool where the throng of children splash and laugh and play. These are the elements of a Princess Jasmine party that your little girl will love and hopefully remember forever.
This was the party atmosphere for our daughter's 7th birthday. A fabulous magical night accented with shimmery jewels, dazzling gold and droplets of glistening pool water. We hosted the event at our local outdoor pool where we were able to rent out the entire pool for the evening party. Having a pool party not only allowed us the space to invite all our daughter's classmates and their parents, but it also gave all the kids something fun to do in between cake and presents: swim!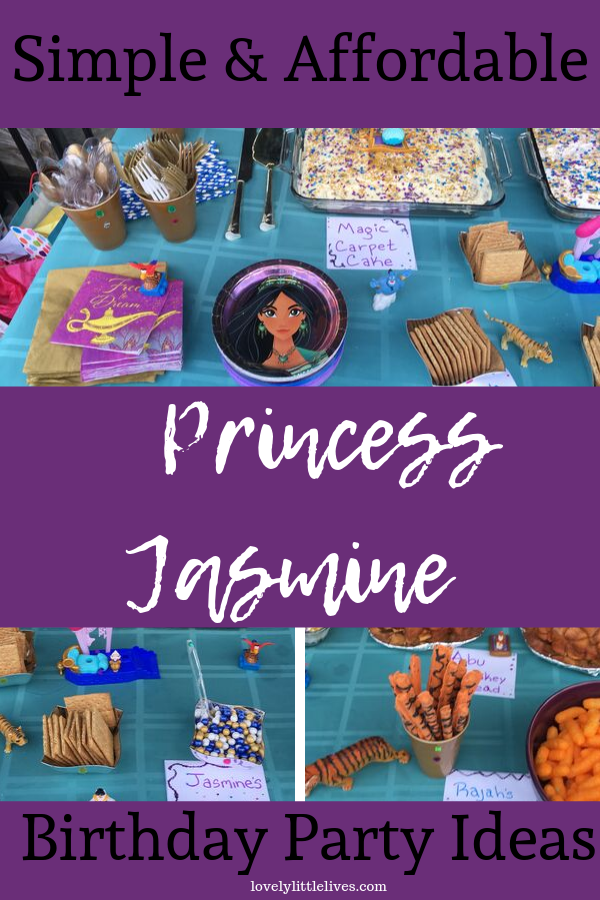 Affiliate links included below which means if you click through or purchase something through my links, I'll receive a small compensation at no cost to you. See full disclosure here.
Invitation Details
For this party, we opted to have it at 7 pm and we just served snacks and dessert. I made sure to note this on the invitation so that our guests would know it wasn't a full dinner. I created a Facebook event as the invitation and pulled a Jasmine and Aladdin picture off of google as the event cover. The picture happened to match the balloons and plates I purchased from Amazon which was perfect! Here are matching custom invitations that can ordered as well.
I like to incorporate lines from the Disney movie wherever I can into the party so this is the invitation description I created: Turning 7 is a whole new world! Fly on over to the outdoor pool to help us celebrate Heather's "new fantastic point of view" as a 7 year old. Dessert and drinks will be served. Come ready to swim or relax pool side! Please RSVP.
Jasmine Birthday Party Ideas
I used the same line: "Turning 7 is a whole new world" for her birthday banner which we strung behind the food table. I found this awesome gold banner that can be RE-USED for different parties. It includes enough letters and numbers to create different sayings.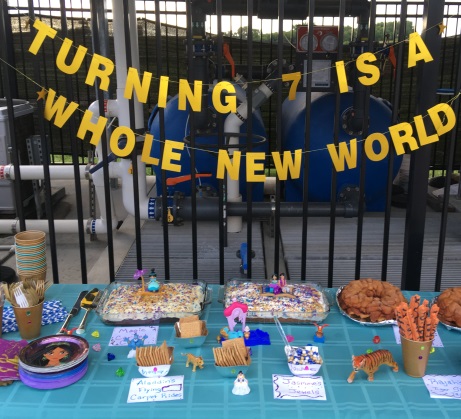 I wish I had bought this years ago when I first started princess parties because it's so much easier than having to create different birthday banners for each party. You can also purchase a customized birthday banner!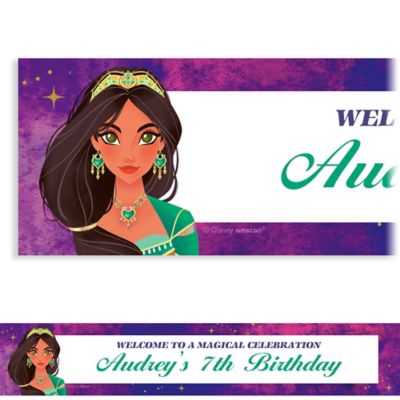 Since it was an outdoor party at the pool, the backdrop for the serving table was less than ideal. Next time I do a pool party, I might think about bringing a canvas of some kind to hide the ugly background. There is this really neat Aladdin photo backdrop that could be used.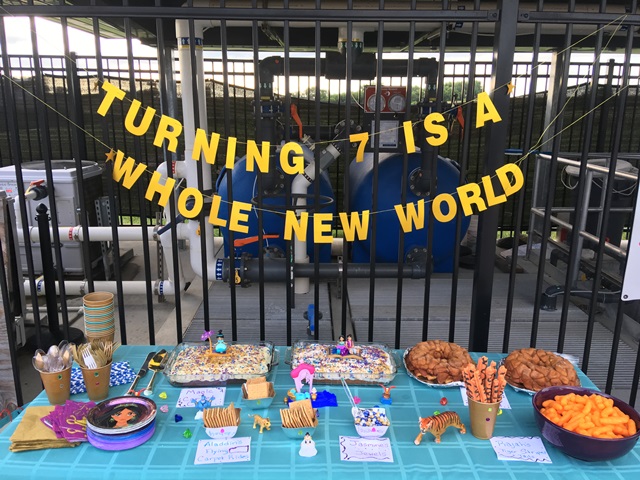 But besides the background, I was really pleased with how my serving table turned out! The teal tablecloth was one from home. Alternative Aladdin tablecloth can be found here. The blue straws, gold and teal cups and plastic white, clear and gold silverware were leftover from previous parties. You could get really fancy with these gold goblets for cups.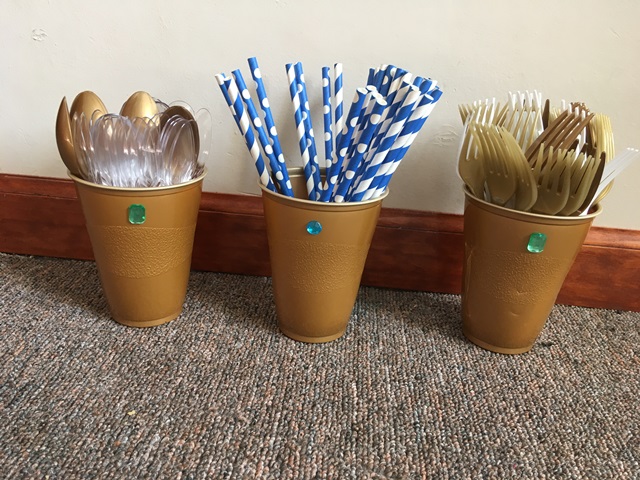 I added tiny jewels to the cups and silverware and to some of the smaller serving dishes. One pack of sticky jewels was enough for all the party items I wanted to decorate. I purchased the genie napkins and Princess Jasmine dessert plates from Amazon.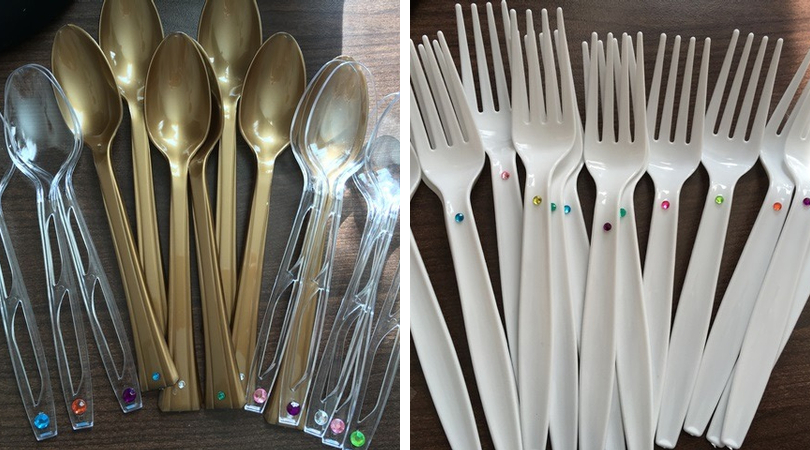 The little Aladdin figurines for the table and the cake toppers were mostly from Amazon and Ebay. They were early birthday gifts for the birthday girl. I like to double up on presents and decorations whenever I can to save money and to re-purpose the items effectively. The food signs were just squares of regular white paper that I decorated with glitter, more sticky jewels and markers.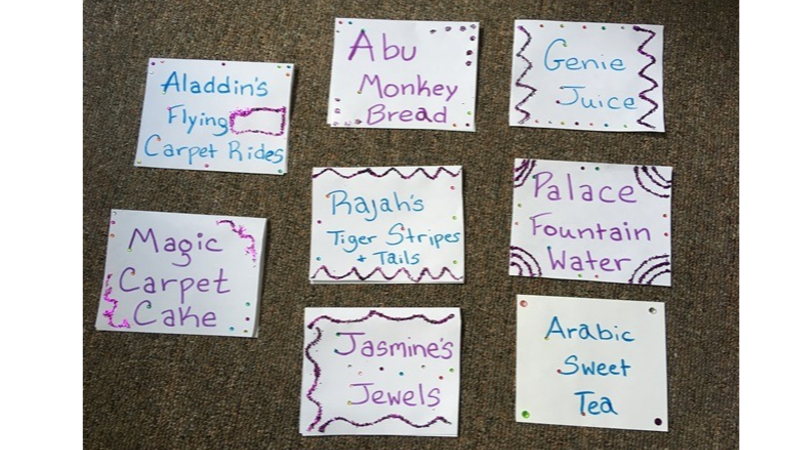 I scattered jewels along the serving table and eating tables for decoration. I didn't end up buying genie laps for the tables but there are mini genie lamps that would also make great table decorations. I bought a balloon set on Amazon which I paired with plain gold, purple and blue balloons from Party City. Party City blew up all the balloons for me including the ones from Amazon.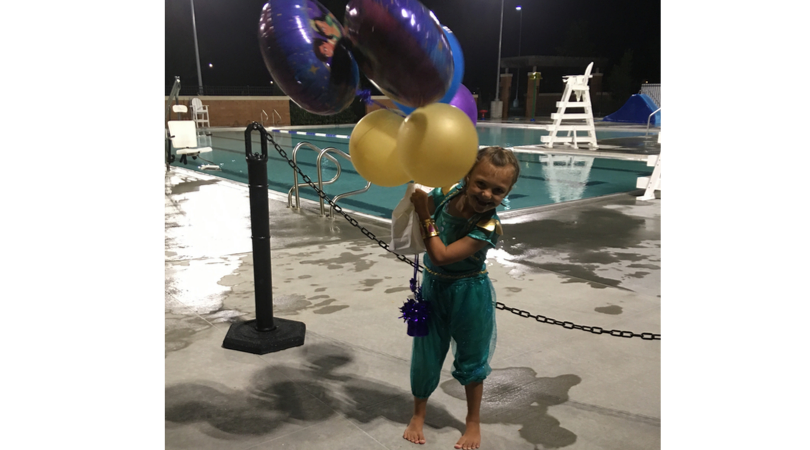 These were supposed to be part of the table centerpieces but due to how breezy it was by the pool, we lined the balloons up along the pool fence near the tables. I don't really have any good pictures of them at the party since they were blowing all over the place!
That's the main disadvantage of an outdoor party is dealing with the unpredictable weather elements. It was so breezy that we couldn't get the candles to light for the birthday cake so Heather just had to pretend to blow them out. Fortunately, she didn't seem to mind and still enjoyed everyone singing to her and then laughed while blowing out the imaginary lighted candles.
Jasmine Themed Menu
For the food, we had cake, Magic Carpet Cake of course. Just 13 by 9 sheet cakes with her flavors of choice. One was Funfetti cake with whipped topping and the other was chocolate devils food cake with cream cheese frosting. I bought purple, blue and gold sprinkles from Walmart to sprinkle on both.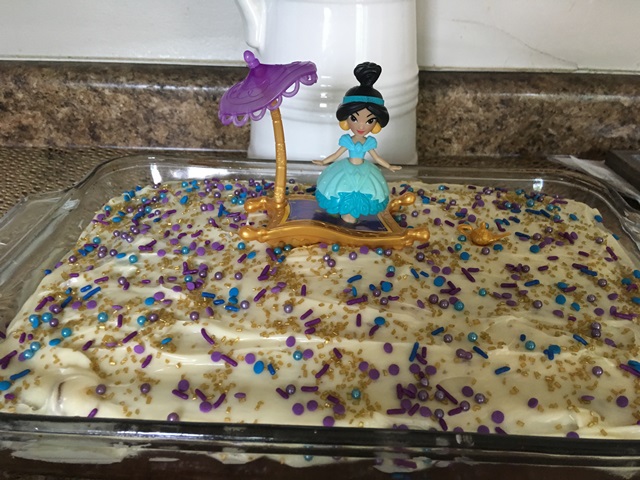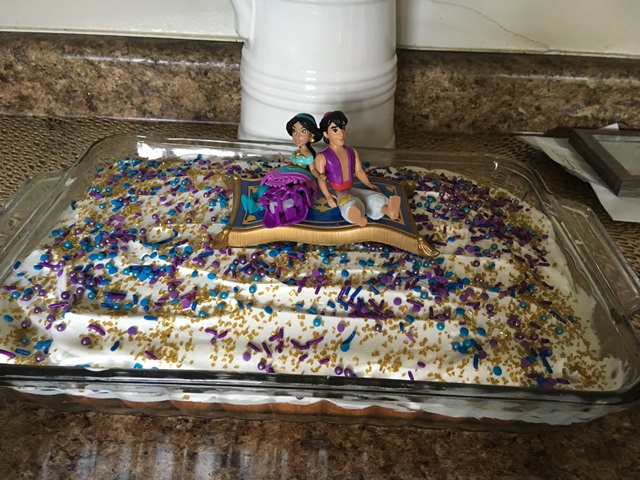 To go with the cake, I had a cooler full of ice cream cups, also from Walmart. We had sherbet, vanilla and chocolate options. I bought blue, gold, and white chocolate sixlets to be "Jasmine's Jewels". Guests could sprinkle them on their ice cream or just spoon them onto their plates. You could also do a more varied array of ice cream toppings to continue the jeweled theme with the ice cream.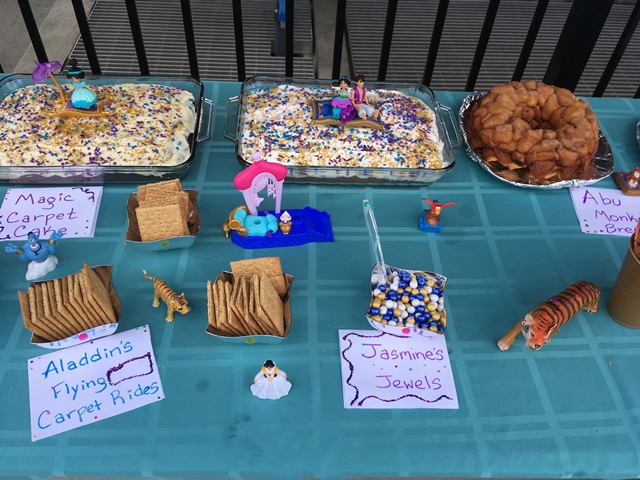 I also had a few snacking items since I knew the kids would get hungry from all that swimming. There was graham crackers for Aladdin's Flying Carpet Rides (that one was Heather's idea), two plates of monkey bread to symbolize Abu the monkey, and cheese puffs and chocolate dipped pretzel sticks for Rajah's Tiger Stripes and Tails.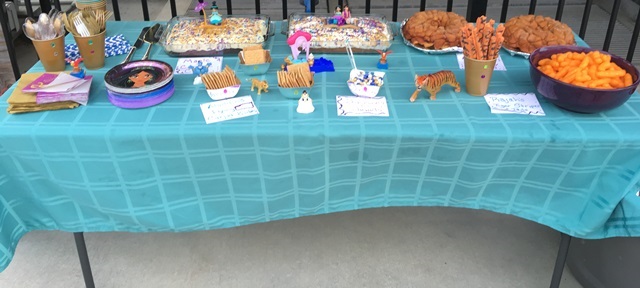 The pretzel sticks I made at home with orange melting chocolate and black frosting. You can also purchase pre-made ones on Etsy.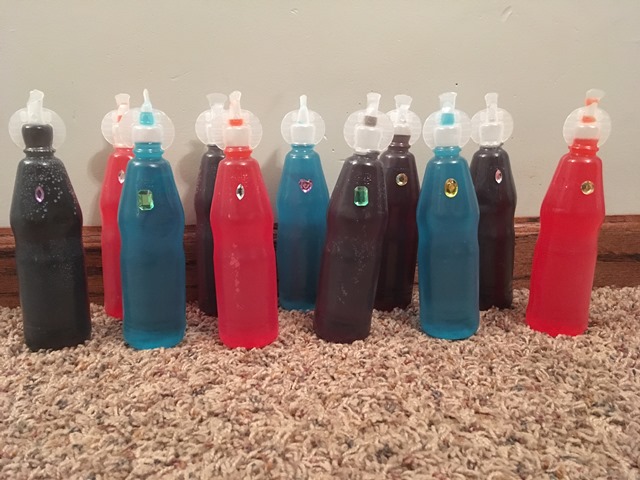 For drinks we had Genie Juice which were just a few sets of blue, red and purple kids' juice bottles from Walmart. I applied stick on jewels to each one to make them look more Jasmine like.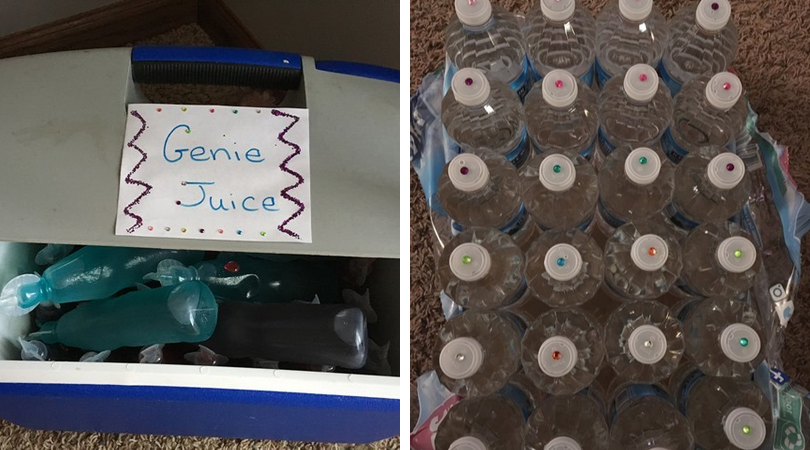 We had a separate cooler with filled with bottled water and iced tea options. I called these "Palace Fountain Water" and "Arabic Sweet Tea" although in full disclosure, I had both sweetened AND unsweetened iced tea!
Jasmine Party Favors
The favors for the kids were just simple white and clear bags with more stick-on jewels and I added little white gift tags to each one with each child's name.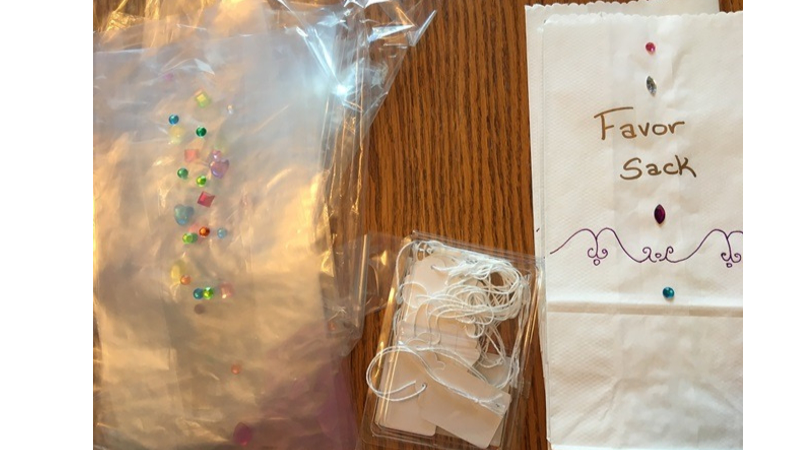 In the bags we just put a variety of mini favors and rock candy from Party City. Each child got a stick of rock candy, a bead necklace or two, a mini toy camera and bubbles.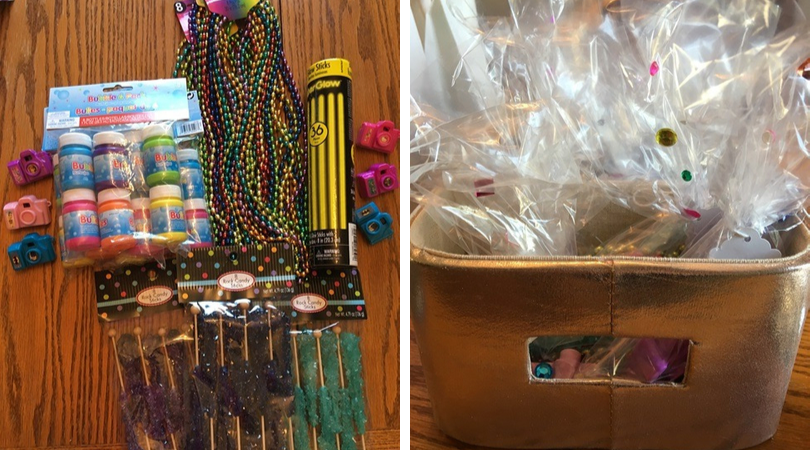 We created boy themed ones and girl themed ones and labeled them accordingly.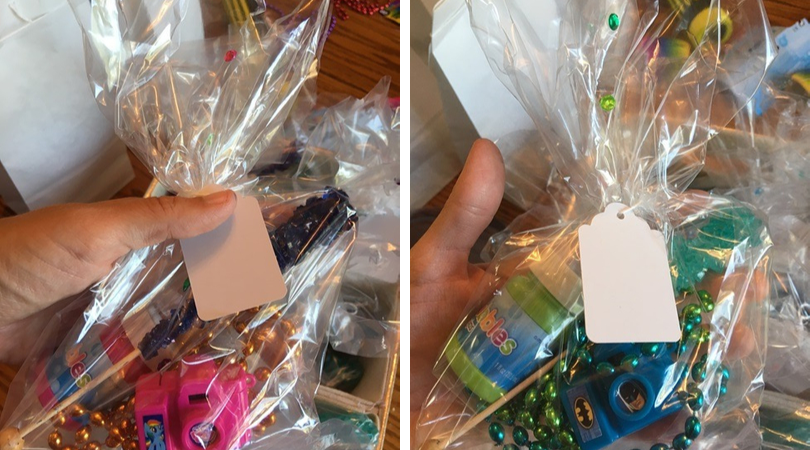 We just created our own favor bags but you can also purchase a Jasmine favor pack all ready to assemble.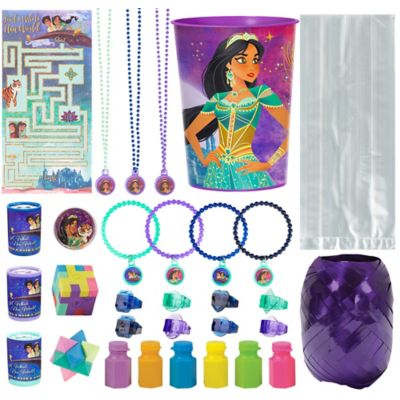 I also purchased a package of glow stick bracelets from Party City which we distributed to the kids during the present opening as it was starting to get dark outside. This was an additional favor item that they could enjoy during the party and then at the end as they were all departing we handed out the favor bags.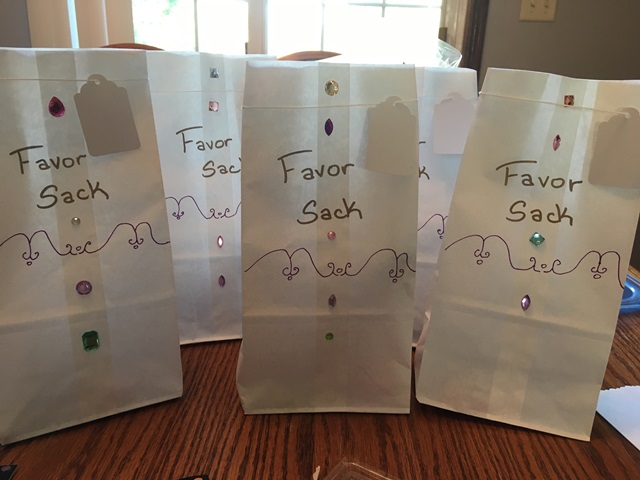 I kept the favors hidden under the table in a gold box from home until it was time for everyone to leave so that I could monitor the favor bag distribution and so the contents wouldn't get scattered everyone.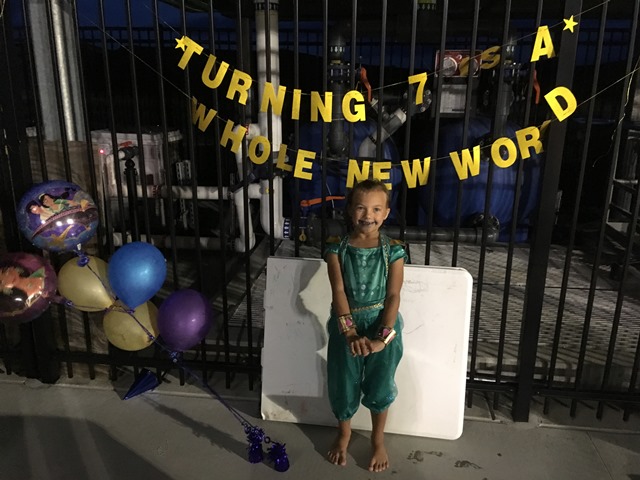 Even so there was still instant opening of the bags and rock candy was immediately eaten, hence the blue lips of my daughter when I tried to get a picture with her birthday sign during party clean up!
Her outfit pictured which she wore for present opening was actually a Shimmer and Shine costume I found on clearance after Halloween last year but of course, you can easily find real Jasmine costumes for your birthday princess:
Throughout the evening we had the Aladdin soundtrack from the original Disney movie playing over the loudspeaker which created a magical backdrop for the night swimming and the evening twilight deepening over the party atmosphere.
It was such a memorable blast of a night and as the birthday girl exclaimed afterwards, it was the best birthday she's had! Which is saying a lot because we've had some pretty awesome princess parties over the years:
Sleeping Beauty Birthday Party
For more Jasmine birthday party ideas you can visit my party shopping list on Amazon. I didn't use all the items listed but it gives you some different product options and even Jasmine present ideas for your little princess!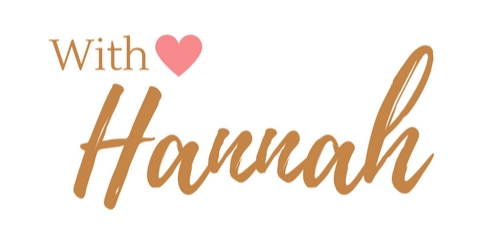 "Finally, brothers, whatever is true, whatever is honorable, whatever is just, whatever is pure, whatever is lovely, whatever is gracious, if there is any excellence and if there is anything worthy of praise, think about these things. " Philippians 4:8.