Filling Easter baskets is always such a fun part of preparing for Easter. I love coming up with new items each year and finding practical ideas that I know my children will enjoy. Having a plan for what you want to put in the Easter baskets and getting organized early makes the process fun and stress free. Here is how I organize our Easter baskets.
Since I have all girls, the Easter items tend to be on the girly side and I also try to include items that the whole family can enjoy such as bags of candy that my husband and I like as well as the kids so that we can all share.  I also add a few religious items like books or DVDs and small figurines.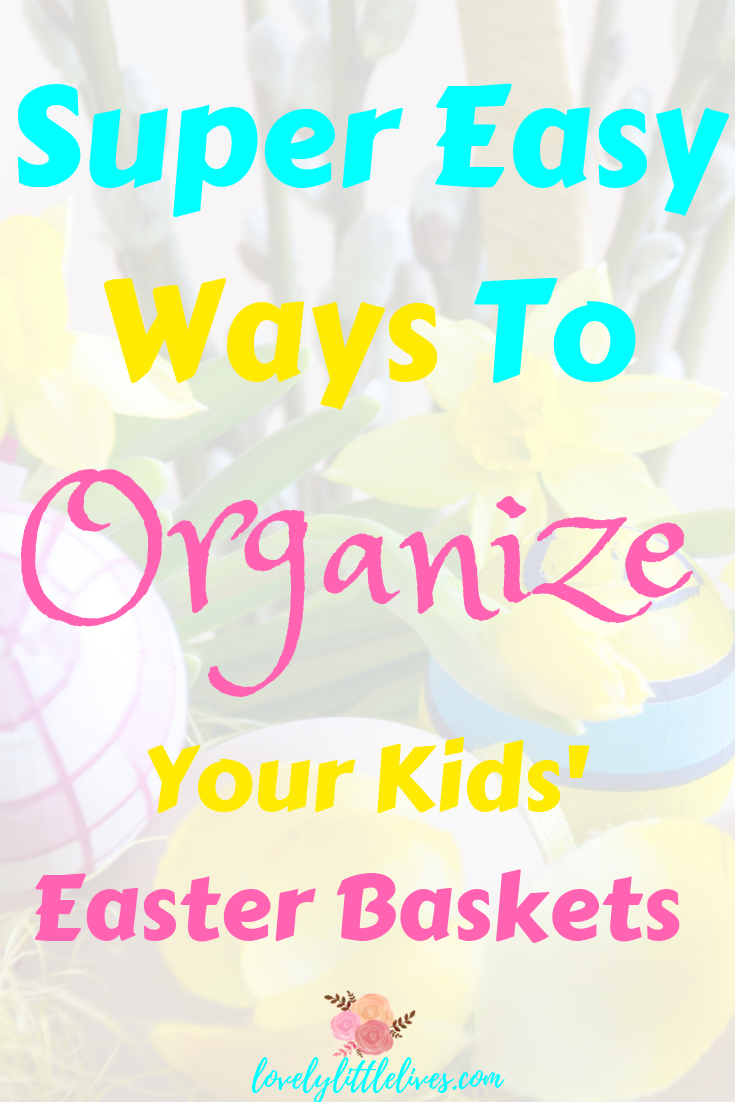 So normally, each year I include one or two religious books or toys, one or two practical items, assorted candy, and a couple of small gifts or toys. I buy the items slowly in the weeks leading up to Easter depending on what stores I'm at or when I think of new ideas. I also have a running shopping list for Easter baskets on Amazon where I can store ideas for this year or future years.
Then as I buy them, I make sure to store all the items in the same place so that they are both hidden from the kids and I know exactly where everything is when I pull it out to arrange in the baskets.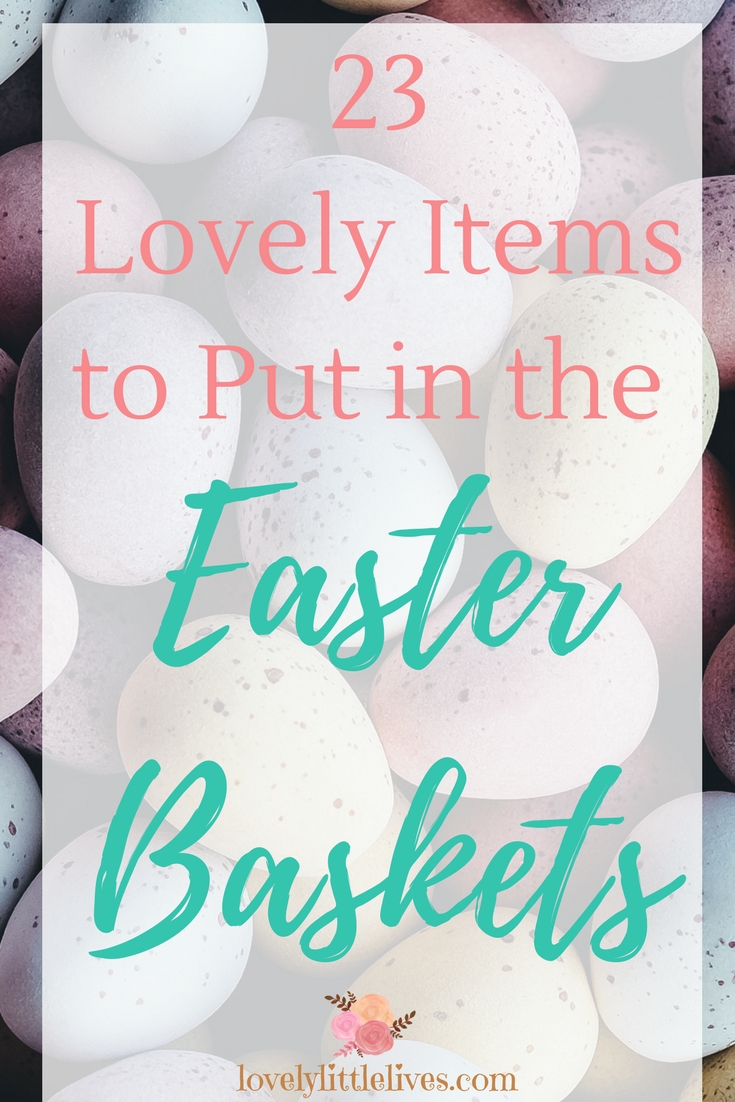 By the way, I'm linking up this post with Sierra at Beautifully Candid for a Girl Chat about Easter Baskets. 
Affiliate links included below which means if you click through or purchase something through my links, I'll receive a small compensation at no cost to you. See full disclosure here.
Our Easter Baskets
A couple of years ago, I found two matching Easter baskets at a garage sale. I love that they are fluffy and soft like stuffed animals which makes them both kid-friendly and durable. When my children were really little, we used colored wicker baskets which I didn't like as much. They are hard to store and they break easily when you have little ones flinging them about. Here is a picture of what they look like filled with Easter treats from last year: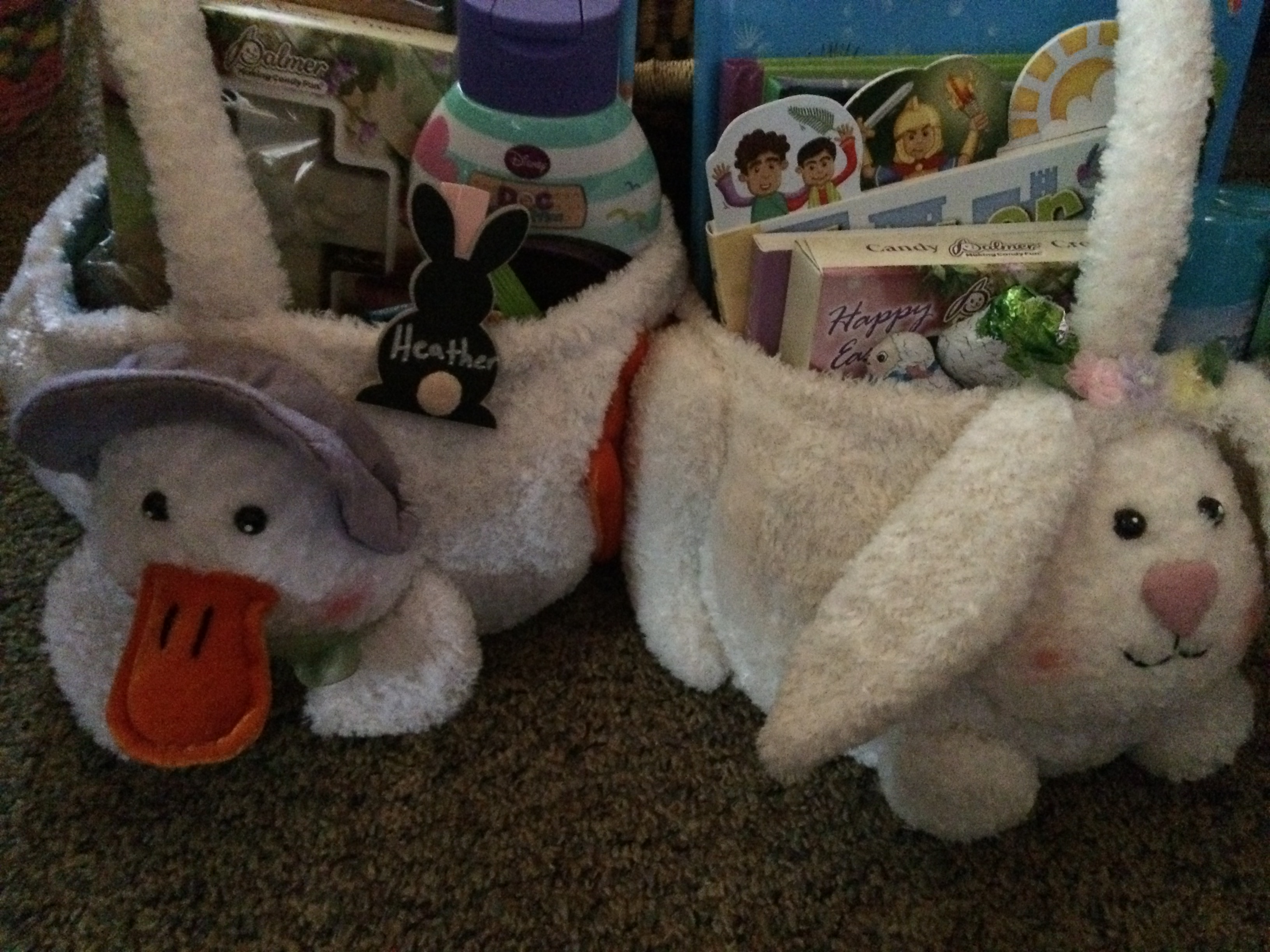 Now that we have baby girl number three, I'm going to have to find her an Easter basket to match her sisters. Since she will only be three months old for Easter this year, I'm probably going to wait until next year to include her in the Easter baskets.
The Edible Basket Fillers
I'm still debating what items I'm going to include this year in the baskets. I know for sure we will be buying some bags of candy ahead of time such as Sweet Tarts and Reese's eggs for my husband and mini snickers and crunch bars for me. Like I mentioned above, I buy bags of candy that we all like and then put them in the baskets so we can share. I also usually get a small chocolate bunny for each child as well as multiple Cadbury eggs.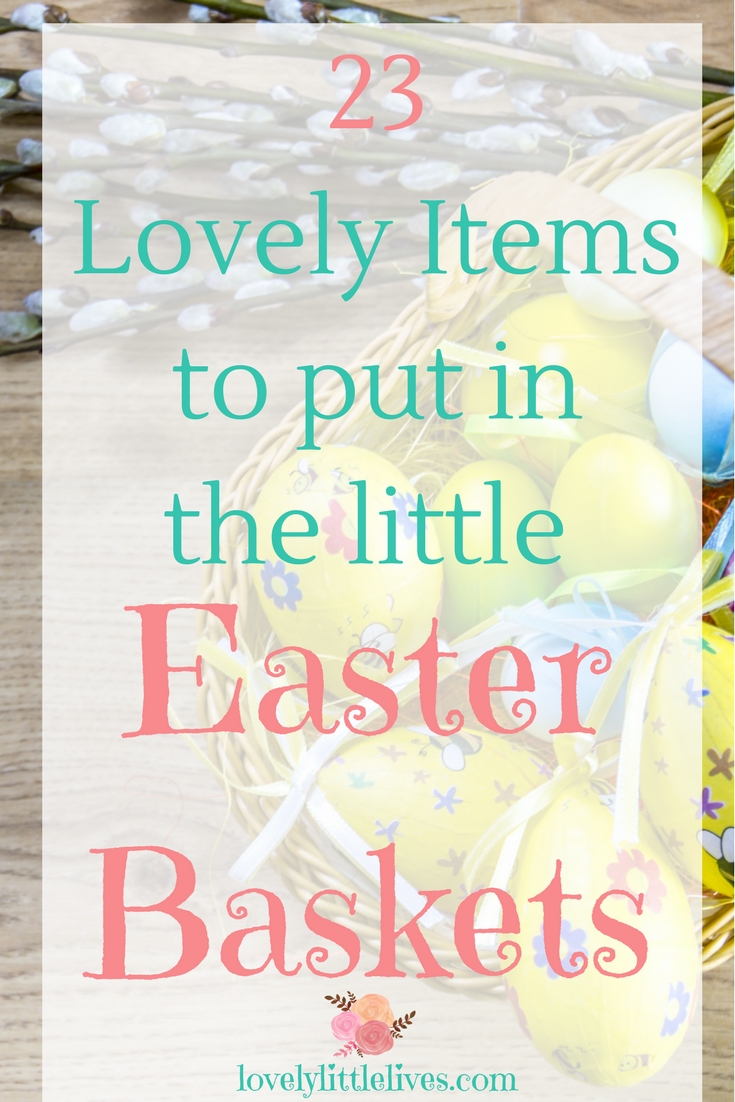 Side note: After the egg hunts and the basket openings,  I combine all the candy in a clear glass bowl on top of our fridge. That way I can monitor the candy and allow the kids to have one or two pieces a day as a dessert or as a reward for good behavior.
23 lovely items for the little Easter baskets.
Click To Tweet
This year I think I might include some fun snacks that we don't have very often such as juice boxes, fruit snacks and Little Debbie treats.
Did you know they sell fruit emoji snacks now?!
Religious Items
I also know for sure that I'm giving each child a princess sticker book that I purchased from Usborne books. I plan to find a religious item to include. I like to find things that are both faith-filled and have a hands-on element like this sticker and activity bible:

of an Easter pop-up book like this one: 
There are so many great religious books out there for kids including this one that one of my friends illustrated and coauthored with her husband!

We also really like Brother Francis products. Here is a fun collection for Easter :
Last year I got them each a tiny lamb figurine which is a super cute item to include:

Religious toy figures or wooden peg dolls are also a great option. You can find wood peg dolls on Etsy or paint your own with supplies from Hobby Lobby. This year I'm going to paint little saint peg dolls for each of my girls but you could do bible characters or Jesus and his apostles.
You can find lots of plastic bible characters for kids like this awesome bendable Jesus:

Girly Options
I usually buy something girly that they need such as new hair ties since ours seems to be disappearing or breaking at a rapid rate.
Barretts or flower clips are also a great option.
You can't go wrong with nail poilish and lip gloss for little girls either:
Mommy Confession Time
Easter, Christmas and sometimes birthdays are the only times of year I buy the kids items that I don't like to have around, such as chalk, playdough and bubbles.
Those three things drive me crazy because they are messy and they get everywhere. So as a special treat, I try to buy at least one of them for Easter baskets and Christmas stockings.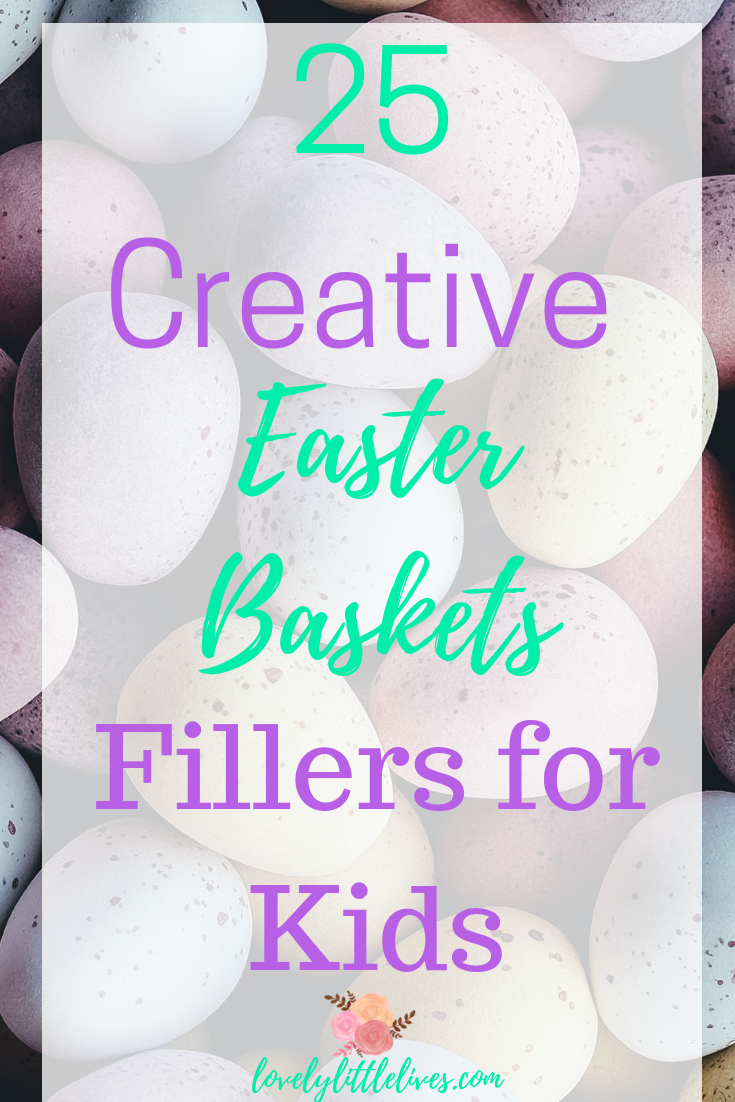 I think this year I might have to go with the chalk. This washable Crayola chalk doesn't look too bad for clean up:
Another thing my kids love but I don't is window paint,  a great Easter basket filler for brave moms:
Include Things or Experiences They Want
Sometimes, when I' stumped as to what to give to my kids for Easter, I just listen to the items or the experiences they have been asking for. Maybe there is a movie or game they want or a place they have been wanting to go that you could include a gift card to or a homemade certificate for.


This year, my oldest daughter wants to plant a garden and she keeps talking about planting seeds and watching them grow. We don't have a garden and I'm not planning on growing one this year but I bought a couple of packs of flower seeds and I'm going to include those in their baskets so we can plant them together in a flower pot.
Practical Gifts
Other fun ideas include items for the tub such as Kids Bath Bombs
 with Surprise Toys, Bubble Bath, Tub Crayons, or Bath Toys.
This is a really sweet little bath set for girls which includes bubble bath and body lotion.
Or if you are a family that travels a lot, why not include a kid-sized travel set in the Easter baskets this year?
I like to make Easter as special as possible for my family so including treats and basket fillers that we wouldn't normally buy helps add to the celebration.
Be sure to visit the Girl Chat Link Up to see all the great ideas everyone else has for filling Easter baskets.  Happy Easter! Jesus has Risen!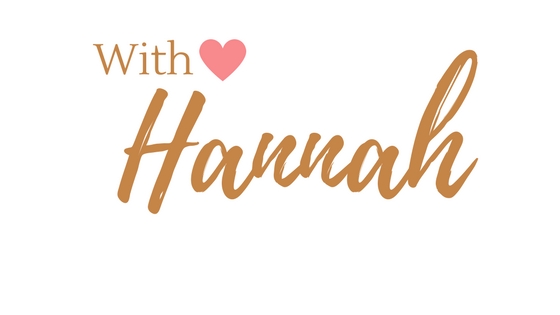 "Finally, brothers and sisters, whatever is true, whatever is noble, whatever is right, whatever is pure, whatever is lovely, whatever is admirable—if anything is excellent or praiseworthy—think about such things" Philippians 4:8.