I walked down the aisle this week……in my mind's eye. I relived that perfect magical day complete with elegant champagne glasses overflowing with bubbles and wedding cake smeared in my long curls. I recreated the fluttery excitement of the rehearsal dinner and the wedding morning, the long anxious stroll on my father's arm with a blur of faces smiling at me and a clear, handsome face waiting by gleaming altar steps.
I looked down at my wedding ring, dulled by years of washing dishes and changing wiggling children and remember what it looked like when it was sparkling new. I peeked into my box of wedding memories and flipped through the video of the reception dinner and dance with my children asking wide-eyed if they were there.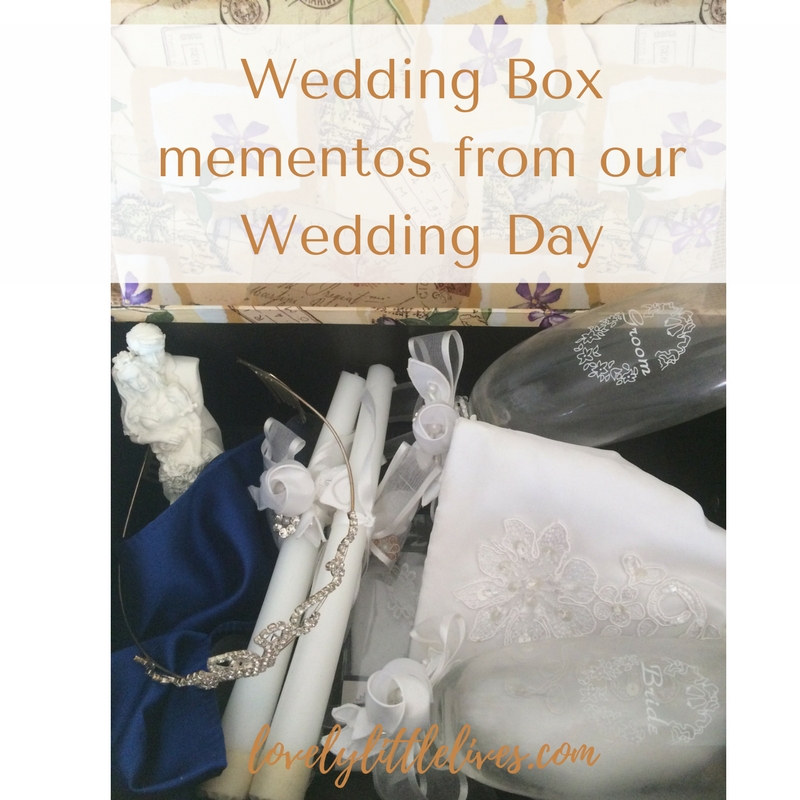 Affiliate links included below which means if you click through or purchase something through my links. I'll receive a small compensation at no cost to you. see full disclosure here.
I looked into the eyes of the man who I married five years ago and snuggled under his arm to watch "Now You See Me 2" for our casual anniversary date. Watching a movie, alone together, at a theater. A rare treat these days. Sometimes, it's the small moments that make an anniversary special.
Sometimes, with busy schedules, the small moments are the only way to celebrate and they might just turn out to be your fondest memories.
Related Post: Here's to our five years of marriage
We traveled on our actual wedding date this year, spent most of the day driving in the car to visit family, with two squirming young children. But we held hands in the front seat in between passing around snacks to soothe restless tummies and calming squabbles in the back seat. We listened to old country love songs by the talented Diamond Rio group while our daughters belted out Disney princess medleys right into our ears. And when our first dance song came up in the rotation, it played at almost the same time we would have been dancing to it our wedding. Almost down to the exact minute.
Sometimes, with busy schedules, the small moments are the only way to celebrate and they might just turn out to be your fondest memories.
Click To Tweet
It was one of those small precious moments that I want to remember forever.
Stopping to celebrate a wedding anniversary each year is so important for your relationship, whether it's just a small romantic moment driving in the car listening to your song or dressing up for an elegant night out together on a dinner cruise (that's our big anniversary celebration coming up later this month). Take the time to consciously remember your wedding day and reflect on the reasons you fell in love with your spouse in the first place. It's the day you pledged you life to another person and it is worth celebrating, small moments and all.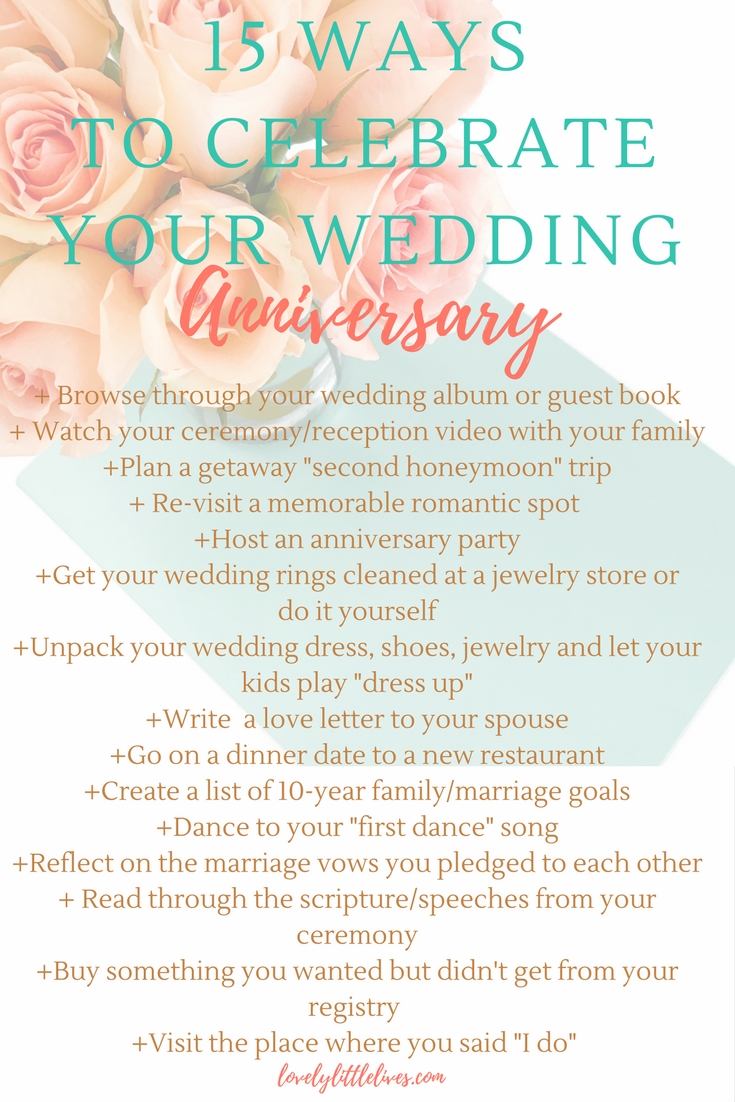 Here are some ideas to celebrate your wedding anniversary this year:
+Browse through your wedding album or guestbook
+Watch your ceremony/reception video with your family
+Plan a getaway "second honeymoon" trip (Groupon Getway has affordable fun options).
+Re-visit a memorable romantic spot from your dating or engagement days
+Host an anniversary party
+Get your wedding rings cleaned at a jewelry store or do it yourself!
+Unpack your wedding dress, shoes, jewelry and let your kids play "dress up"
+Write a love letter to your spouse
+Go on a dinner date to a new restaurant
+Create a list of 10-year family/marriage goals
+Dance to your "first dance" song
+Reflect on the marriage vows you pledged to each other
+Read through the scripture/speeches from your ceremony
+Buy something you wanted but didn't get from your registry
+Visit the place where you said "I do
If you would like the PDf version of this list and other lovely little resources you can enter your info below.

This favorite quote of the week from fellow blogger Marisa at Called to Mothering sums marriage up perfectly, especially for those with young children.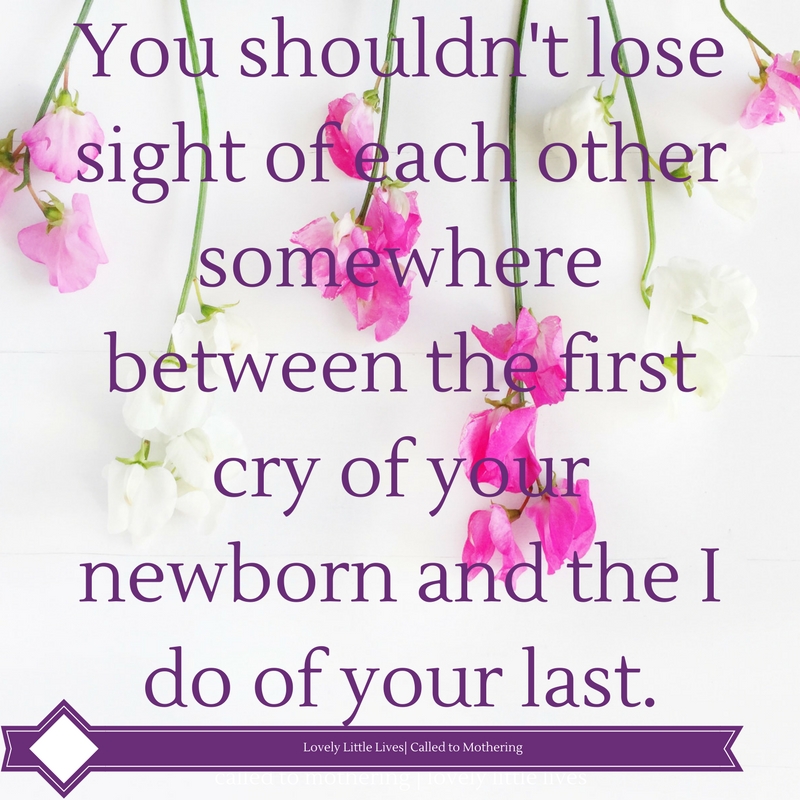 Happy anniversary to all the lovebirds out there!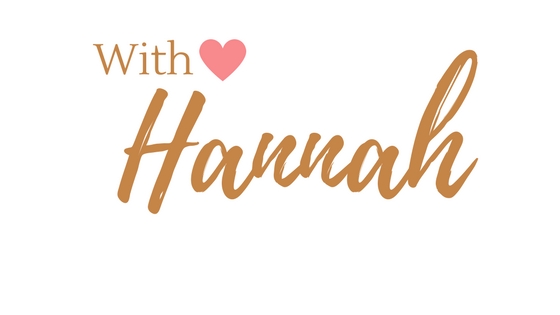 "Finally, brothers and sisters, whatever is true, whatever is noble, whatever is right, whatever is pure, whatever is lovely, whatever is admirable—if anything is excellent or praiseworthy—think about such things" Philippians 4:8.