For St. Patrick's day, I wanted to share some awesome books and resources I've found to help celebrate this fun holiday with children. Whether you are Irish, or not, this holiday is a great excuse to wear green, make shamrock crafts, and remember the great bishop and Catholic saint of Ireland. Our church is actually called St. Patrick's church so there is a big festival and carnival that takes place to celebrate with food, music, raffle prizes and games.
I was sent a children's book to review about St Patrick and after reading it to my kids this week, it got me excited to check out other books for celebrating this day so here is my St. Patrick's Day book stack plus a few other festive ideas.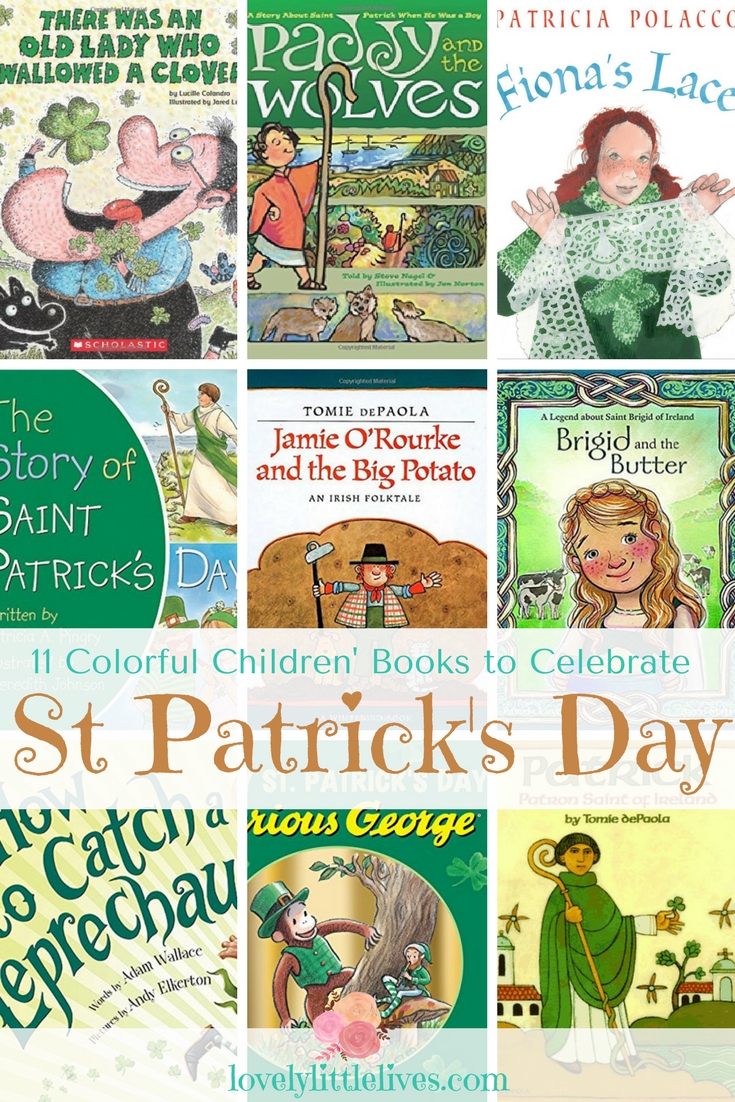 Disclosure: Paddy and the Wolves was given to me for free to review. All opinions are my own. There are affiliate links included below which means if you click through and/or purchase something through my links, I may receive a small commission at no cost to you. see full disclosure here.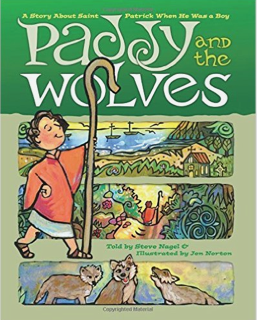 Paddy and the Wolves by Steve Nagel at Peanut Butter and Grace
Book Review
My daughters loved this book. I sat down to read it to them and they listened intently to the whole story, even though it was a little longer than the stories I usually read to them. They are ages three and four and their attention span held throughout the story because the pictures are very colorful and detailed. This is an imaginative story about what it was like for St. Patrick as a boy. He goes on an adventure in the woods with his shepherd friend, Barra and his flock of sheep. As they are guarding the sheep, they encounter different wild animals, beautiful flowers and even a field of shamrocks. The contrast of beauty and danger in nature is described throughout the tale as well as the theme of prayer. Patrick or "Paddy" as he is called in the story, recalls prayers and blessings he has been taught by his mother as he admires the natural world and discovers God in creation.
He ends up wandering off in the woods and encounters a wolf family. His quick wit combined with his prayer to Jesus for help allows him to escape the protective wolf mother who is threatening to attack him. The intensity of the scene really excited my four-year-old, as she kept asking about the wolves. Paddy finds his way back to the shepherd and his home and the story ends with him praising God for creation.

At the end of the book there are bonus resources including a list of children's prayers, a page of short facts about St. Patrick's life, a recipe for the oatcake cookies that are mentioned in the story and there is a list of ideas at the end of the book to celebrate St. Patrick's day:
+Get together with family and friends
+Read the story of Paddy
+Tell a bit about Patrick's adult life
+Share some of the prayers
+Cook up a supper with some green food
+Serve oatcakes for dessert
+Sing along to a Celtic song
+Pick out a tune on a tin whistle
On the back cover, there is a colorful maze that displays snippets of the story illustrations and can be used as a game with dice or an alternative way for children to tell the story themselves by pointing to each picture and describing what happened in their own words.
Colorful Children's Books and Festive Products to Celebrate St Patrick's Day
Click To Tweet
I did not receive this product, but there is a coloring book version of Paddy and the wolves to either compliment the storybook or to use as a separate resource.
Some other children' books I added to my St Patrick's Day book stack include:
Brigid and the Butter: A Story about St. Brigid of Ireland by Pamela Love

Jamie O'Rouke and the Big Potato
by Tomie dePaloa
Patrick: Patron Saint of Ireland by Tomie dePaloa

Fiona's Lace by Patricia Pollaco

There was an Old Lady who Swallowed a Clover by Lucille Colandro

How to Catch a Leprechaun by Adam Wallace

Happy St. Patrick's Day, Curious George
by H. A. Rey
The Story of St Patrick's Day Board Book by Patricia Pingry

This is Ireland by Miroslav Sasek


Handmade St Patrick's Day Crafts by Ruth Owen

There are plenty more craft and activity ideas on my Pinterest Board.
And don't forget the festive green outfits!


If you happen to be planning a party to celebrate this festive day, grab my party planning checklist here to help you stay organized:
What are you doing for St Patrick's Day? Whatever it is, have a fabulous time!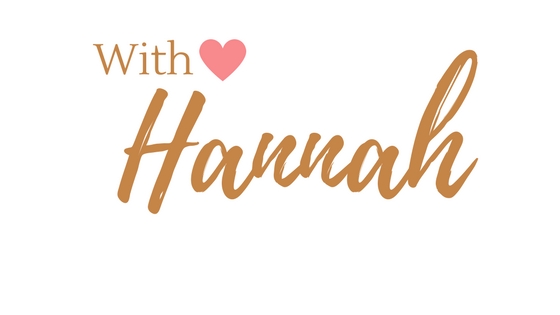 "Finally, brothers and sisters, whatever is true, whatever is noble, whatever is right, whatever is pure, whatever is lovely, whatever is admirable—if anything is excellent or praiseworthy—think about such things." Philippians 4:8