Once upon a time, there was a princess who was having the best day ever……
Ringlets of gold under a sparkly silver crown to match the sparkle in her blue eyes. A trailing braid of bright yellow yarn, scattered with flowers in blue, purple, orange, and pink, she parades around with her "down" hair, as she calls it, bare feet peeping out under a twirling sequin skirt. The same brightly colored flowers are sprinkled across the tables and around the the "braid" of gold frosted cupcakes. Pom poms in the shape of a "4" hang on the wall, purple pendants with yellow sunbursts strung from end to end of the room. a tiny Rapunzel and Flynn Rider sit smiling in a toy boat on a dark sea under a banner of "floating lights" and surrounded by pitchers of "magical golden flower" juice.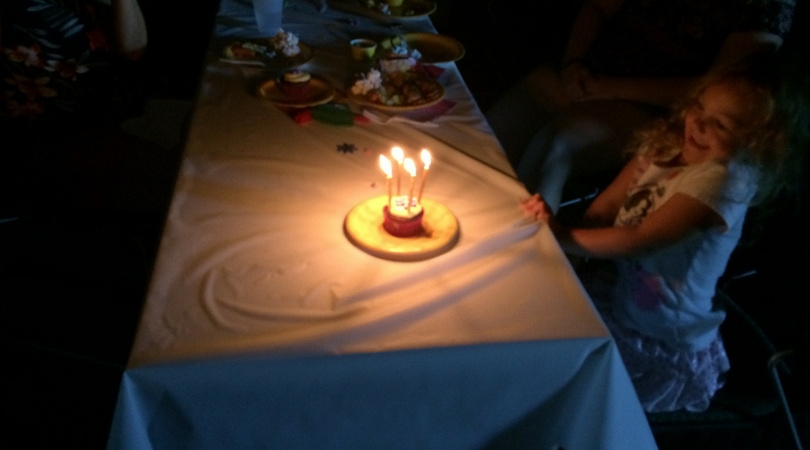 When the lights are turned down for the special birthday moment, sunburst lanterns flow and seem to float across the ceiling and golden lights flicker along the tables. The song "I See the Light" fills the room. The guests "ooh" and "ahh" as the birthday girl is presented with four candles casting a glittery soft glow in the large darkened room. As the lights turn back on, the "Happy Birthday" chorus rings out and the little girl with golden hair smiles and giggles in a perfect moment of pure joy. She glances delightedly from person to person singing to her leaning forward to blow out the golden candles one by one. A precious moment to cherish forever.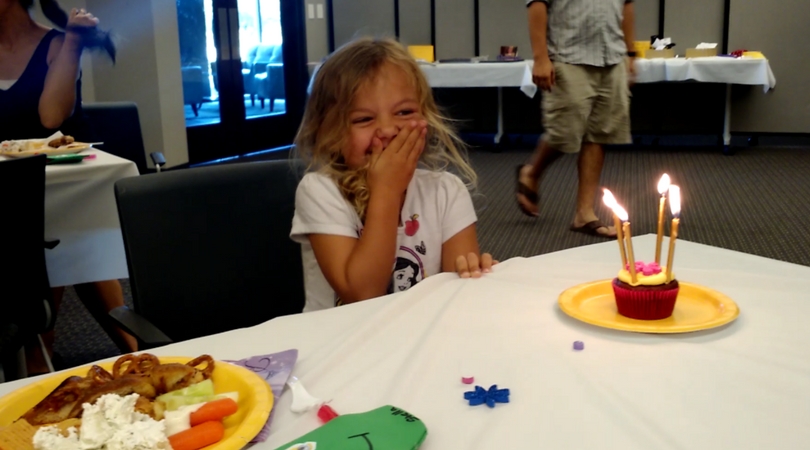 The golden haired little girl in this story is my daughter and that magical scene I just described was her 4th birthday. I planned it for weeks, agonized over decorations, menu items, favors, background music, games, and schedule of events. I spent the day before making food and the day of decorating the hall where we had it held. Of course, it came and went in a flash after weeks of planning for an event lasting only two hours. But while it was happening, it was glorious and went off as smoothly as could be expected!
I hope the memories are as magical to my daughter as they are to me. Everyone had a wonderful time as far as I could tell, including the birthday girl, besides a few tears and rough moments sharing her new toys with her guest friends. I personally had a blast planning, coordinating, and hosting it.
It was a magical and memorable day!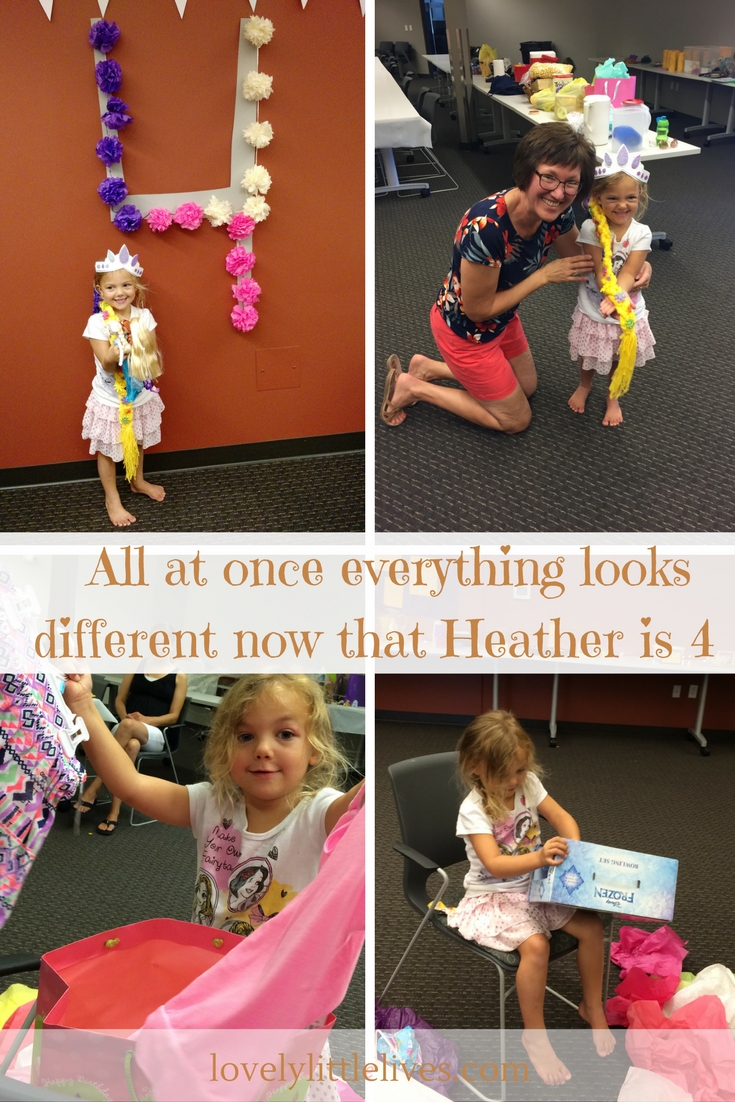 Affiliate links included below which means if you click through or purchase something through my links. I'll receive a small compensation at no cost to you. see full disclosure here.
Here is all the info you need to create your own magical Tangled Party!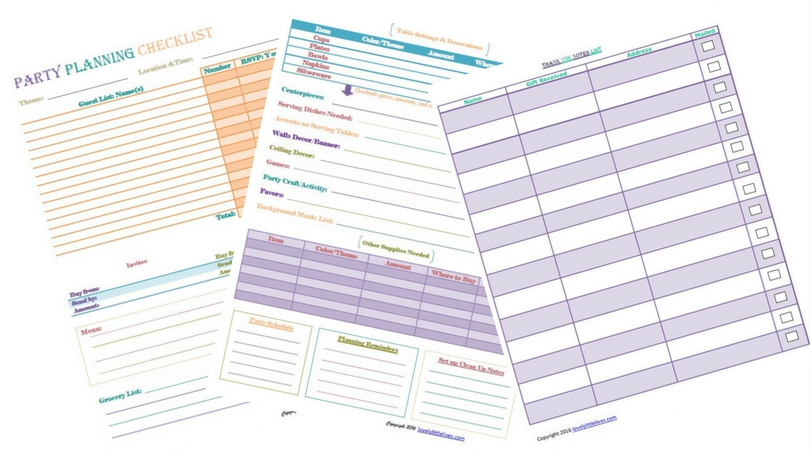 Invites
I ordered the invites from Etsy.
I was really excited with how they turned out and it was a digital file so I was able to print and send them as well as use it for a Facebook Event invite cover photo.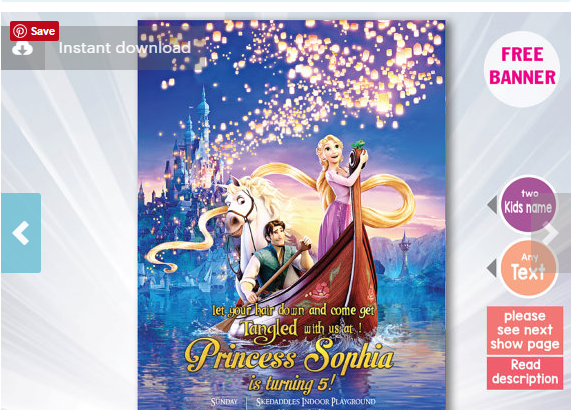 It was only $7 and the shop owner provides some free princess banner printables to go with it! Includes the Rapunzel pictures that I used on my sunburst banners.
Thank you Notes
I was able to snag a deal at Party City for clearance thank you notes! Thanks to one of my local mom friends for pointing out the deal to me. I found some on Etsy that would have been adorable as well.
Party Menu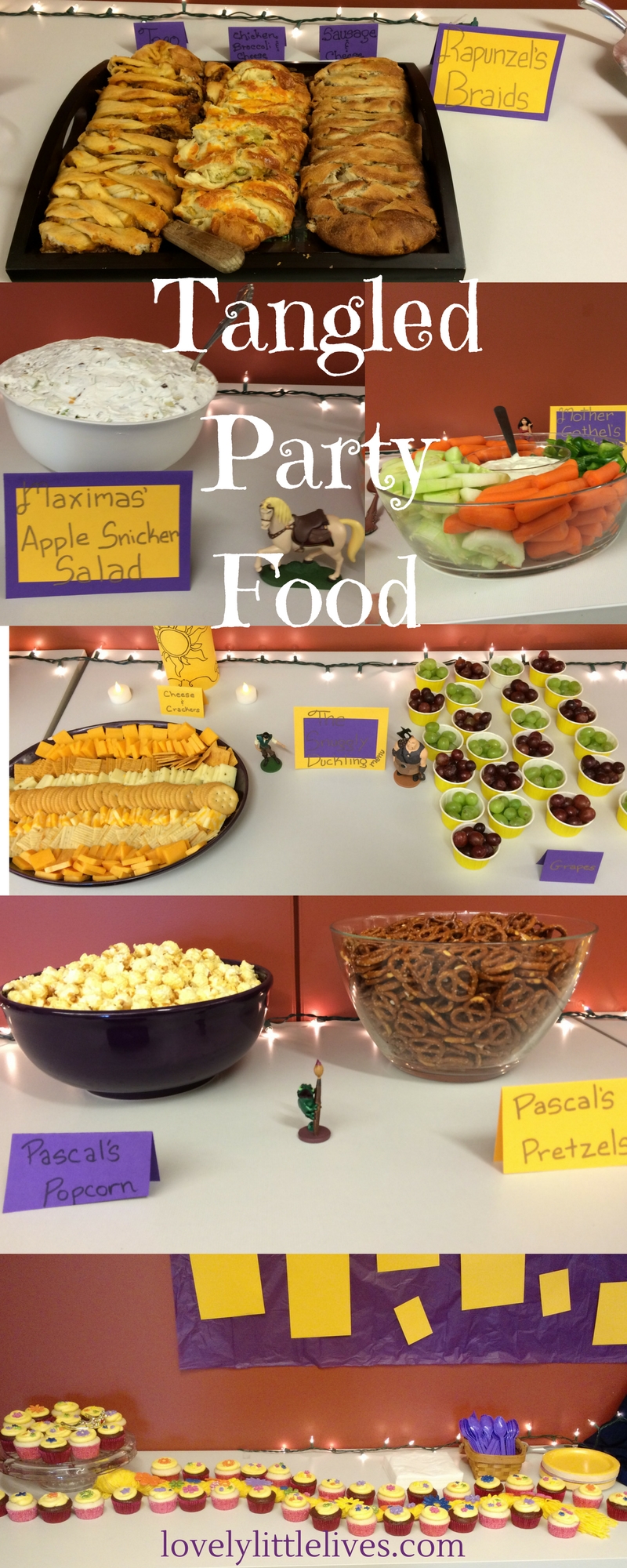 Menu: Rapunzel's Braids.
I used 3 recipes in order to have variety: The PDF versions are below:
Maximas' Apple Salad.
My mother in law made this so I'm not sure the exact recipe but there is a similar recipe here.
Mother Gothel's Vegetable Garden.
Pretty self-explanatory: baby carrots, green peppers and cucumbers with ranch dip.
Pascal's Pretzels and Popcorn.
Bowls filled with bought caramel corn and pretzels, easy peasy!
The Snuggly Duckling Menu.
Assorted cheese and cracker tray, purple and green grapes in yellow serving cups.
Magical Golden Flower Juice.
PDF Recipe below:
Cupcakes and Neopolitan ice cream.
The cupcakes were made by my sister in law and she found a special homemade recipe that was deliciously rich.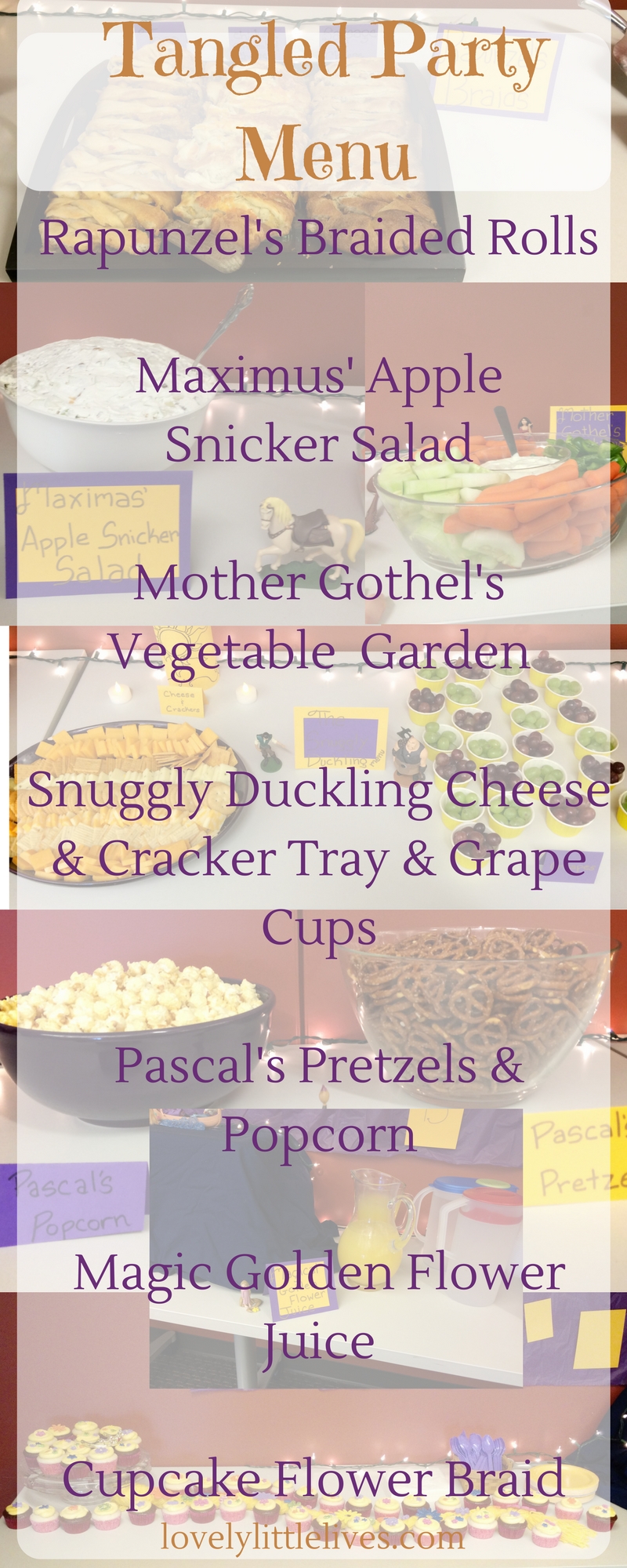 Tableware:
Plastic white tablecloths, yellow paper plates, gold silverware, purple, pink and clear cups, plain white and Tangled napkins.
Music
Of course, we had the Tangled sound track and other Disney Princess music playing in the background throughout the entire party. The soundtrack is pretty awesome if you've never heard it, you really should! Click the picture to hear it:

Decorations
I bought packets of gold and purple construction paper and used that for most of the decorations. I found these free pendant printables but ended up just making my own by tracing a sunburst pattern onto gold paper with gold and black sharpies. I then cut each one out individually and glued it onto purple paper triangles that I also cut out by hand.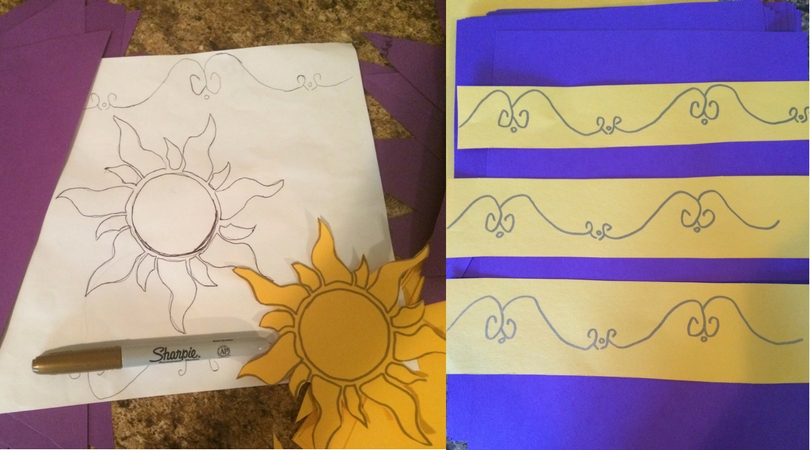 I punched a hole on each side of the triangle and then strung them all together to make a banner. I traced the swoopy part of the pattern onto strips of gold paper and glued those onto the purple paper triangles so that I had alternating designs on the banner.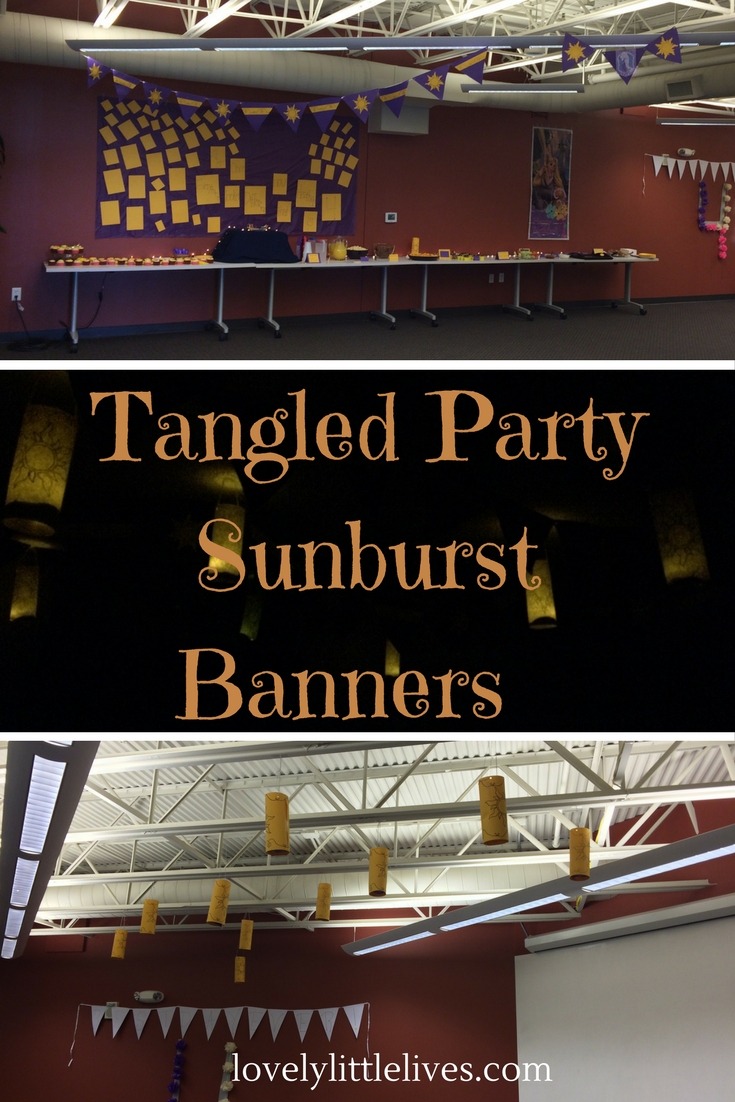 I made lanterns by tracing this pattern onto gold paper, rolling up the paper and stapling it, then punching holes in the sides and slipping string through the holes. I cut out round piece of construction paper, taped them to the bottom side of each lantern and then placed a flameless tea light inside each lantern.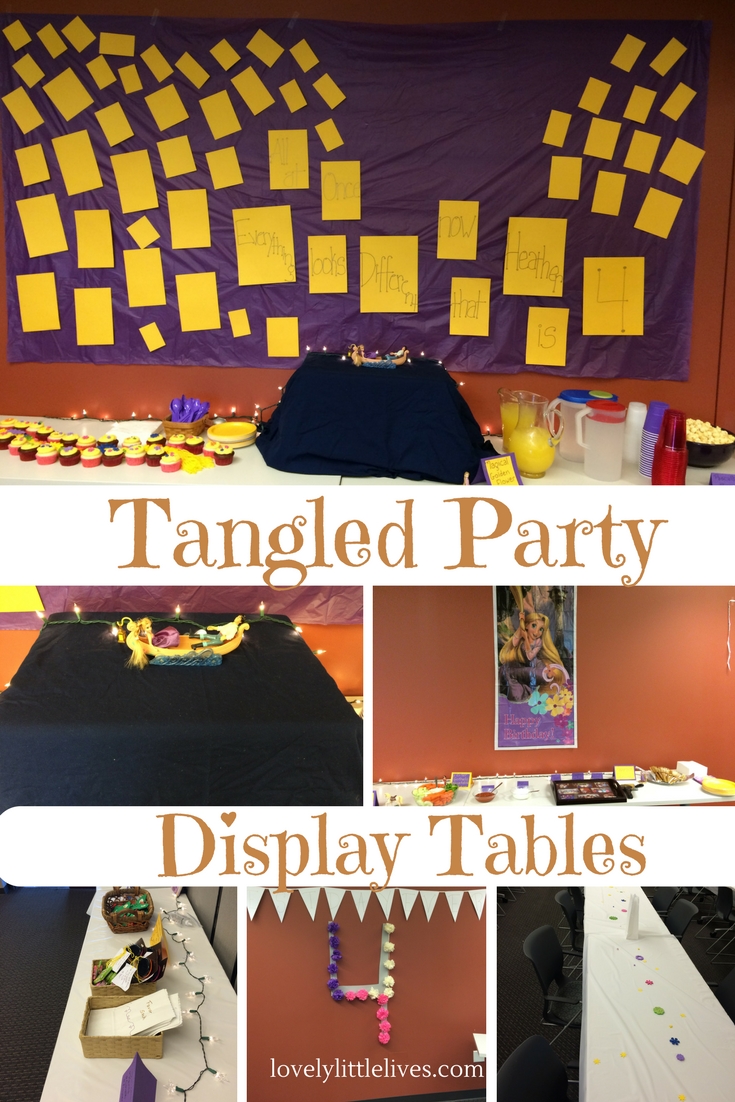 I created the "Floating Lights" scene from the movie with a different sized rectangles of gold paper taped to a plastic purple tablecloth with the middle rectangles spelling out a phrase from the "I See the Light Song" that I adapted to fit the party: All at once, everything looks different, now that Heather is 4." I had a box, a dark blue sheet and a tiny Tangled boat to place under the floating lights just like the movie.
I used the rest of the purple and gold paper to make signs for the games, food table, and favor table.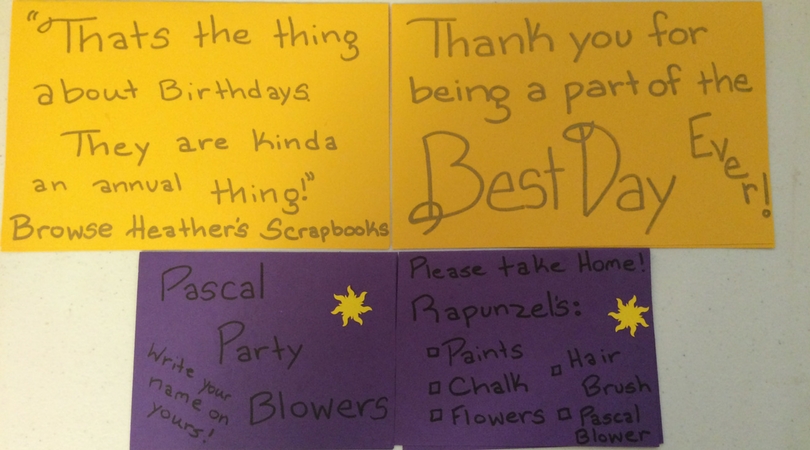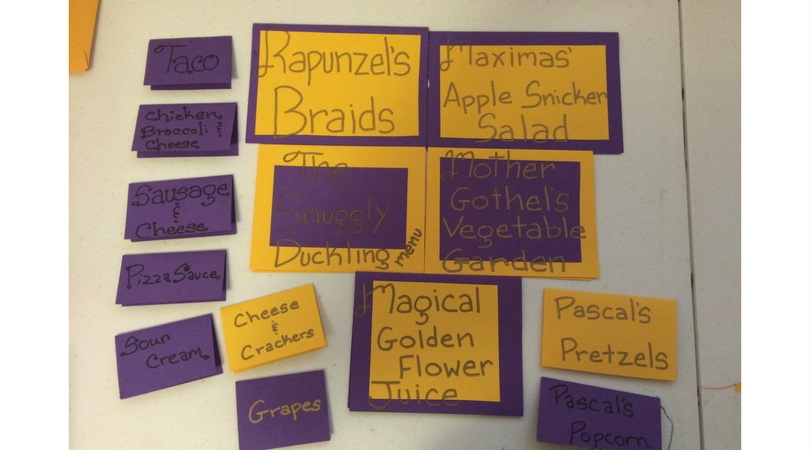 Ebay provided me with the set of tangled character figurines that I placed around the serving table to correlate with the appropriate dishes. The Happy Birthday Rapunzel poster was from Ebay as well.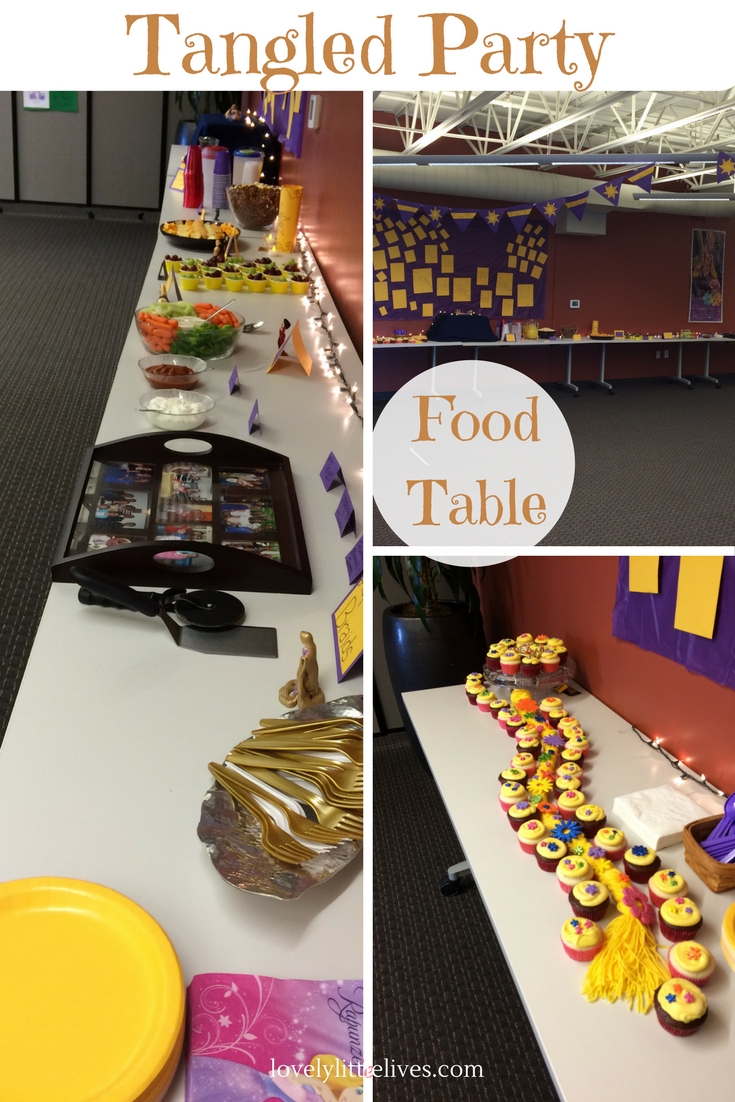 I made a picturesque backdrop with a pom-poms number 4 and a banner for the wall that said: "Best Day Ever!" I bought a packet of stick-able foam flowers to use for the cupcake toppers as well as to decorate "Rapunzel Braids" which I crafted out of yellow yarn "hair". One braid was part of the cupcake display and the other smaller version was for the birthday girl to clip in her hair.
Table Centerpieces
I used the same sunburst pattern on white paper bags to create paper lanterns to set up on the tables with tea lights inside.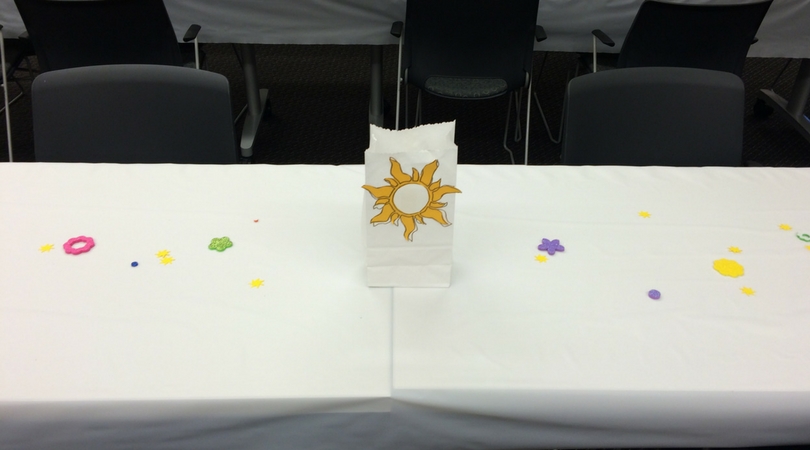 I scattered sticky foam flowers and sunburst confetti from Etsy around the paper lanterns.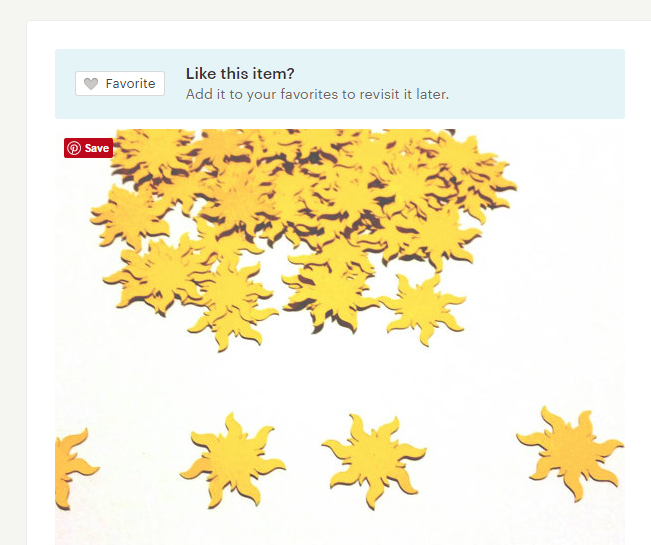 Games
Pin the Frying Pan on Flynn Rider. Blindfold each child and have them stick the frying pan onto Flynn Rider's face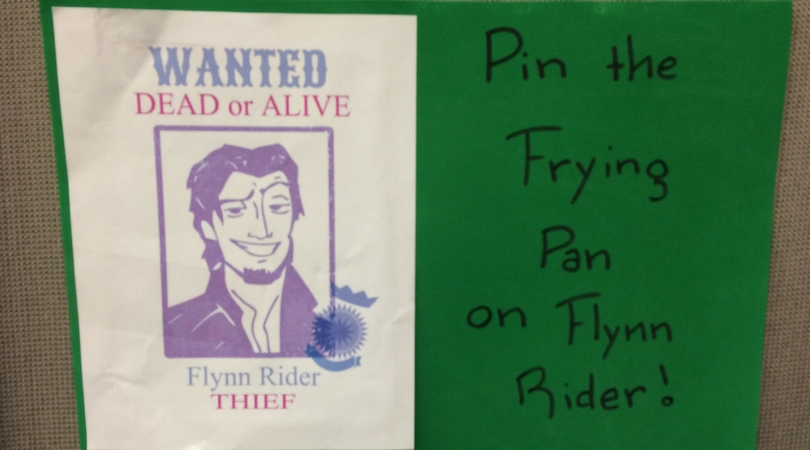 Maximus' Apple Toss. Stand behind a line and see how many felt apples you can toss into buckets.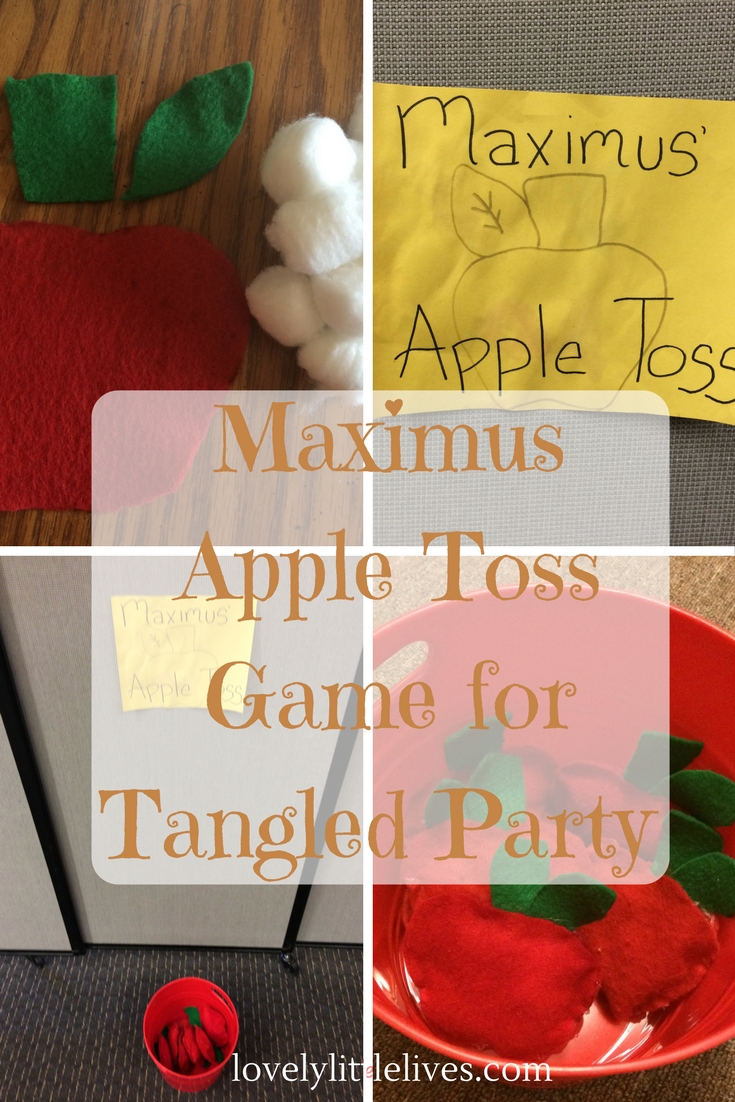 Items needed: plastic or metal pails, Felt apples ( I made mine with this pattern green and red felt, hot glue and cotton balls stuffed inside). I just used one bucket but if you wanted, you could do multiple buckets with a point system.
Tangled in Crepe Paper. Have the kids take turns tangling each other up in crepe paper to see who can get the most "tangled" within 30 seconds or a minute.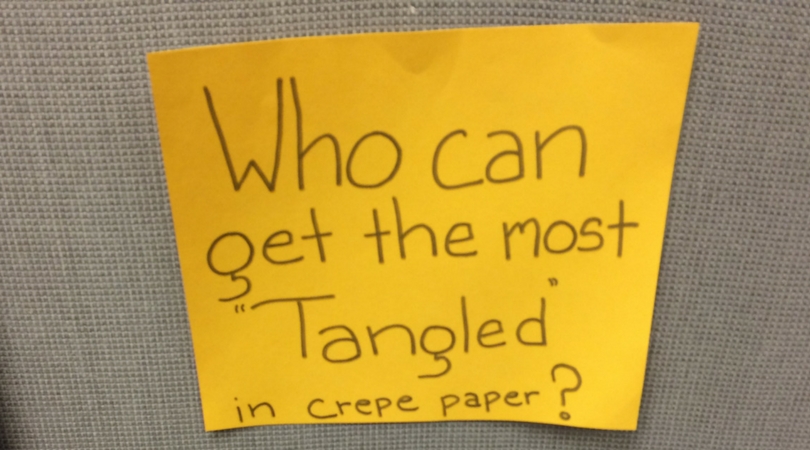 Items needed: yellow crepe paper and a timer.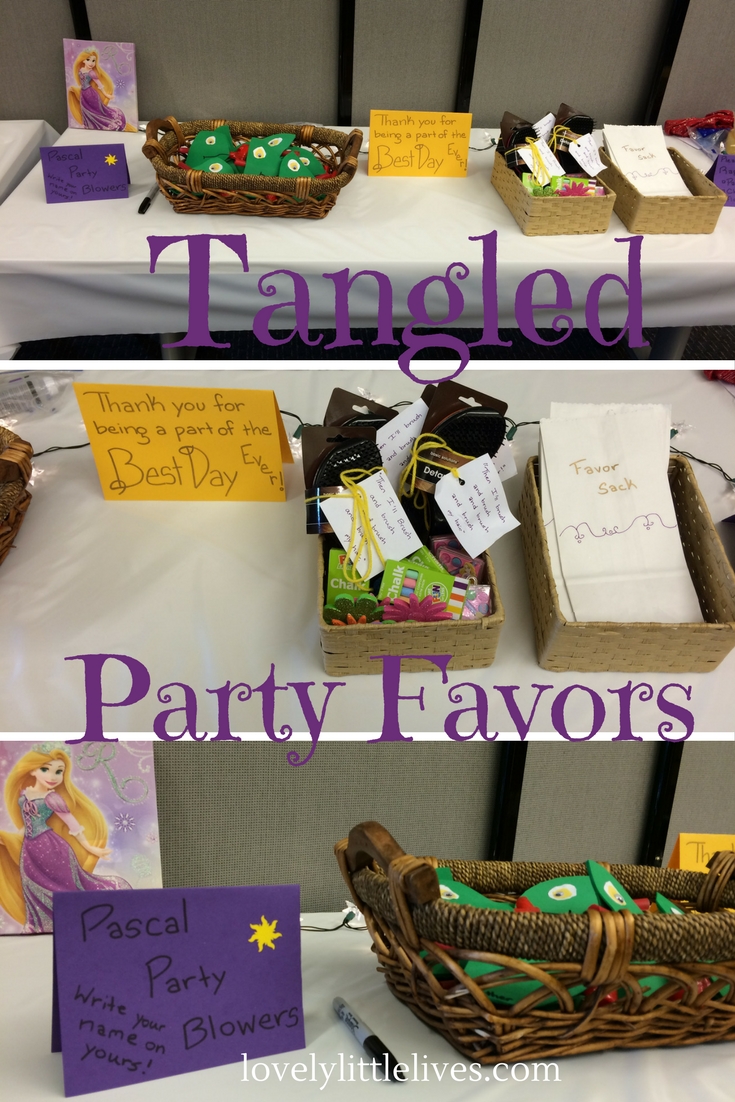 Favors
I gathered a bunch of favor options including:
De-tangler brushes from the Dollar Tree, chalk packets from Hobby Lobby, extra foam flowers from decorating, and mini paint sets from Amazon.
For the hair brush favors, I added a yellow yarn bow with an attached hair related quote from the movie.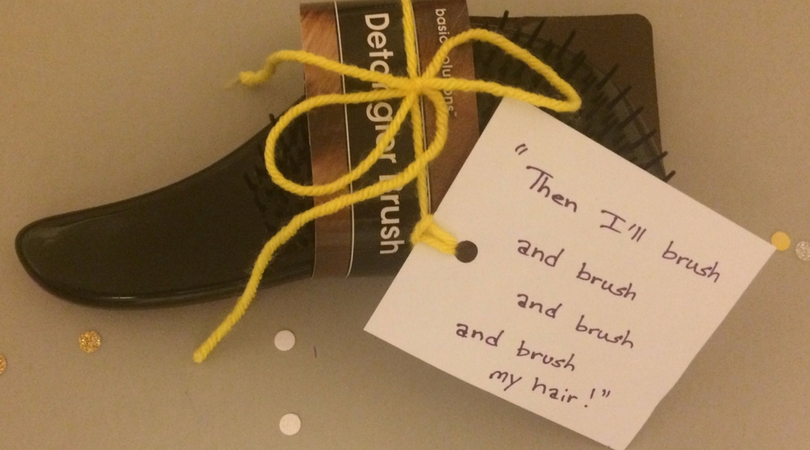 Pascal Party Blowers: I made these beforehand but you could also cut out the pieces and then use as a group party craft. As the kids arrived, I had them each pick one out and write their names on them to avoid sharing germs. These were a hit!

Items needed: green craft foam, yellow and white paper, a packet of googly eyes, red party blowers, black sharpie for the mouth, pattern from Disney website.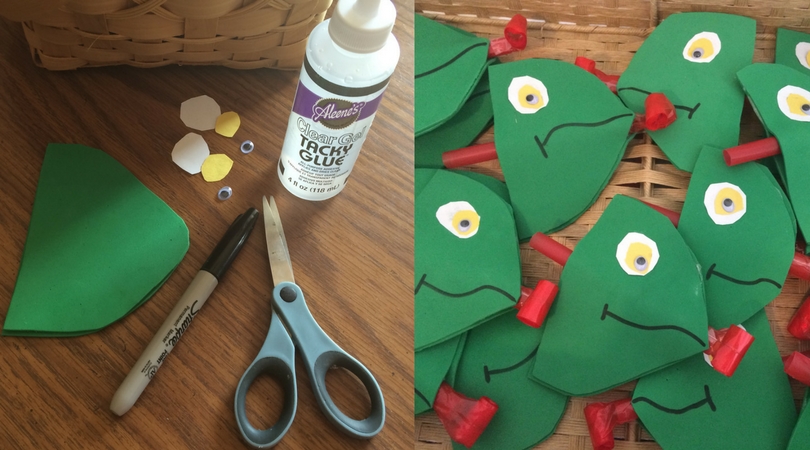 Rapunzel Crown: I debated on making these for all the girls or using it as a group party craft but then decided against it because of the prep time involved. So I just made one crown for the birthday girl instead and she loves it!

Items needed: purple, silver and white craft foam, hot glue, Disney pattern.

Rapunzel hair: Create a Rapunzel braid in your daughter's hair to go along with her sparkly foam crown.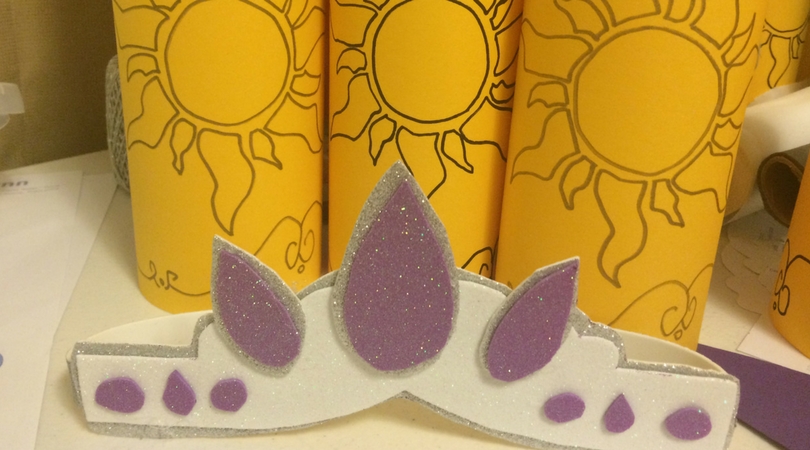 The favor bags were basic white lunch bags from the same pack I used for the table centerpieces with some hand-drawn purple embellishments.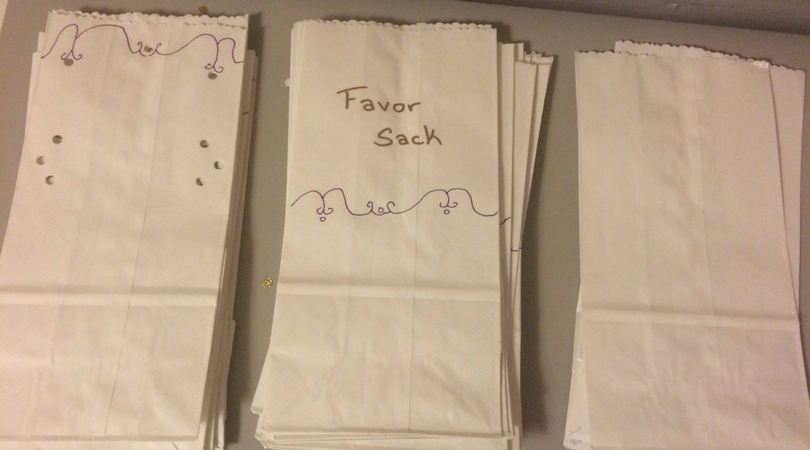 The party supplies that I didn't buy from Amazon, I purchased from Hobby Lobby, my favorite store ever!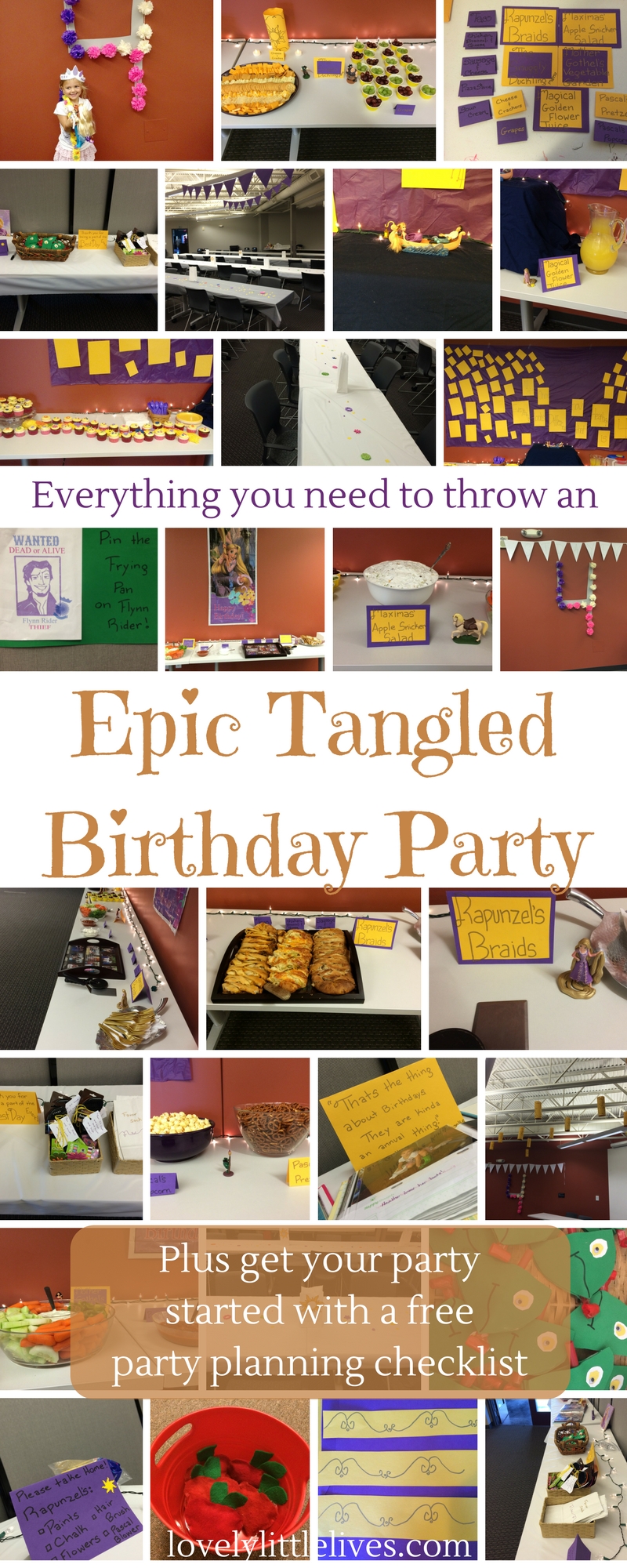 Note: To plan an extravagant party like this, be prepared to spend hours on prepping, set up and clean up. I would recommend starting to plan and create the decorations, menu and details weeks ahead of time, otherwise, it will just be a stressful last minute mess. To give you an idea of all the prep that went on this was the scene on my craft table for about a month beforehand. It was a ton of work but the magical memories made at our Tangled party made it all worth it.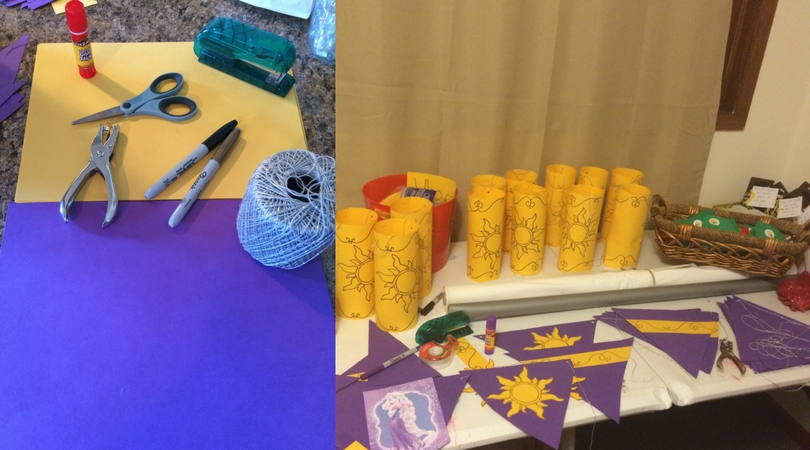 To help you organize your next party, I've created a party planning checklist that you can have for free!

Most of my ideas bloomed from ideas on my Birthday Party Pinterest Board. To see more ideas for this theme and other party themes follow me.
Check out this related post detailing Heather's 1st, 2nd, & 3rd birthdays!
*I'm linking up with some of these

parties

. This post contains affiliate links. If you click on or buy through one of the product links, I'll receive a small compensation.

See the full disclosure

here

.

Thanks for supporting my blog!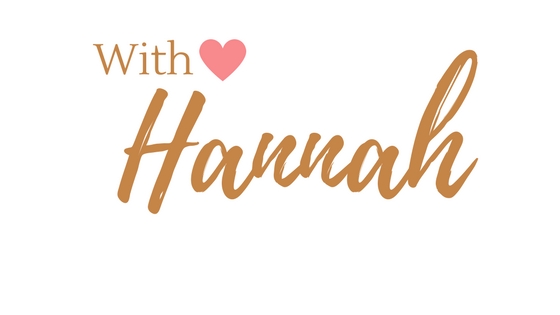 "Finally, brothers and sisters, whatever is true, whatever is noble, whatever is right, whatever is pure, whatever is lovely, whatever is admirable—if anything is excellent or praiseworthy—think about such things" Philippians 4:8.