Fishnets, cotton and white, intertwined with coppery glittered tulle. Glitter that mirrors the sparkle in the glinting Happy Birthday sign. Teal and purple lanterns swaying overhead, with star fish, mermaid tails and sand dollars twinkling among the frosted cupcakes and illuminated roses below. A toy boat gentle sways back and forth on a frothy sea of blue punch while google eyed lobster croissants stare at tall green corals of fresh grapes.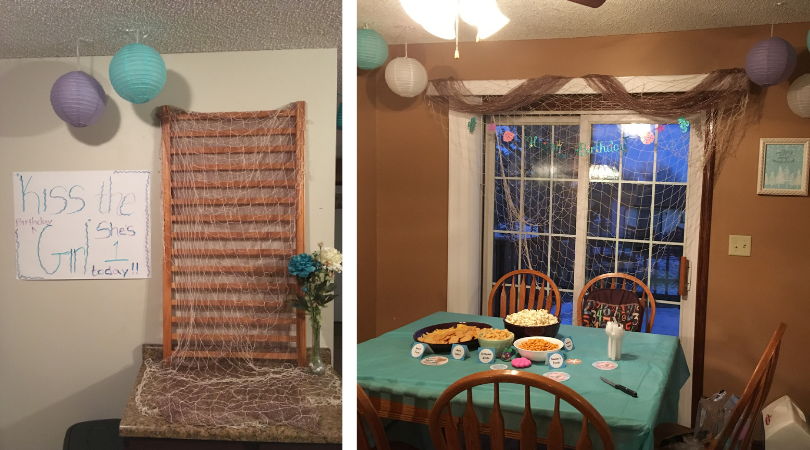 "Kiss the Birthday girl, She's one today is what the banner on the wall says, hanging next to a collage of pictures from her first year of life. She's one now, toddling around with her fluffy teal and purple tutu flaring out around her. Smiling, curious, exploring, smearing a whole cupcake on her face for the first time. Her big sister twirls by in her shiny green and purple mermaid dress.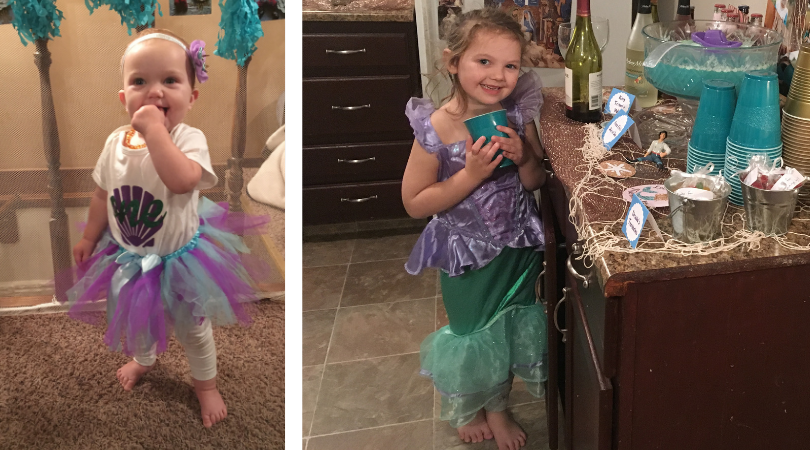 This is the first year of the double birthday party. The first year, the two sisters with birthdays two weeks apart, have to navigate the waters of sharing their special day. One turning five, the other turning one at their Little Mermaid birthday party.
It was a night to remember with an array of ocean themed fare and sparkly outfits and Baby Shark performances by the birthday girls. It was a night of being "part of their world". The world of princesses and mermaids.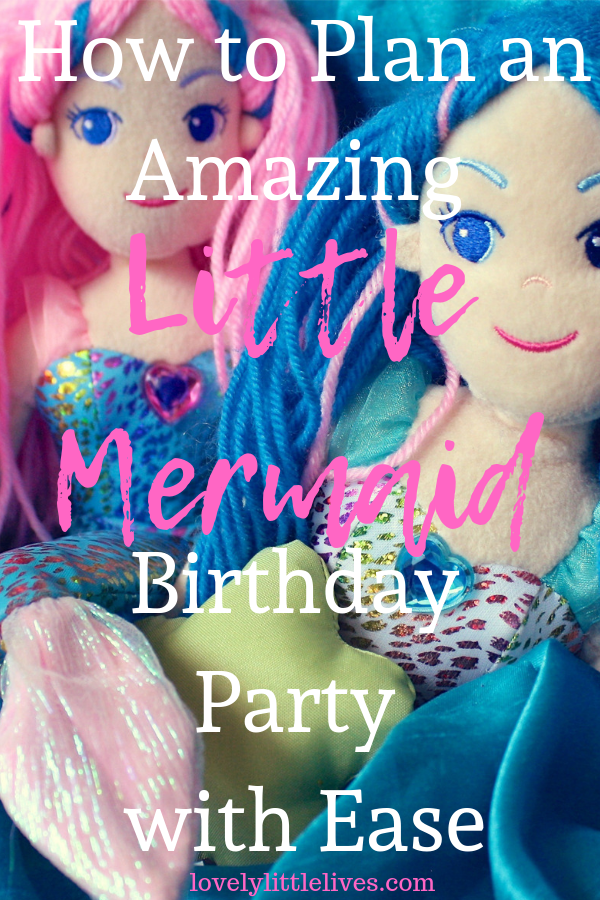 Affiliate links included below which means if you click through or purchase something through my links, I'll receive a small compensation at no cost to you. See full disclosure here.
To decorate I used a mixture of items bought on Amazon and items I already had around the house.
Little Mermaid Decorations
Fishnets draped over sparkly tulle went above the dining room table and over a recycled crib rail. I hung baby and family pictures from the fishnet with tiny clothespins on the crib rail as well as along the stairwell.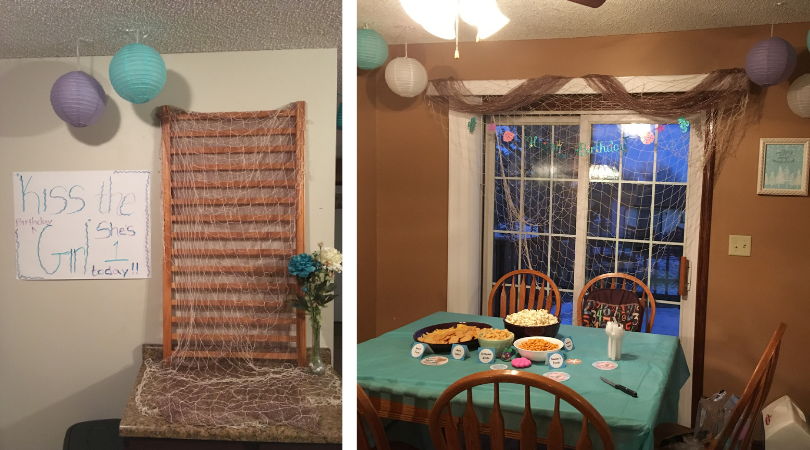 Teal, purple and white paper lanterns hung from the ceiling and I had a few birthday signs scattered about the walls. One was a mermaid sparkle banner that I bought and the other two were poster board with lines adapted from the Little Mermaid movie. "Kiss the birthday girl, she's one today" and "Stella and Moriah, we love being a part of your world".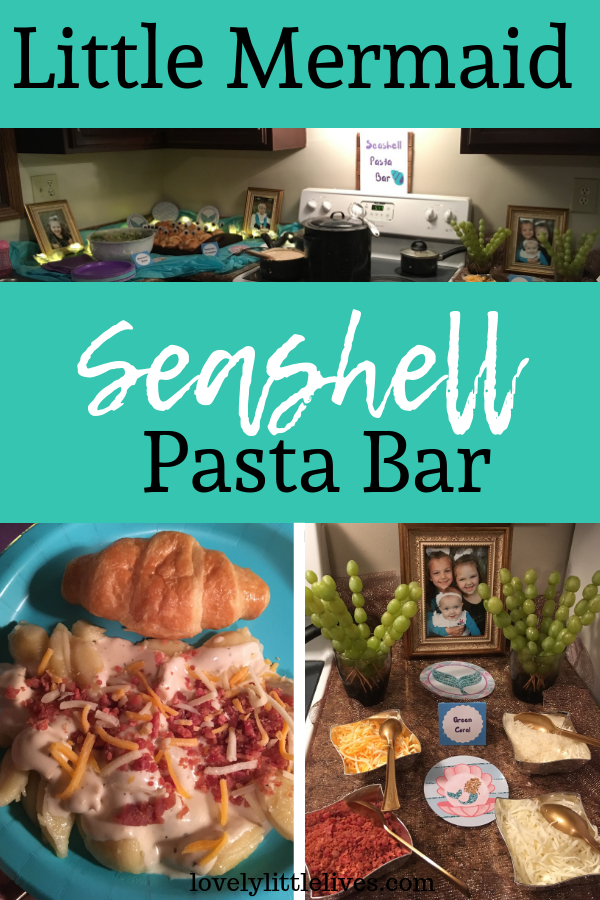 For the tables, I had plastic teal tablecloths, a few toy shells and fish and some large pieces of mermaid confetti. Along the counters by the food I had gold framed pictures of the birthday girls and a string of illuminated white roses. I was hoping to have our Little Mermaid Ariel doll sit as a centerpiece with the roses but she got lost at the last minute we couldn't find her until after the party. I still took a picture of her later for the effect.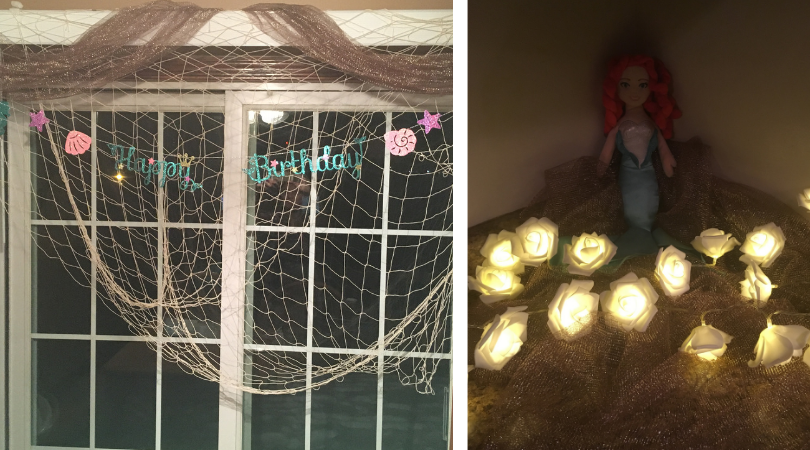 For the paper goods, I had purple and teal plates and napkins, gold silverware and teal and gold cups. There are links for all these items on my Amazon list.
The Little Mermaid invitations that I sent out for the party were from Etsy.
Little Mermaid Food
The dinner menu was all ocean oriented and Little Mermaid themed. I decided on a seashell pasta bar for the main course. We made a large pot of shell pasta with chicken Alfredo sauce and a red meat sauce with bacon bits and three kinds of shredded cheese for people to sprinkle on top.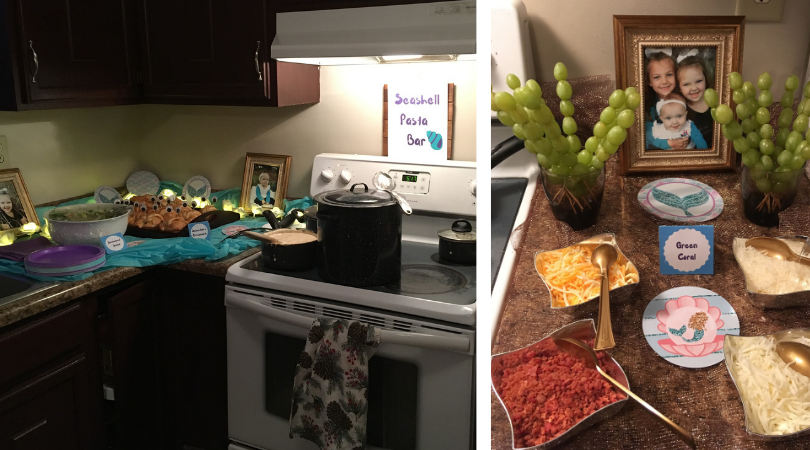 There was a regular greens salad labeled "Seaweed Salad" and an assortment of croissant rolls that I added googly eyes glue to toothpicks to look like lobsters. These were dubbed "Sebastian's croissants" after Sebastian in the Little Mermaid movie.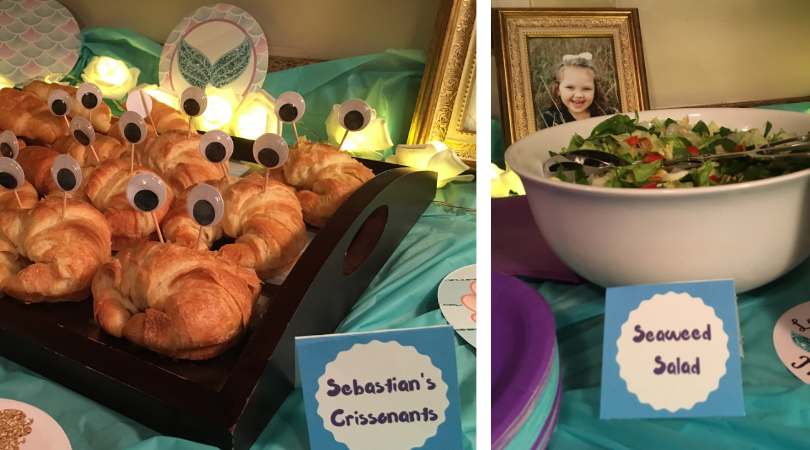 I stuck a bunch of green grapes on kabob skewers and that was our "green coral". There was also an array of snacks for guests to munch on before nad after dinner. Popcorn became "Seaform", goldfish became "Flounder's Friends", veggie straws or in this case, cinnamon apple straws, became "Driftwood Sticks" and Ritz crackers with triangles of cheese became "Sand Dollars" and "Shark Teeth".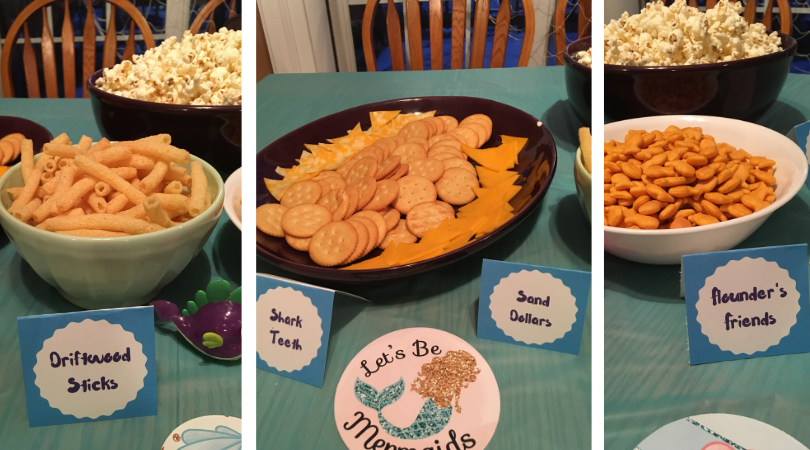 We had cupcakes and sheet cake titled "Little Mermaid Cake" for dessert with blue frosting and sprinkles. Vanilla cupcakes for the one year old and chocolate sheet cake for the five year old. I was originally planning to make sand pudding in single serving cups to go along with the cake and call it "Cups of Sand" but I ran out of time.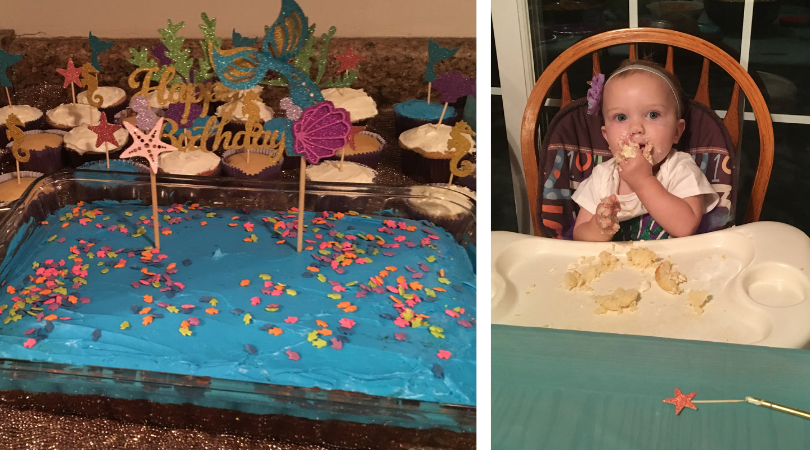 For drinks, I made a big bowl of blue punch with Hawaiian punch mixed with sprite and lime sherbet scooped on top. With a miniature toy boat floating on top it looked like "Prince Eric's Ship at Sea". I didn't have this Eric and Arial boat set but it would be really cute for your party decor. I also bought assorted wine for the adults to drink and we called it "King Triton's Wine".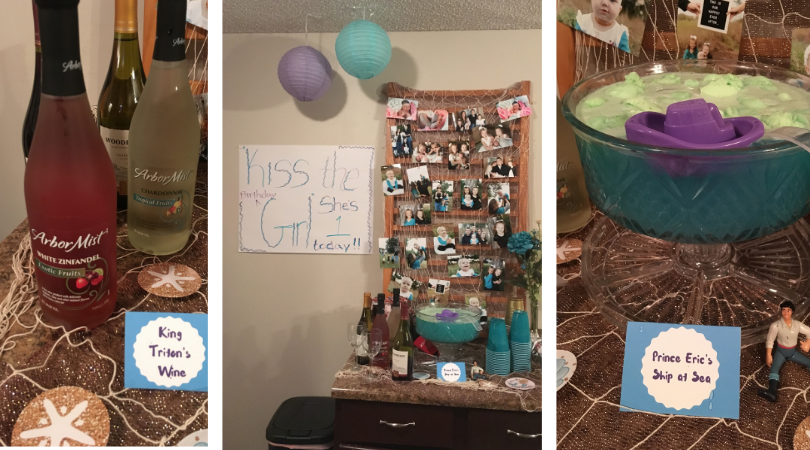 For favors we had "Ursula's Tentacles" which were just little plastic bags of gummy worms. I had a couple small silver pails on hand that I displayed them in. I used white ribbons to tie the favor bags and wrote little labels for each that said "Thanks for Swimming By".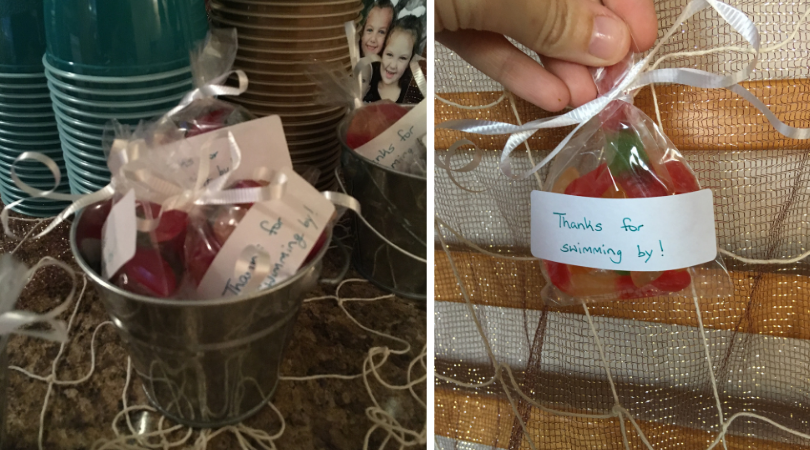 I created Little Mermaid food signs to place in front of each dish. And a bigger sign for the Pasta Bar. If you would like to download these to use at your own Little Mermaid party, you can do that below: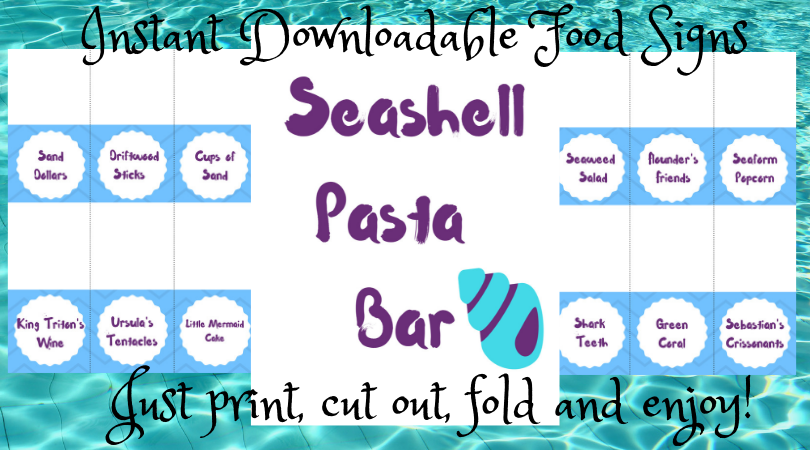 Little Mermaid Birthday Costumes
I found the birthday girls' birthday outfits for cheap on Amazon and Walmart Halloween clearance. Stella's Little Mermaid dress was from the Walmart clearance aisle although you can find a similar one on Amazon.
Moriah's one year old outfit was my favorite: A shell onesie with a tutu skirt and star fish headband.
It was an amazing party and the perfect way to celebrate our two little mermaids! You can check out my other princess party posts below: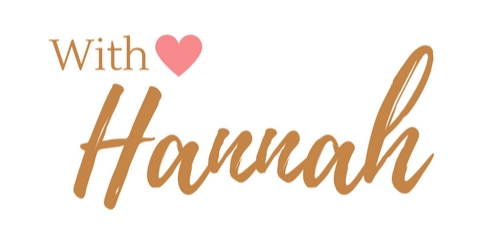 "Finally, brothers and sisters, whatever is true, whatever is noble, whatever is right, whatever is pure, whatever is lovely, whatever is admirable—if anything is excellent or praiseworthy—think about such things" Philippians 4:8.