Christmas is almost here, December is literally flying! Christmas preparations are in full swing here and I'm trying to cram in every tradition and activity I can while I have energy and motivation to do so. OK, maybe not to that extreme but you get the idea. There is a lot I want to do and only so much time to do it.
Here is my Christmas Season Bucket List: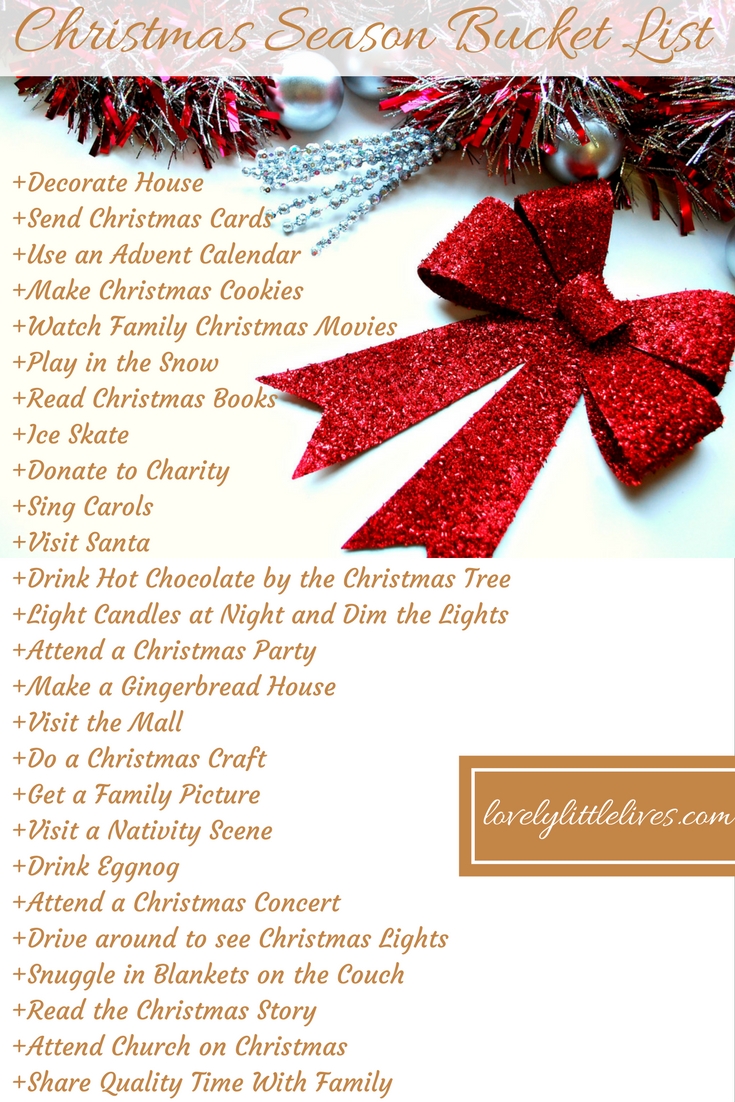 Fortunately, Christmas goes beyond Christmas day for us so we have plenty of opportunities to get all the activities in. As Catholics, we celebrate Advent leading up to Christmas and then the Christmas season begins from there and runs through the Feast of the Three Kings which is January 6th.
So what usually ends up happening in our house is we celebrate before December 25th, starting with St. Nicholas Day on December 6th, and then all the way through to January. 6th or so. At least that is about how long our tree and decorations are up.
Some families I know (including my own growing up), have more discipline with waiting until closer to Christmas to decorate and celebrate, but I get swept up into the excitement and holiday sparkle so I just try to have a balance of both.
For inspiration on ways to celebrate the season, check out the Simplify the Season blog party that I'm a part of where a group of bloggers share their wisdom for having a stress free and memorable holiday season.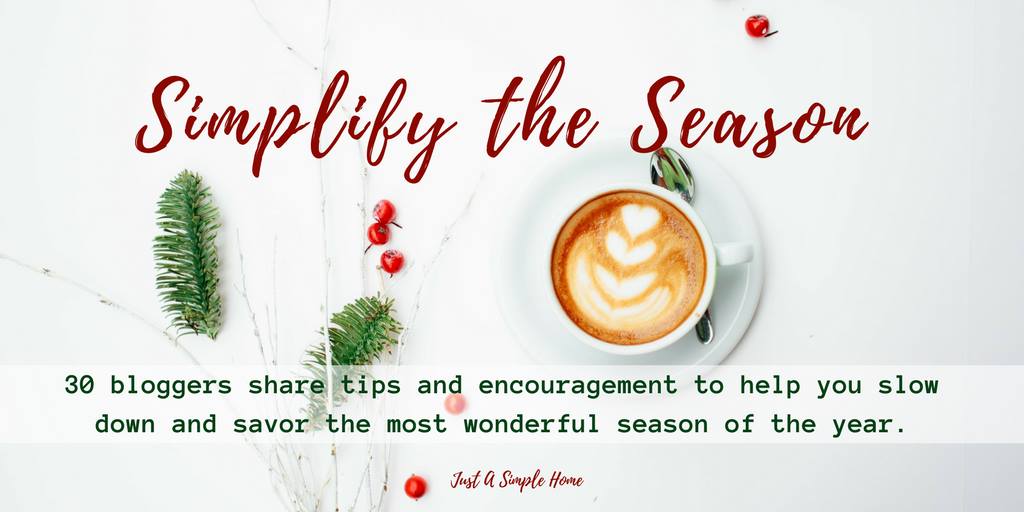 Affiliate links included below which means if you click through or purchase something through my links, I'll receive a small compensation at no cost to you. See full disclosure here.
To Celebrate Advent:
We have an advent wreath with candles that we light each week:
We do an Advent calendar with little tasks to complete and check off as we get closer to Christmas.

I try to read a short Advent reflection each day as well. One for me and one for the kids:
I'm also excited this year to try and do the O Antiphons which are little prayers said nightly between December 17th and December 23rd. There is a great post with more information and ideas for themed activities by Pinot Noir and Prayers.
I tend to turn on the Christmas music in early December
. Amy Grant and Michael Buble are among my favorites. We pull out our Christmas books, movies and decorations around the first week of December too.
Favorite Christmas Books include:
The Nutcracker
The Night Before Christmas
The Very First Christmas


Happy Birthday Jesus

Favorite Christmas Movies include:
Wee Sing Best Christmas Ever
Beauty and the Beast Enchanted Christmas
The Original Christmas Classics
Holiday Inn
It's a Wonderful Life and White Christmas
St. Nicholas Day Traditions:
On St. Nicholas Day, December 6th, the kids get presents in their shoes in honor of the legend of St. Nicholas secretly putting gold coins in the stockings of young girls who needed money for their wedding dowries.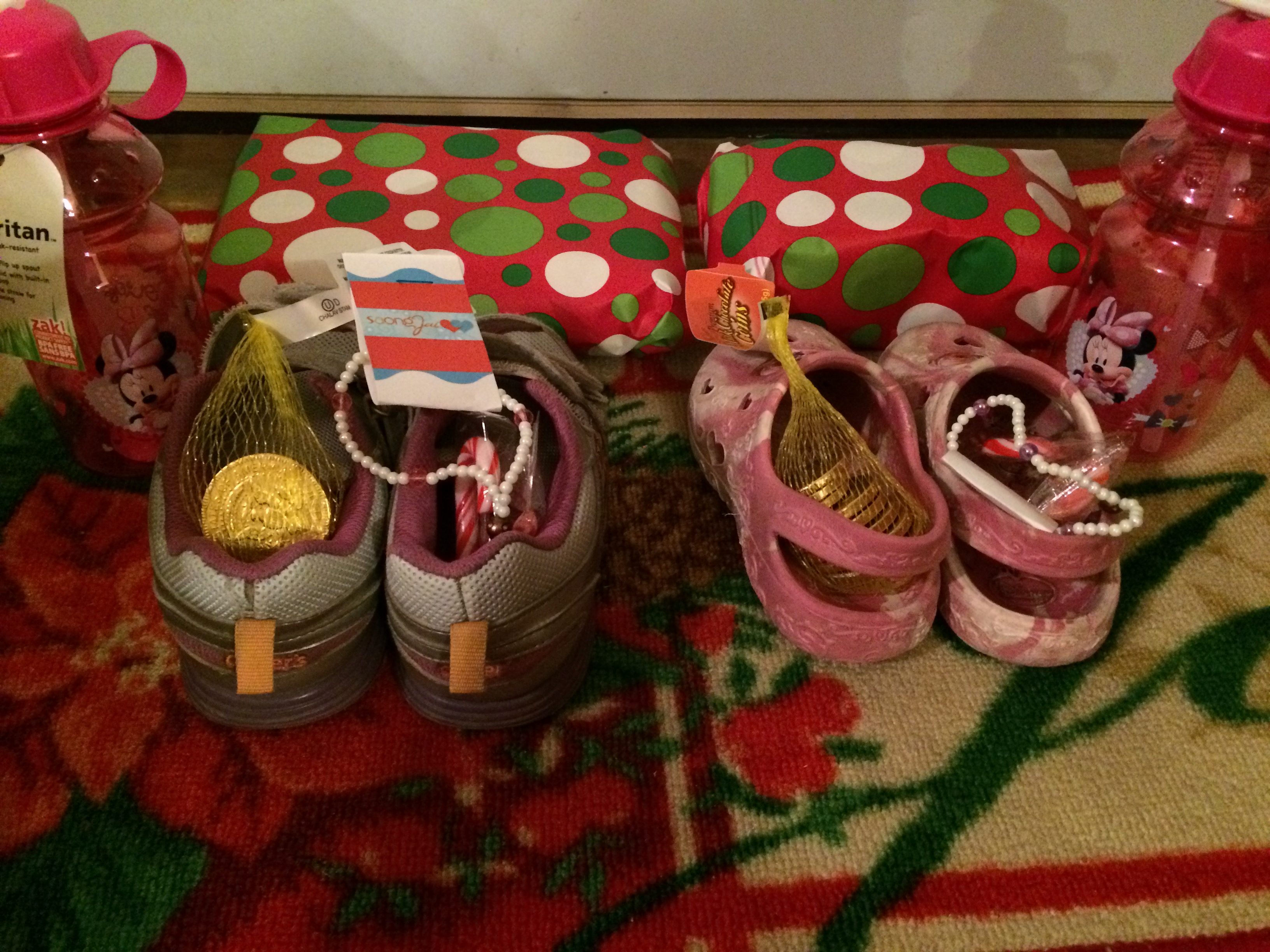 In the evening of St Nicholas Day, we have started the tradition of decorating our tree while listening to Christmas music or watching Christmas music videos by Homefree.
The last few years we have put up two trees. One in the girls' bedroom and one in the living room: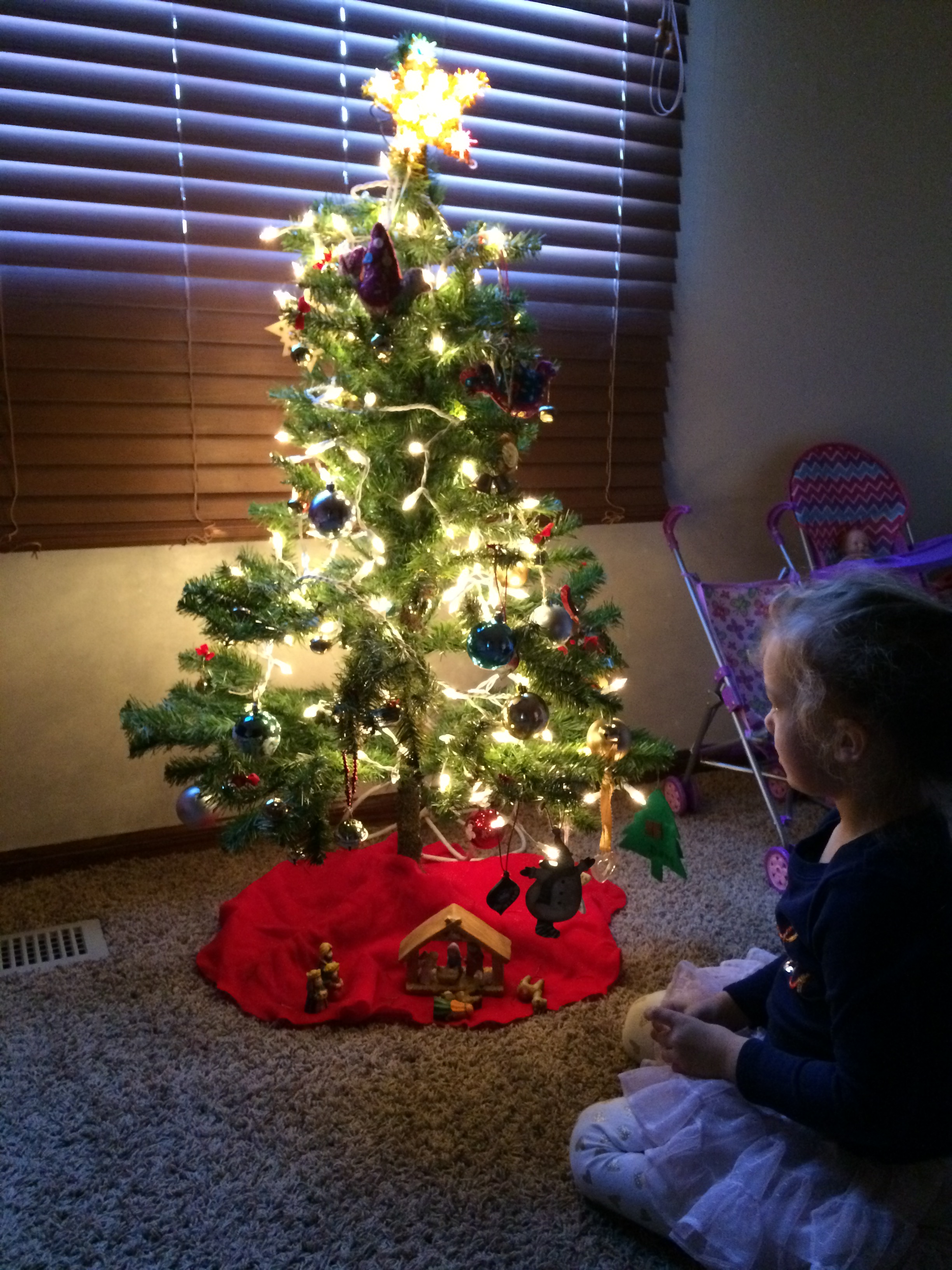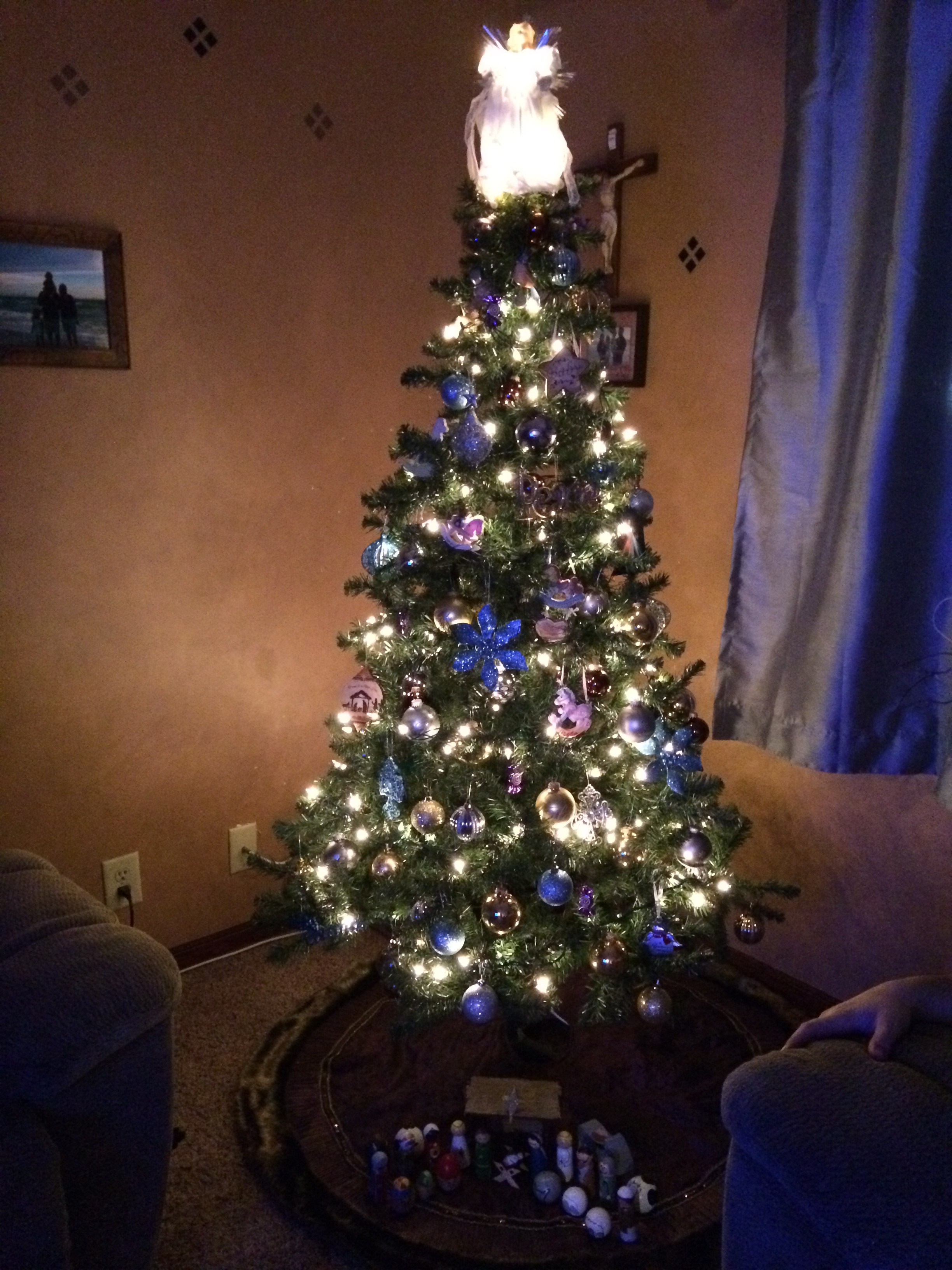 I'm sending off my Christmas cards and wrapping presents this week which may or may not include some gifts for my daughters from my Disney princess gift guide.
I hope you are savoring this season with all the little joyful moments, as the days lead closer and closer to the "holy night, where stars are brightly shining…..the night of our dear Savior's birth."
How are your Christmas preparations going? What family traditions do you have? Let me know in the comments and feel free to save this bucket list for your own personal use: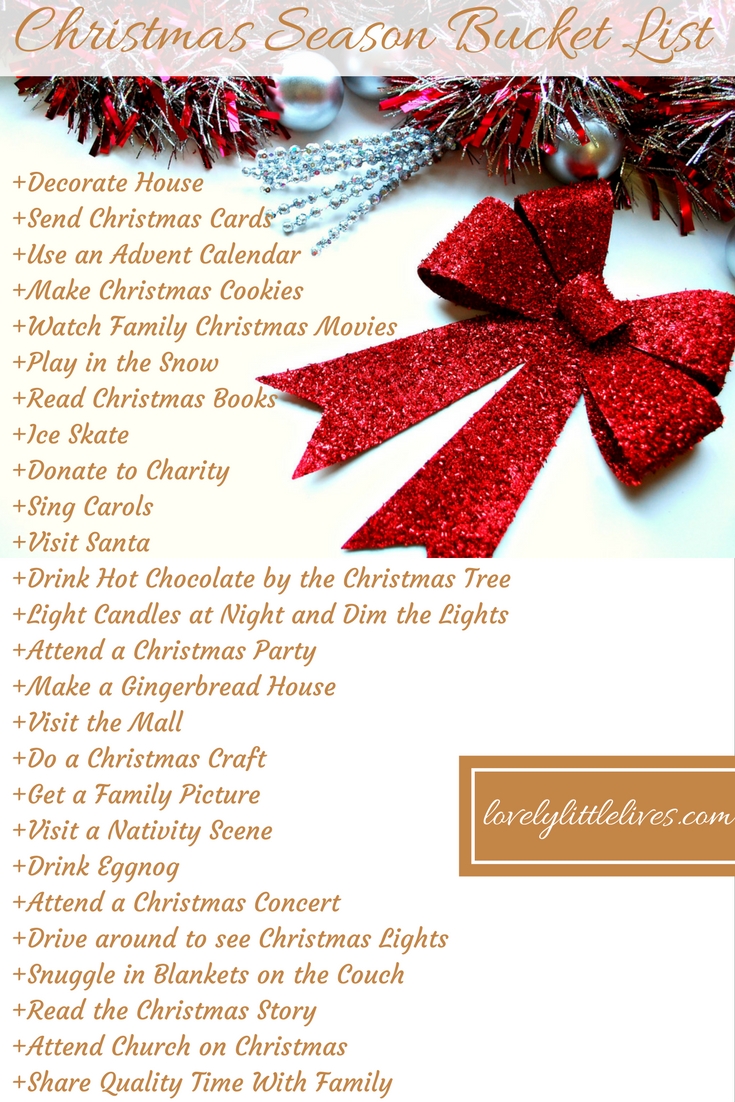 Join the Lovely Little Lives community and get access to the ever-growing library:
"Finally, brothers and sisters, whatever is true, whatever is noble, whatever is right, whatever is pure, whatever is lovely, whatever is admirable—if anything is excellent or praiseworthy—think about such things." Philippians 4:8