"Coffee is proof that God loves us and wants us to be happy." That should be a quote if it wasn't already. Whether you like it smooth and dark or rich and creamy, coffee is just a lovely little blessing. What other drink can you have every day and not get tired of? The promise of its aroma calls you from the warmth of your bed each morning and transfers the coziness of your blankets into the steamy mug in your hands. It motivates you to wake up and jumpstarts your day with the taste of pure goodness.
60+ gift ideas for the coffee lovers on your list!
Click To Tweet
If you love coffee, how could you not love any item that is coffee themed? That is why I've compiled this list of best gift ideas for coffee loving moms because I am one and I've personally been eyeing many of these items. Any mom or really anyone, who drinks coffee on a regular basis will appreciate receiving presents themed around their favorite beverage. So whether you are shopping for yourself (because let's face it, that is what many of us do), or your husband asks what's on your gift wish list, or you are trying to find the perfect gifts for all those people in your life who already drink coffee, here is a list of 60+ fabulous ideas to get you started.
Affiliate links and referral links included below which means if you click through or purchase something through my links, I'll receive a small compensation at no cost to you. See full disclosure here
Before you shop, have you signed up for these cash saving programs? Ebates is an easy way to earn cash back online by simply buying through the Ebates website or the phone app. You can use it in stores as well by linking a credit card to your online account.
Ibotta is an app that allows you to scan receipts for cash back on eligible items at grocery stores, Walmart, The Dollar Tree and more. You can also get money back by shopping through the app at online stores like Amazon.
Speaking of Amazon, if you are not an Amazon Prime member yet, now is the time to sign up! You can get free two-day shipping on all your Amazon Prime purchases as well as other benefits like unlimited online photo storage and free access to streaming music and movies.
Related Post: Hundreds of Lovely Gift Ideas for Moms and Ladies
Coffee Mugs
Of course, we have to start out this gift list with some coffee mugs that are both unique and pretty.


Coffee Themed Apparel
Shirts, socks and even coffee themed jewelry that will speak volumes about the wearer's love of coffee.
Items for the Kitchen
Add a little character and coffee themed flair to the kitchen with these fun and functional items.
Fridge Coffee Magnets
Who wouldn't want a cute little coffee magnet to add to their refrigerator collection? A great stocking stuffer idea or if you need a small, cheaply priced but super fun gift.
Funny Coffee Cups
Gag gifts are always a hit, try these for a white elephant gift exchange or a lighthearted present to bring a smile or even a chuckle to the gift receiver's face!
Coffee Wall Art
Canvas prints and decals to incorporate a little coffee love to the walls.
Home Decor Coffee Accents
Add a little espresso theme to brighten any corner of the home.
Coffee Themed Planners and Calendars
Planners are perfect gifts for the work at home moms or the organization loving moms and the calendars make a great yearly addition to any kitchen or office.
Gift Sets with Coffee Products
Of course, we can't forget gifts that involve coffee itself!
I hope this gives you some awesome ideas for creative coffee-themed gifts for every coffee lover on your gift list this year. Happy coffee drinking!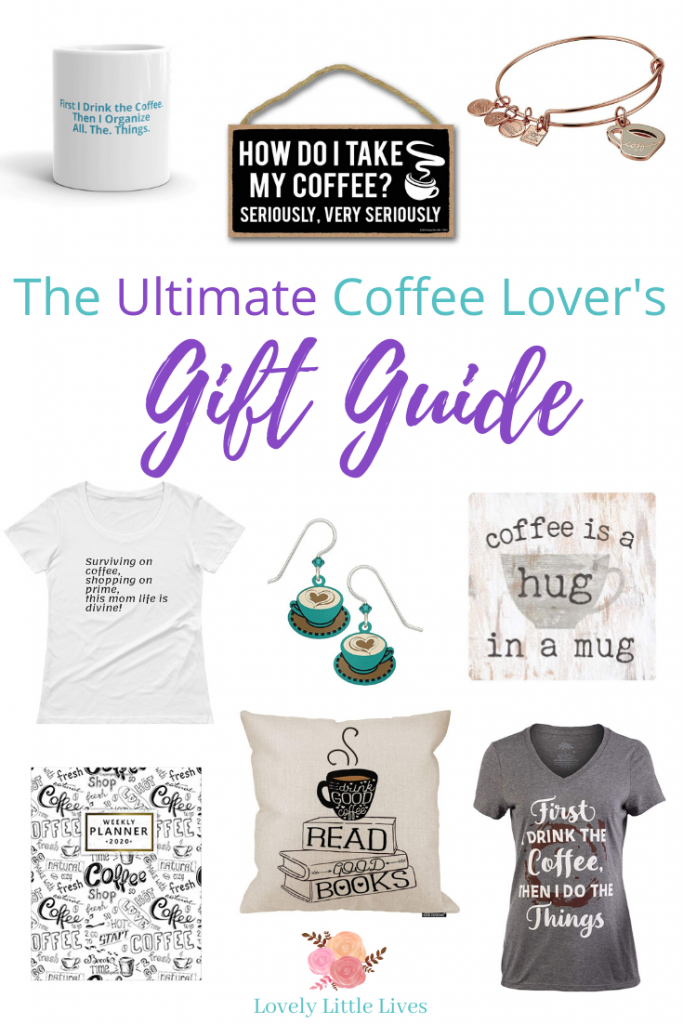 If you liked this post, check out my girls' gift guide filled with Disney Princess Gifts for your little princesses!
"Finally, brothers and sisters, whatever is true, whatever is noble, whatever is right, whatever is pure, whatever is lovely, whatever is admirable—if anything is excellent or praiseworthy—think about such things" Philippians 4:8.