This year, I went all out for the football party we hosted, complete with moving furniture to accommodate more guests, decorating the dining room with banners, backdrops and Nebraska accents and even making football shaped cakes.
Affiliate links included below which means if you click through or purchase something through my links. I'll receive a small compensation at no cost to you. see full disclosure here.
Here are my tips for hosting a fun and affordable football party:
1) Make a Facebook event to invite guests and to send out details and reminders
2) Provide the main course and drinks and invite everyone to bring a side dish or dessert.
(I usually have a side and dessert on hand to make sure there is enough food, which there always is if everyone brings something!)
3) Get into the spirit by decorating, you can either do a whole display or just have a few simple accents on tables to make it festive.
4) Decorate with what you have. Chances are if you are already a big sports fan and are having a football party, you probably already own items that portray your team spirit or you can get creative and modify items you already have to fit the theme.

(Since we already have a Nebraska themed basement, I only had to go downstairs to gather decor items. Even if you don't have many appropriate items, you can probably buy football themed tableware and tablecloth for a few dollars at  local store and you can use craft paint and construction paper to fashion a few simple sports symbols.)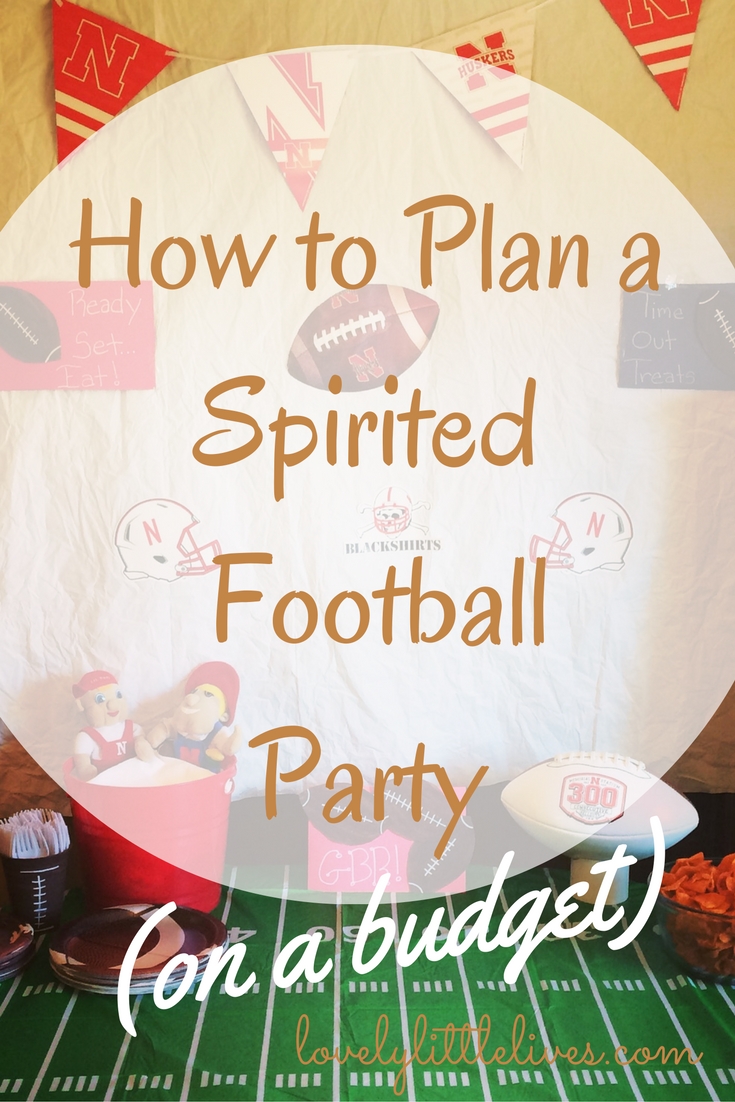 Here are the items I used to decorate:
From the basement: Nebraska mascot toys, red Nebraska banner and themed stickers, Toy red bucket, old football.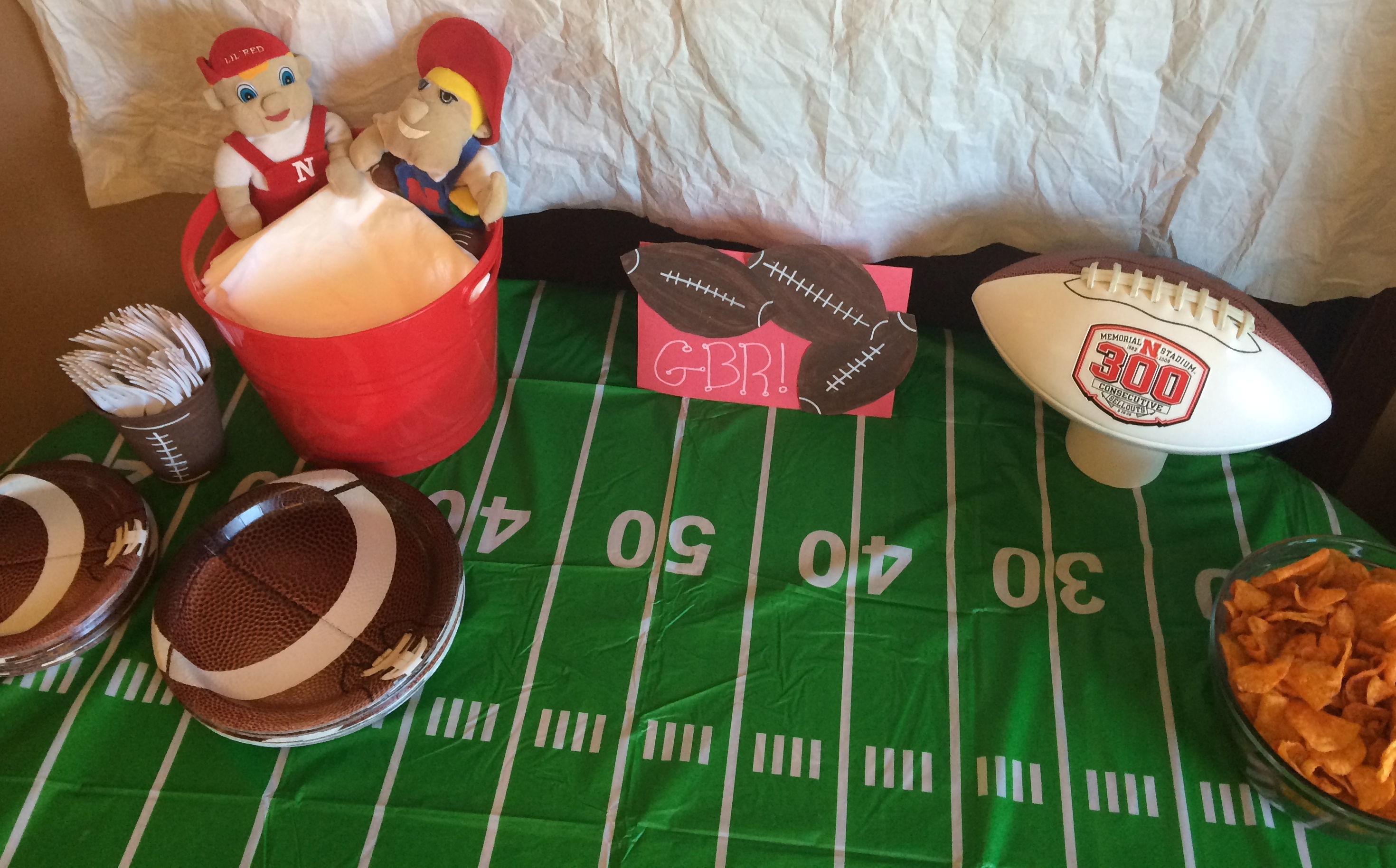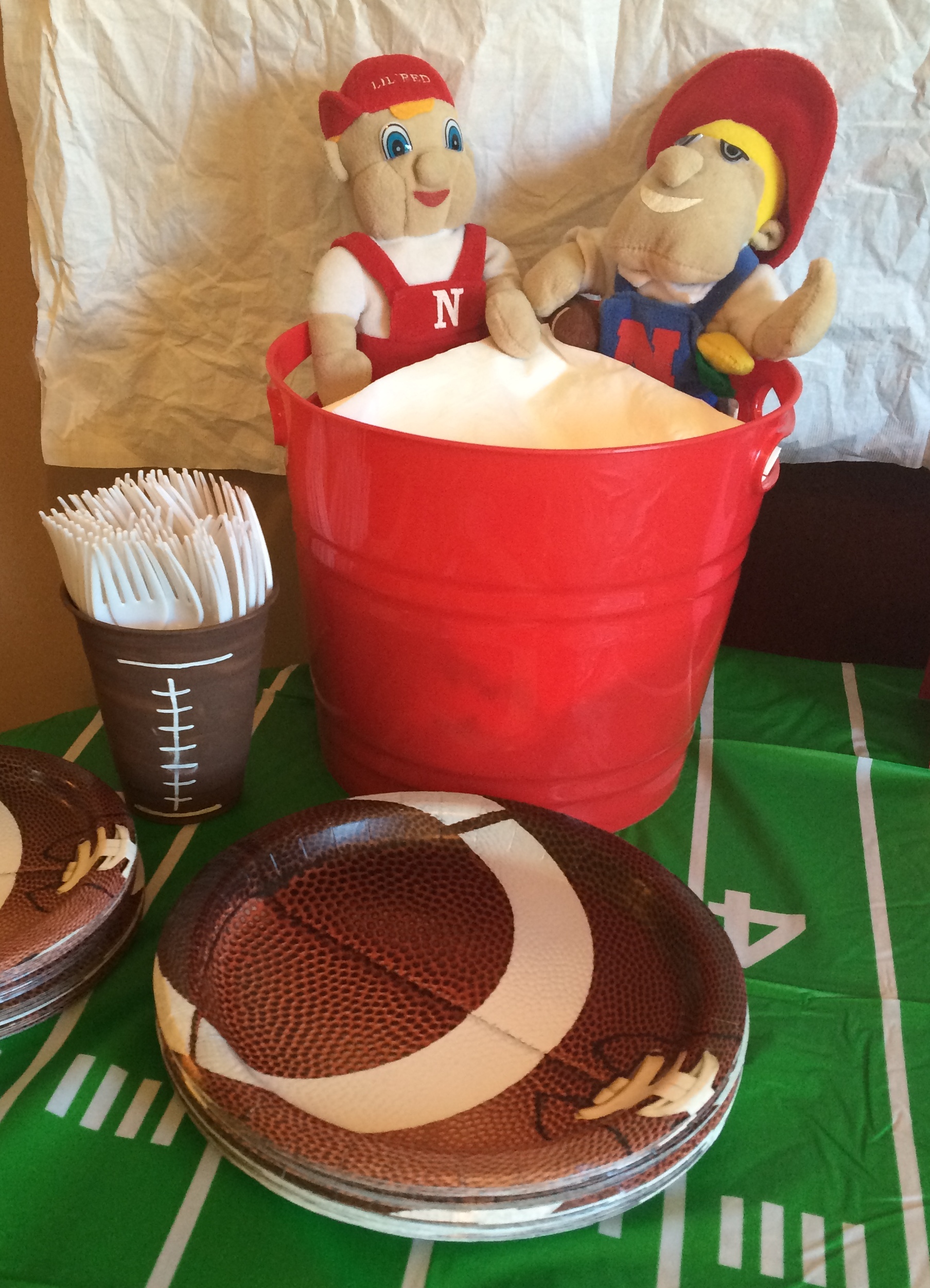 From a previous birthday party: white tablecloth for the backdrop, white pennant banner strung across the ceiling with added stickers and footballs.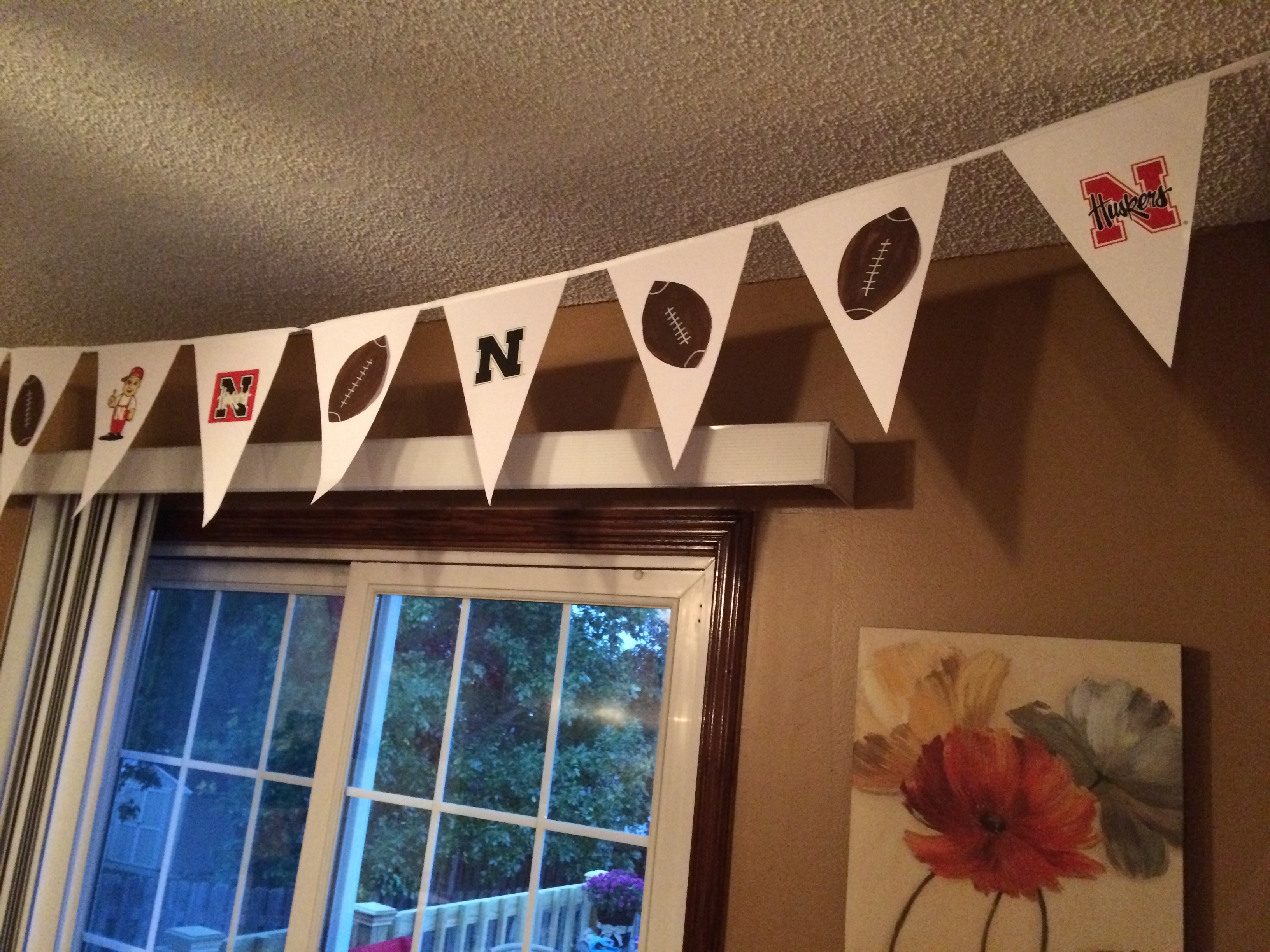 From my craft supplies: Red and black construction paper and a white chalk marker to make food table signs: "Ready, Set, Eat" and "Time out Treats".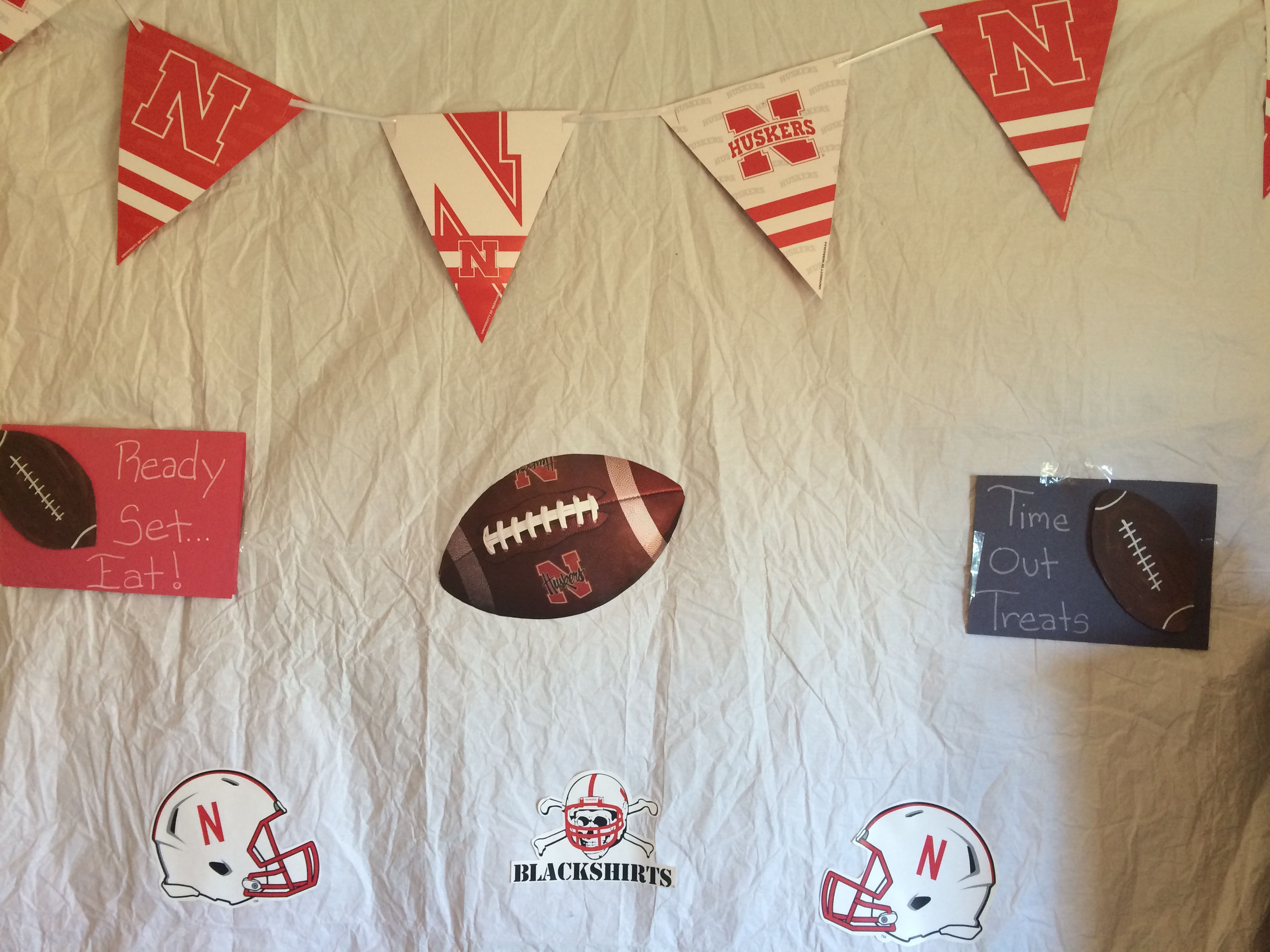 Brown acrylic paint and a white chalk marker to trace and paint mini footballs from regular white copy paper. I also painted a plastic cup to look like a football and hold the utensils.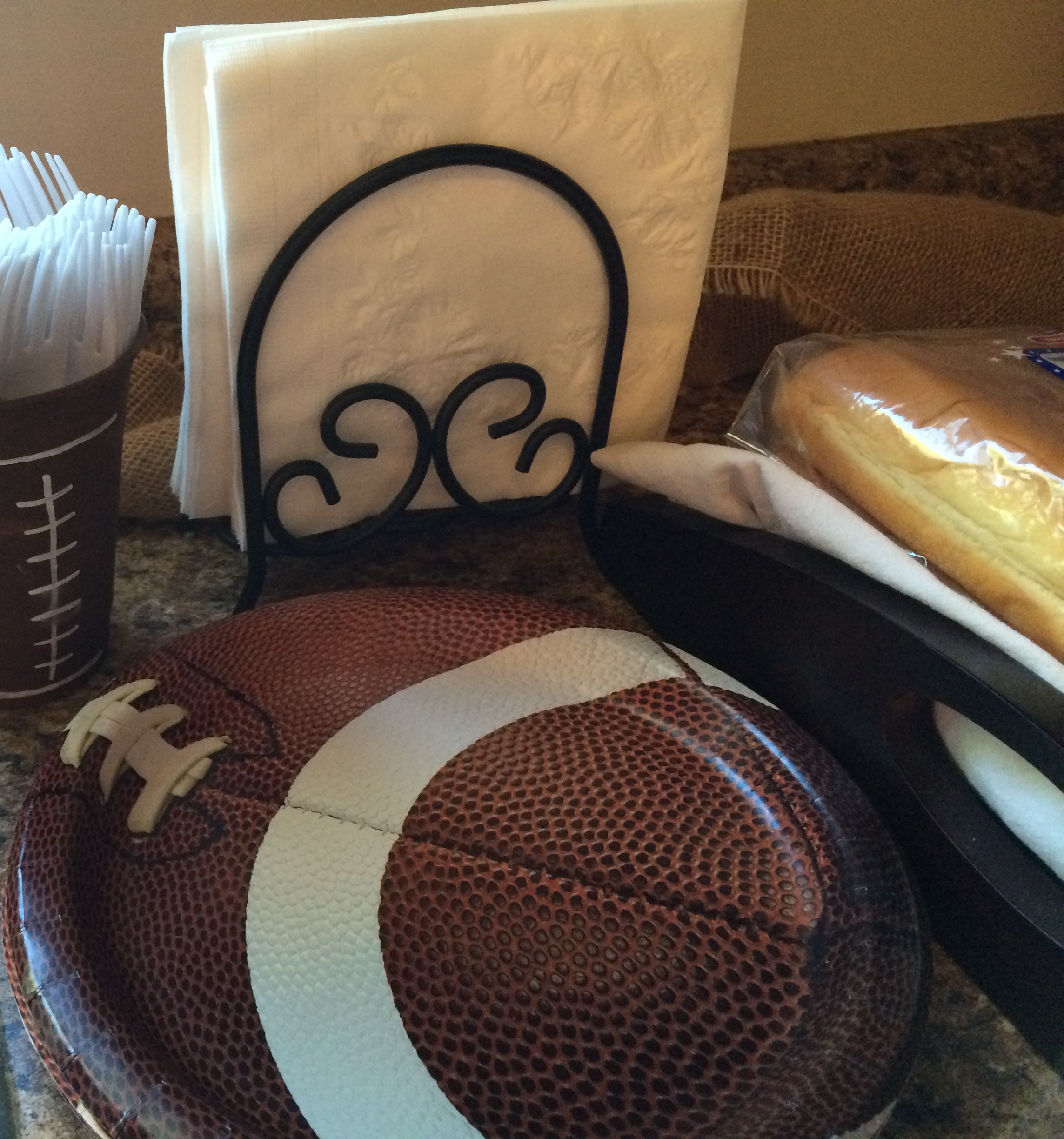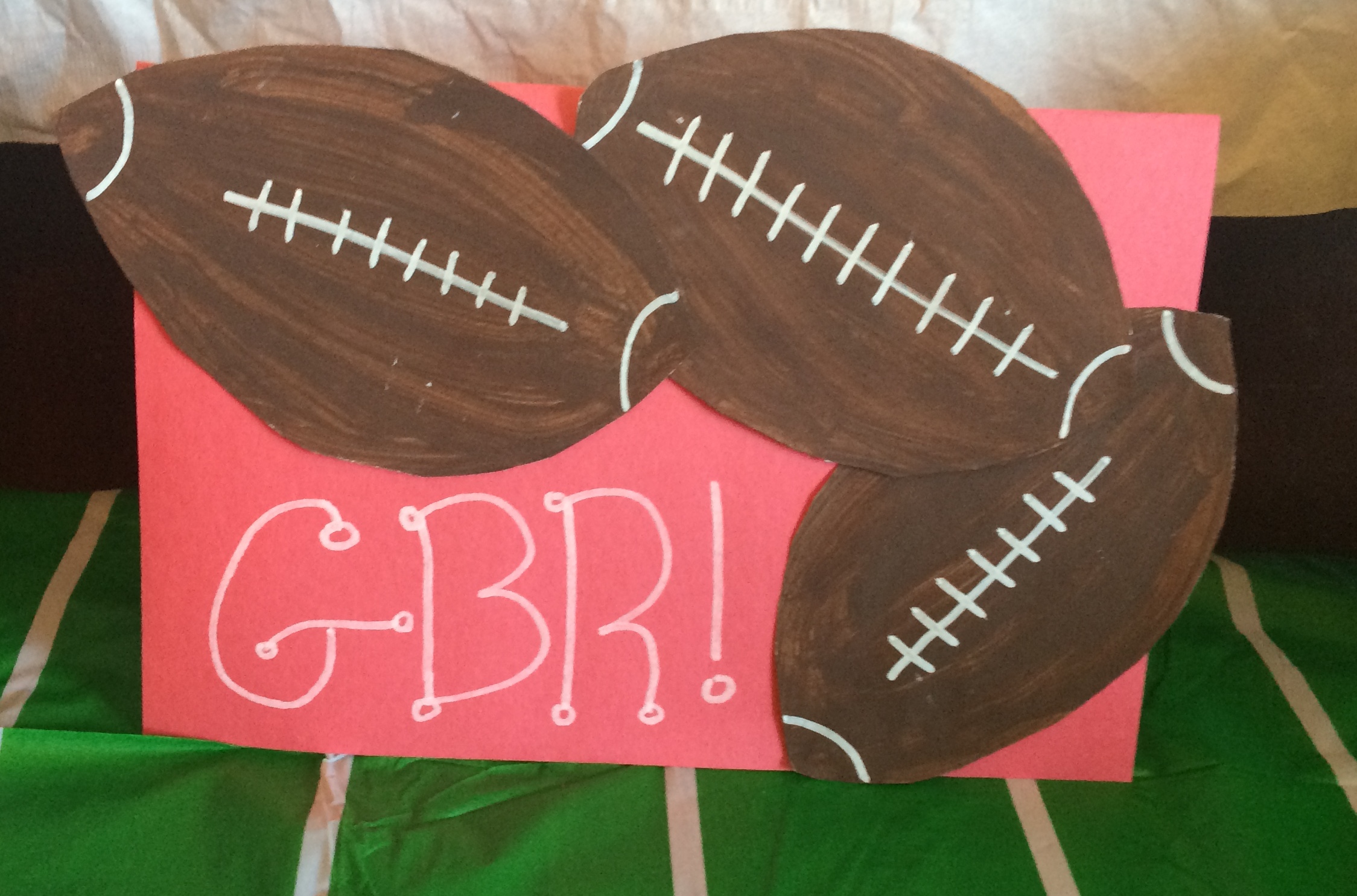 Items from previous football parties: brown football shaped serving tray and green football field tablecloth.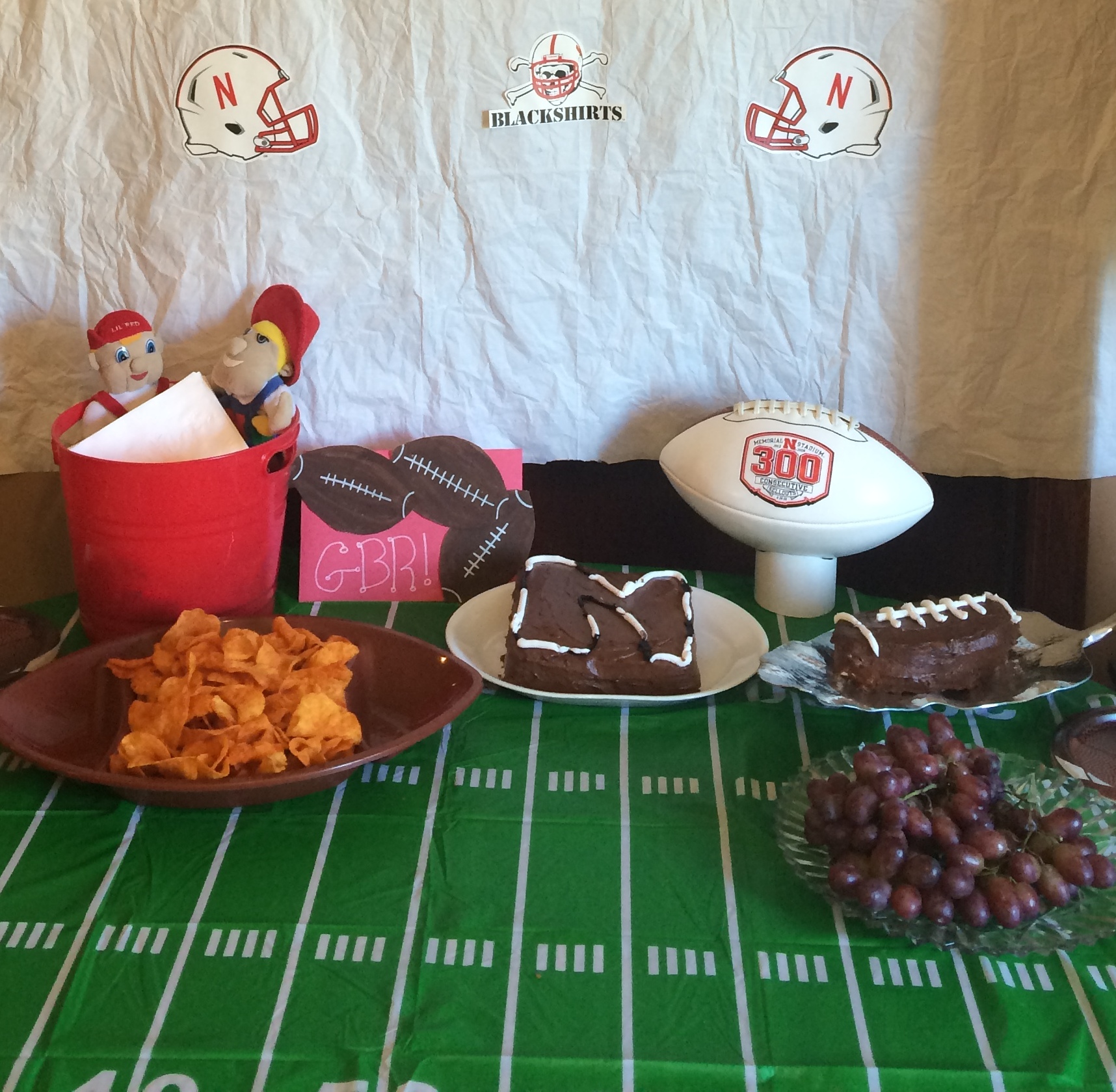 Only items to buy besides food: football themed plates, white napkins and plastic cups.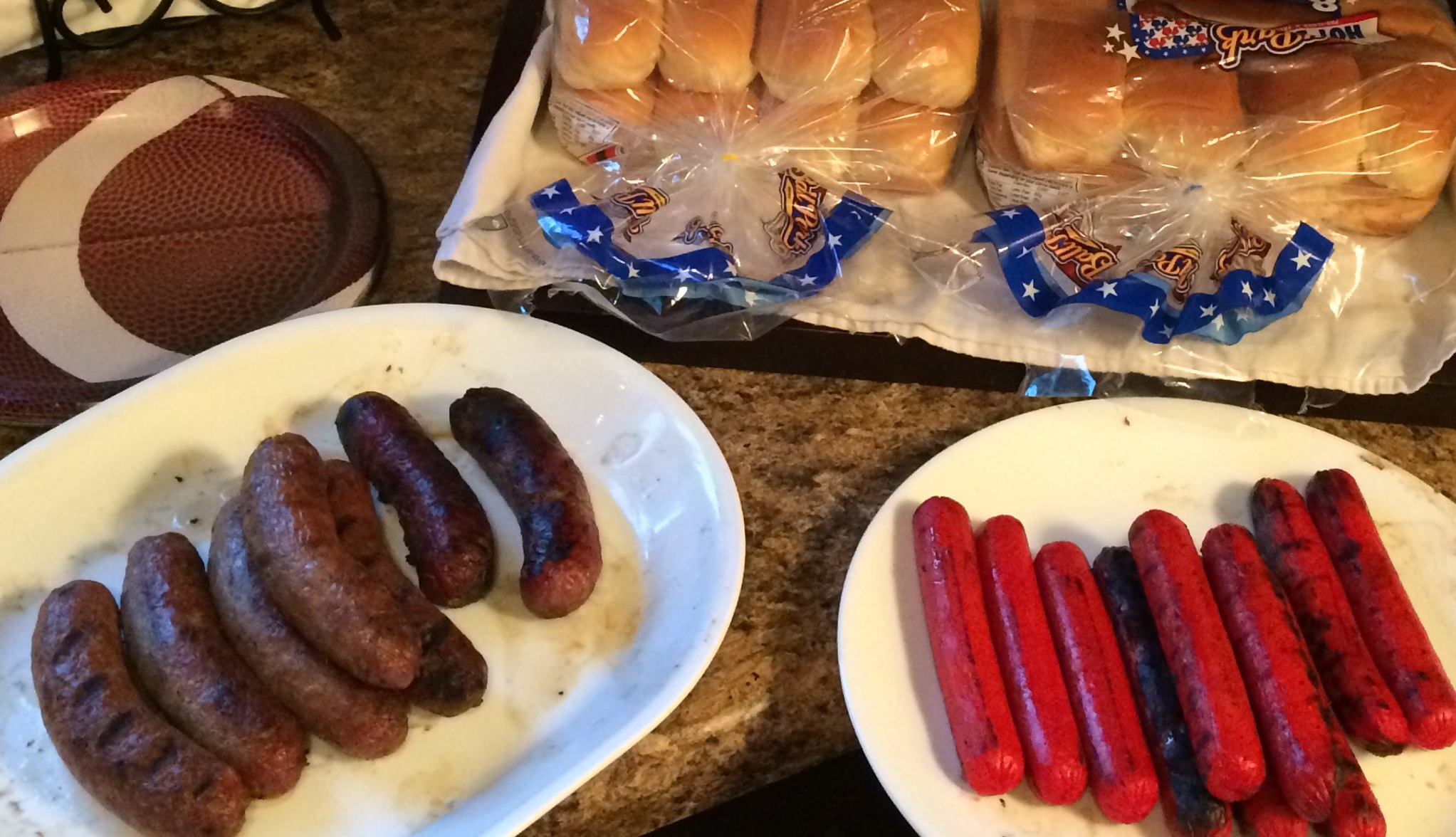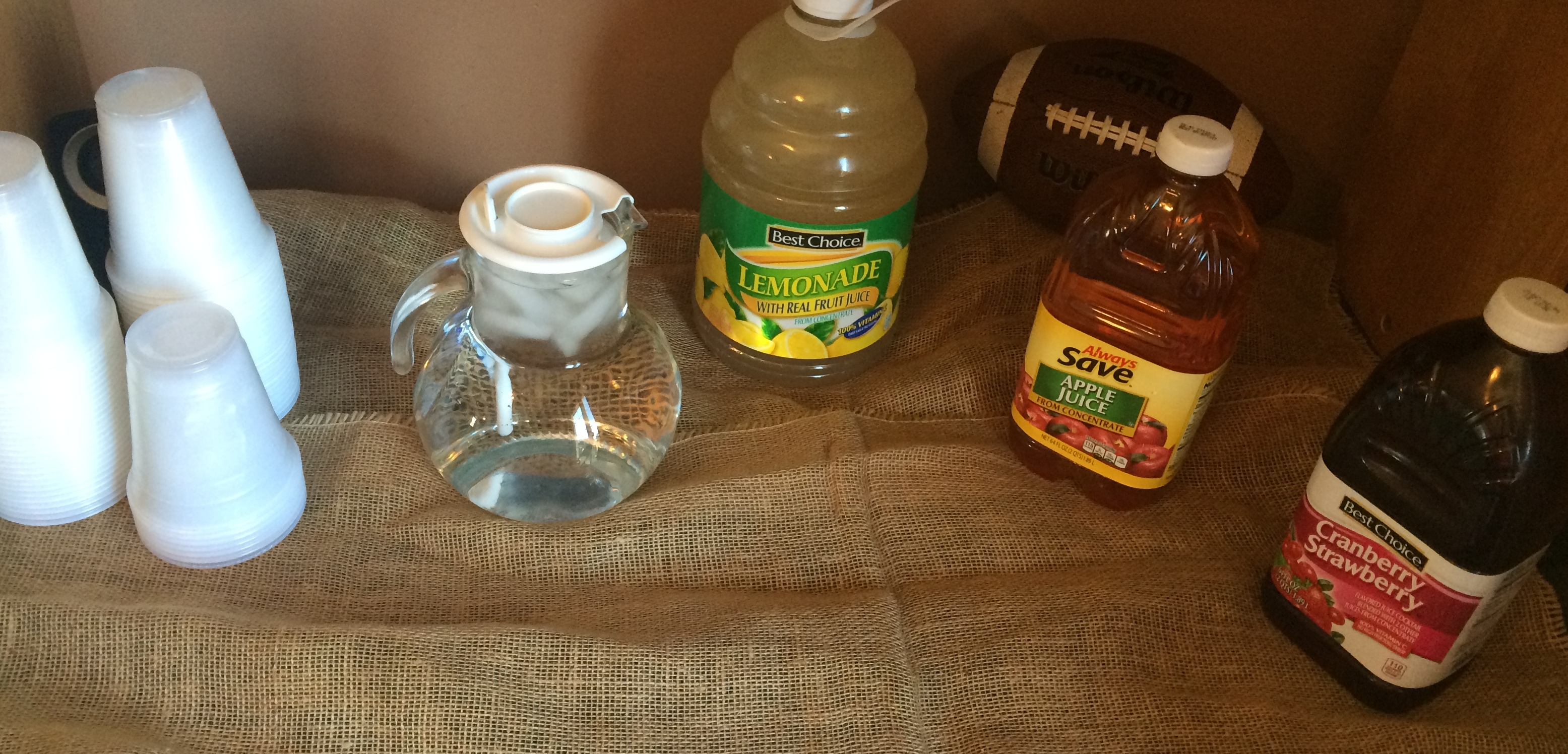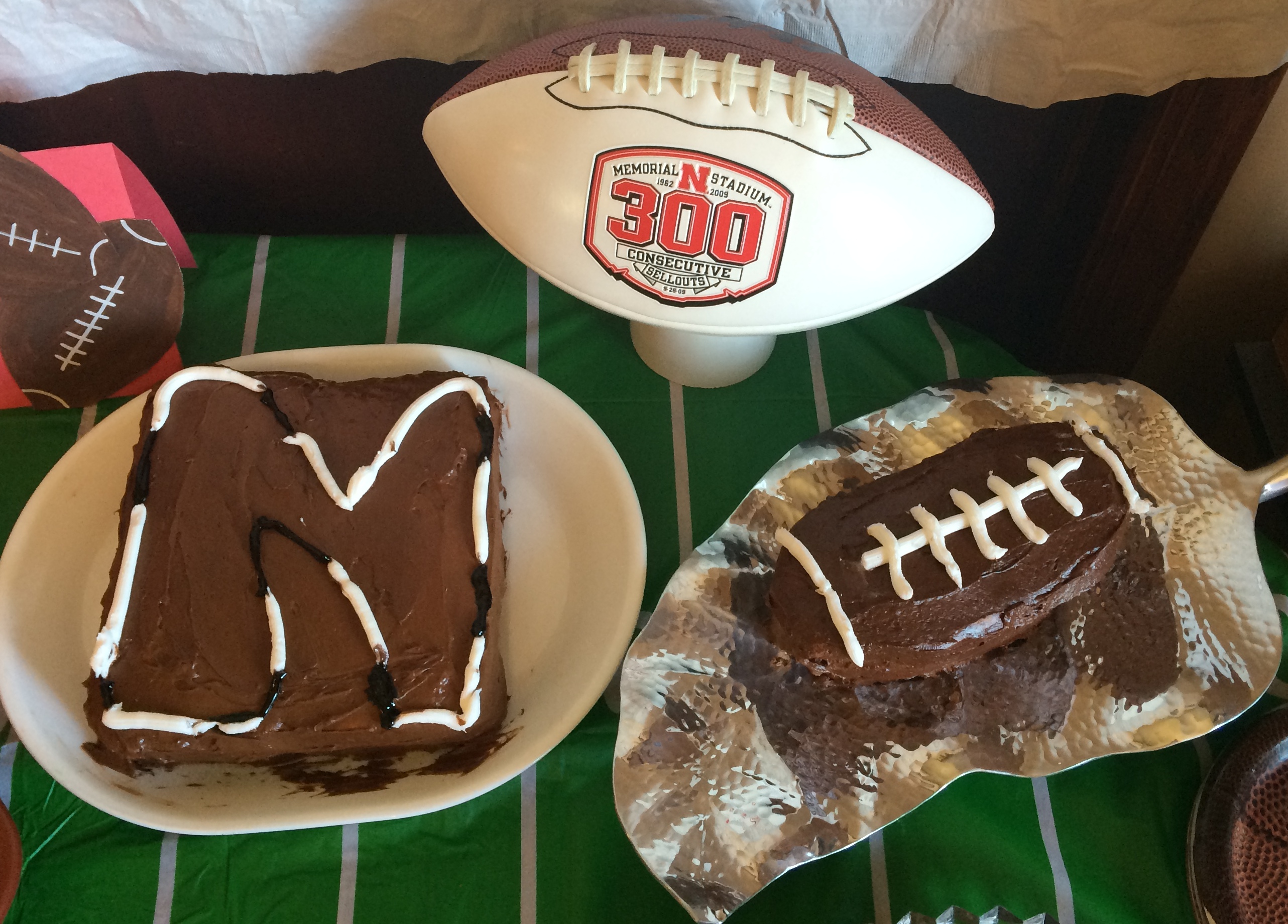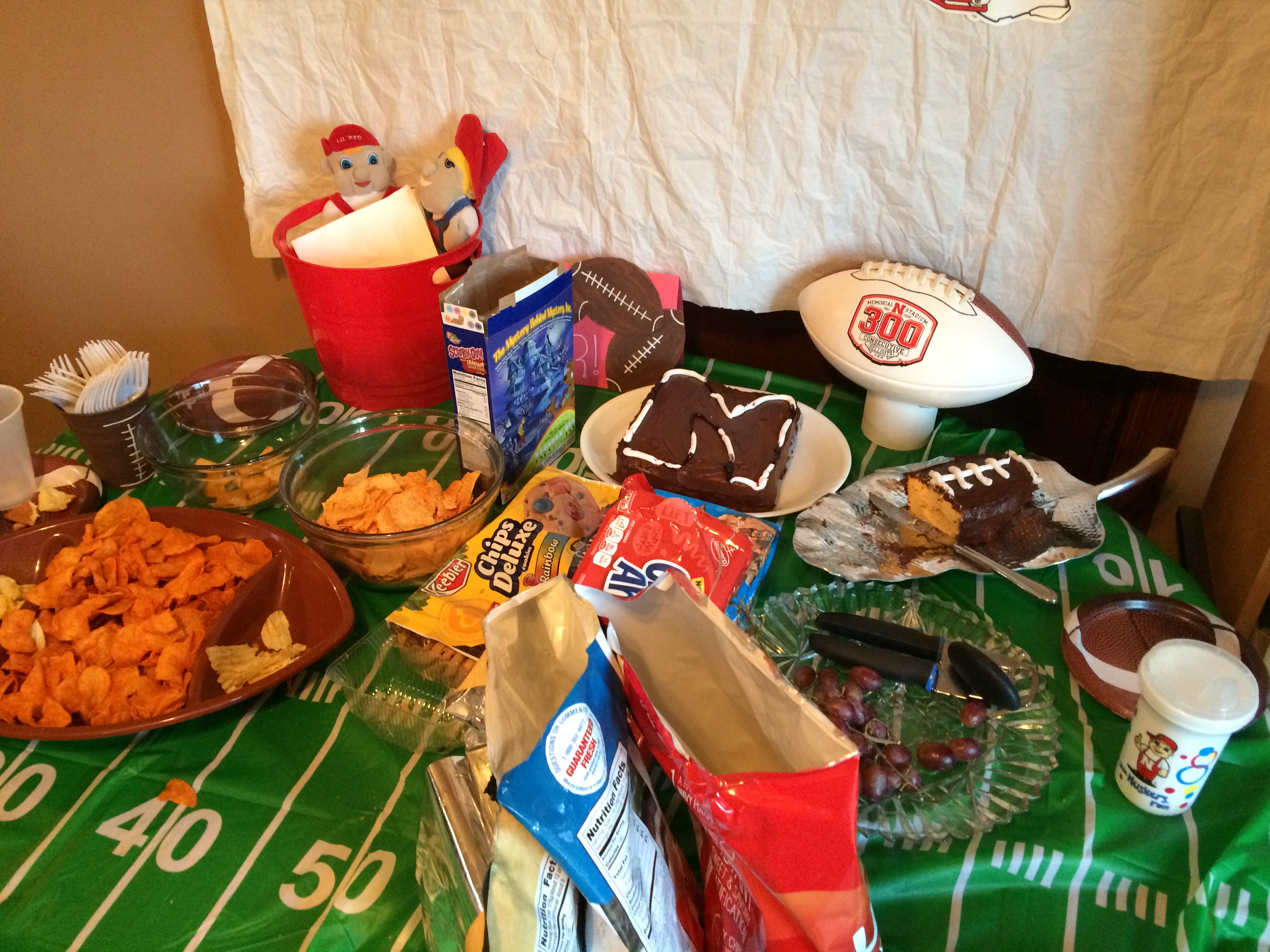 Want to know how I made my spirited football cakes? They were super simple and not what you might think. I bought Sara Lee frozen pound cakes and chocolate whipped frosting.
I rounded off the edges on one of the pound cakes to make a football shape then added chocolate frosting and white icing to make the football design.
For the Nebraska "N" cake, I put two pound cakes side by side, frosted them and created the "N" with black and white icing
See? super simple and there was no baking involved which equals my kind of party!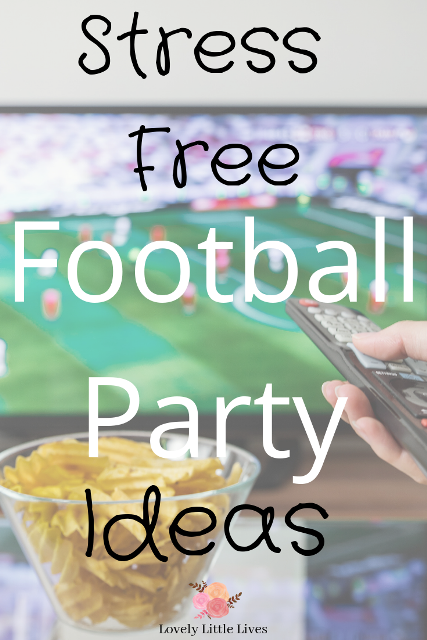 Tips for planning a simple and spirited football party on a budget!
Click To Tweet
Once guest arrive, the array of good food and the game on TV does the entertaining for you. Time to sit down with a hard cider and some nachos to cheer on your favorite team!

*I'm linking up with some of these 

parties

. This post contains affiliate links. If you click on or buy through one of the product links, I'll receive a small compensation.
All opinions are my own.
 See the full disclosure
here

.
"Finally, brothers and sisters, whatever is true, whatever is noble, whatever is right, whatever is pure, whatever is lovely, whatever is admirable—if anything is excellent or praiseworthy—think about such things." Philippians 4:8