Updated for 2018: This is my second year of meal planning and I absolutely love it! Below I've outlined my meal planning process and I invite you to join me this year in meal planning with my set of free printables! A variation of this post is featured on the Mommy Blogger Series.
Affiliate links included below which means if you click through or purchase something through my links, I'll receive a small compensation at no cost to you. See full disclosure here.
I have made a printable calendar for each month of the year and I plan my dinner menu weekly. Meal planning has worked wonderfully since I started at the beginning of 2017 and it has radically changed my lack of motivation to make dinner.

I have reduced stress about what to make
I don't have to worry at all about what's for dinner because I already know. It has freed up my mind to focus on other tasks.
There is a handy reference on the fridge
My husband can come home and look at the calendar for reference so he knows exactly what's for dinner and he can immediately start making it if I am busy with other tasks.
Here are some handy add-ons to enhance your meal planning, including pretty binder and magnet options, sparkle pencils to write in the meals and a check mark stamp to check each day off. I also found a magnetic fridge organizers to hold your writing utensils close by.



The ingredients are available
Since the menu is already planned for the week I have already looked over the recipes and made sure that I have all the ingredients and if not, I already made a trip to the store so they are readily available in our cupboards.
Related Post: A day in the life of lovely little lives
It is satisfying
Although my days are still hectic as a work at home mom, I have the satisfaction that dinner is planned and just that goes a long way in giving me the feeling of a larger sense of order throughout the day.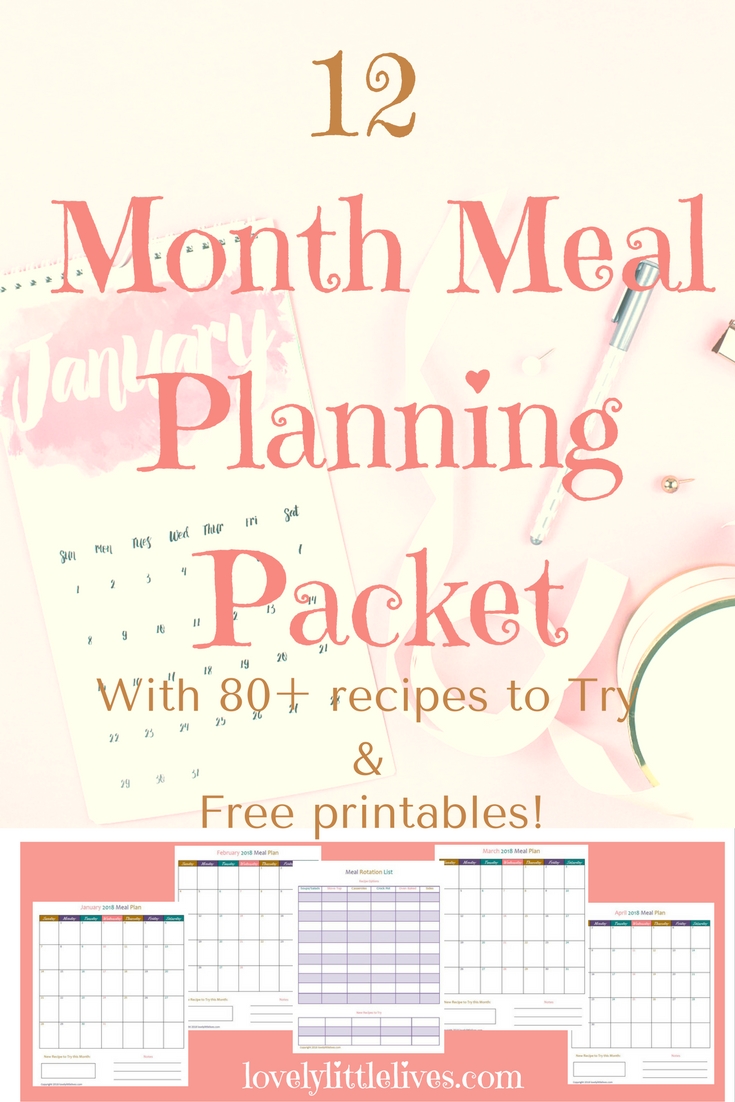 Here is the process I have adapted to make menu planning work for me.
Print out the menu calendar
I have created this calendar that I print out one month at a time and I keep it on the fridge. I schedule the meals out weekly because it's too hard to schedule out the whole month, but I like to have the whole month on the same piece of paper so I can add to it each week and make sure I am not repeating meals too often. If you can plan out the whole month at once, then go for it!

Schedule a time to plan
During the weekend, (or Monday morning at the latest), I bring out my menu plan and figure out the meals for the upcoming week. I check the calendar to see what events we have coming up and how that might affect our dinner plans. For instance, if we are going to a friends house for dinner one night, then I write that on the printable calendar so I know I don't have to plan a meal for that evening.
Decide the meals
I have a rotation of meals I make regularly so I look through that list and just plug them into the week. Since I am simultaneously looking at my family's schedule for the week, I can decide which days I can make a more time-consuming meal or if I need to make a crockpot meal since I won't be home all afternoon.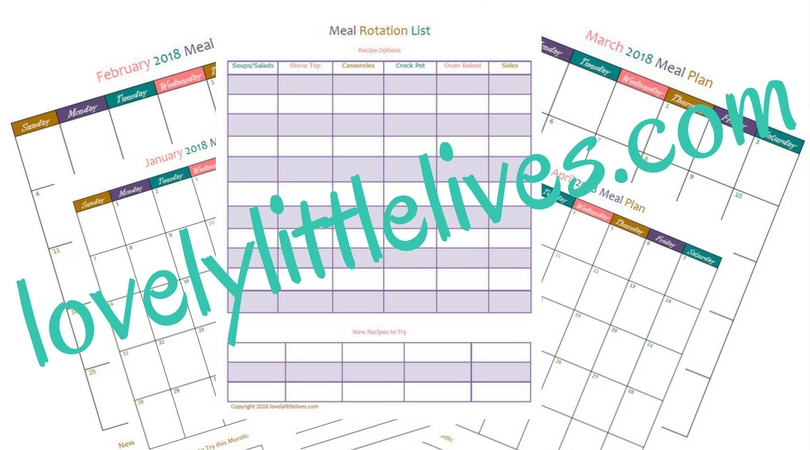 Also, I ask my husband if there is anything he wants to make or a specific day he wants to make it. For example, he really likes to make homemade pizza but I don't always have the ingredients for it so I need to know that ahead of time in order to be prepared.
Grab your free meal planning packet for all 12 months of the year!
Click To Tweet
Lastly, I look at what ingredients we already have on hand and try to make meals that include groceries I already bought. That way nothing goes to waste and I don't spend unnecessary money when I do go to the store.
Grocery shop
Once you have your meals written down, make a grocery list for the items you don't have. I type in my grocery lists to the note section of my phone. Ideally, you want to get all your ingredients in one grocery trip so that you don't have to go too often and can save money in the process.
Related Note: Have you heard of the Ibotta app? It allows you to earn free cash back just by shopping for groceries, clothes, household items, etc. You can sign up through my referral link and start earning free money the next time you go to the store!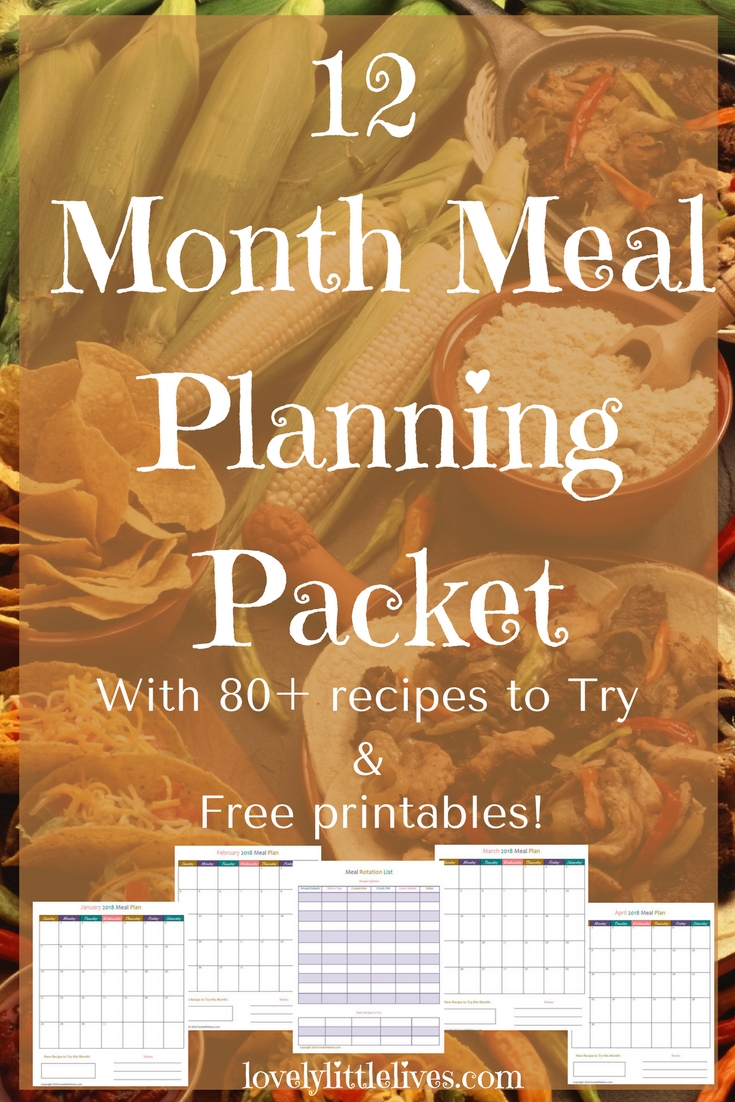 Be flexible
No matter how much we plan, life tends to throw curve balls, so ideally you would write out your weekly menu in pencil so that you can erase or change a day if needed. For example, if you have an impromptu take-out dinner because you are too tired to make anything, or if you come down with the flu and have to take a rain check on making that fancy recipe.
I make sure to add one "leftover night" to each week so that if something comes up we have a free night of pre-made food, plus that way we are sure to eat all the leftovers before they spoil.
Create a meal rotation
Like I mentioned earlier, I have a rotation of meals I make regularly so I can just plug those in weekly. Included on my list is meatloaf, spaghetti, tacos, chicken pot pie, chicken enchiladas, pork roast, stir-fry, chicken alfredo, cheddar cheese potato soup and loaded shepherd's pie.
If you have a running list of meals you usually make, then most of the groundwork is already done for you. A page to write out your rotation of meals is included in the menu planning packet with space to add new recipes and columns to categorize the type of meals including crock pot, soups, oven bakes, sides, ect.
My goal this year is to try out one new recipe a month, at least, and if it's something we like as a family, I will add it to the menu plan rotation, if not, I won't add it. I've included a new recipe section on the bottom of each month printable so you can write in the new recipes you are going to try out if you so choose.
If you make a certain meal often and you are getting tired of it, then just remove it from the rotation, either temporarily or permanently, and add a different one. I also rotate out meals depending on the season. For instance, I make soup often in the winter but in the summer, we take a break from soup and grill food more often.

Recipe Roundup
To help us all find some new meals to try, I asked my blogging friends to share their recipe posts. Please click through these as you are making your meal rotation list and print out some fresh ideas for your dinner table:
3 Protein-Based No-Recipe Crock Pot Meals
5 Hearty and Mostly Healthy Winter Meals
5 Hearty and Mostly Healthy Winter Meals Part II
5 Comfort Food Recipes for the Cold Weather Months
Baked Ziti with Oriental Slaw and Lemonade Pie Dessert
Cheesy Sausage and Broccoli Soup
Chicken Crockpot Dinner (includes instructions on making chicken bone broth)
Cilantro Lime Shrimp and White Beans
Homemade Mac and Cheese plus a Squash Casserole
Spaghetti Sauce with THM S Option
Sweet and Sour Muffin Meat Loaves
Sweet Potato, Feta and Nut Salad
Are you still with me? As a bonus here are 20 dessert recipes:
Chocolate Covered Banana Muffins
I hope you will try out this system and enjoy the results. If you have any questions or comments, I would love to hear from you.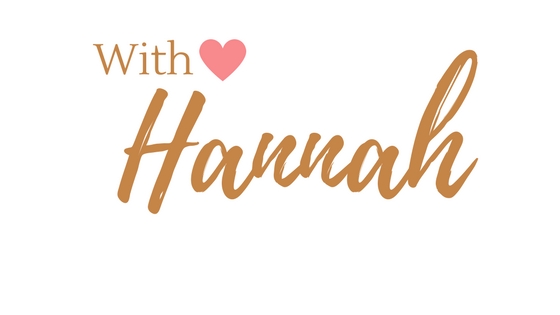 "Finally, brothers and sisters, whatever is true, whatever is noble, whatever is right, whatever is pure, whatever is lovely, whatever is admirable—if anything is excellent or praiseworthy—think about such things" Philippians 4:8.