I am a girl mom and therefore I'm also, by default, a princess mom! Ever since I had two girls, I've decorated their shared room in princess style. Taking an empty space and making it lovely brings me great joy and allows me to utilize my creative side. As I decorate the room of my daughters' dreams, I'm creating glimmers of loveliness for their store of childhood memories. As they have grown, their Disney princess bedroom has grown and changed with them. Fortunately, so far, I have been able to keep most of the original decor I've collected since they were a toddler and a baby.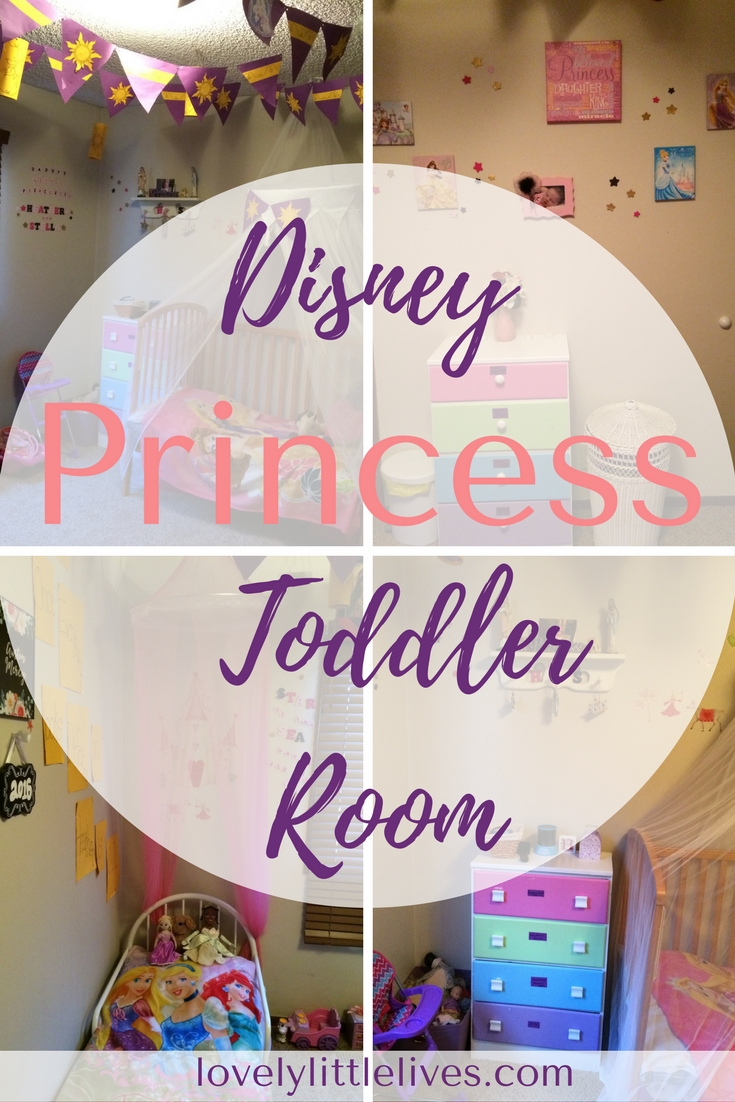 Affiliate links included below which means if you click through or purchase something through my links, I'll receive a small compensation at no cost to you. see full disclosure here.
Some of the items I've found second hand, through garage sales, Craig's list and from generous friends. Some are Amazon items they have received as presents for Christmas or their birthdays.
Related post: Disney Princess Gift Guide
Other items I've purchased on Etsy or are homemade including repurposing some of the decorative items from their princess birthday parties. I've used the banners from our Tangled birthday party and our Frozen birthday party to add to their room decorations.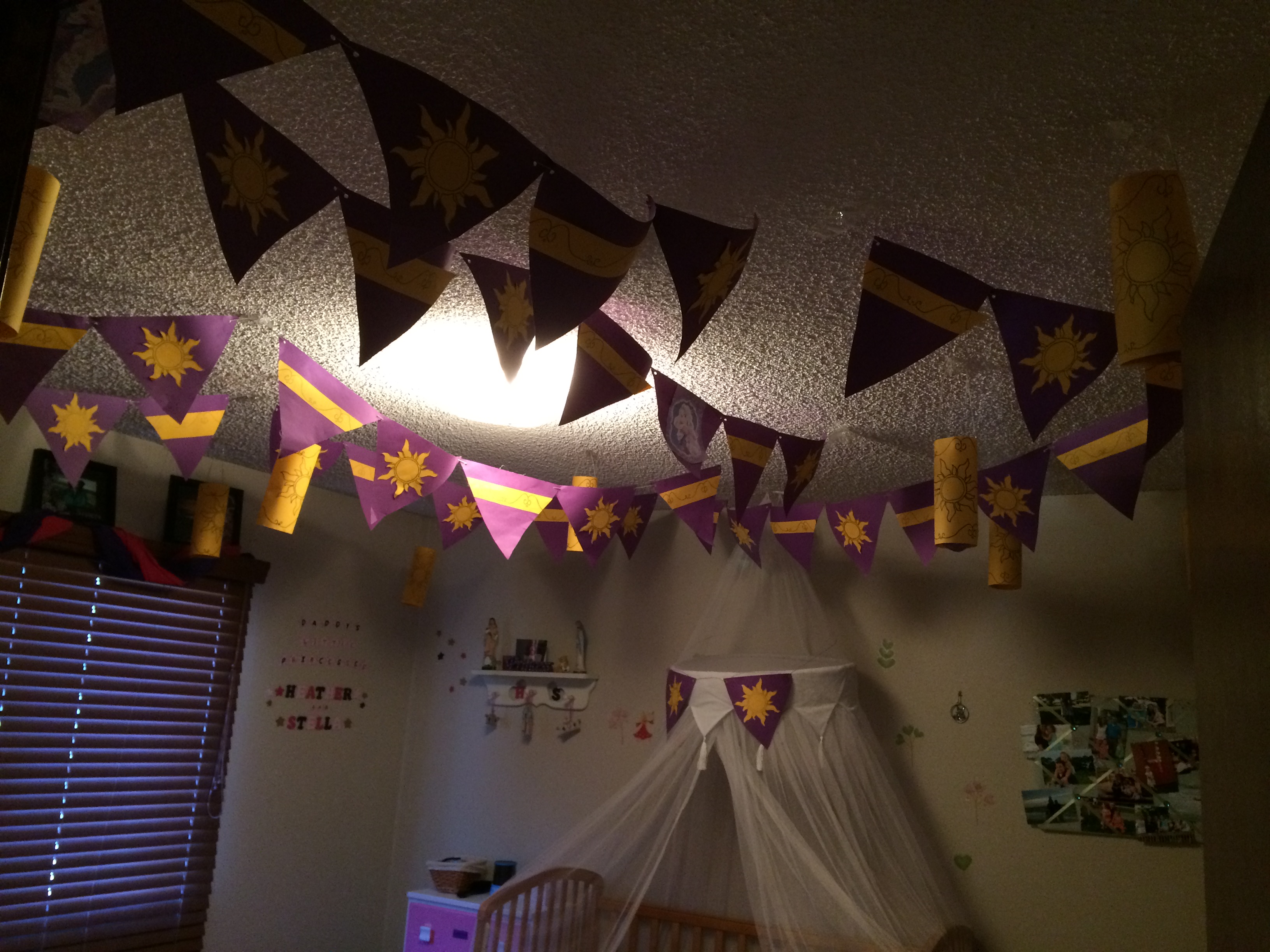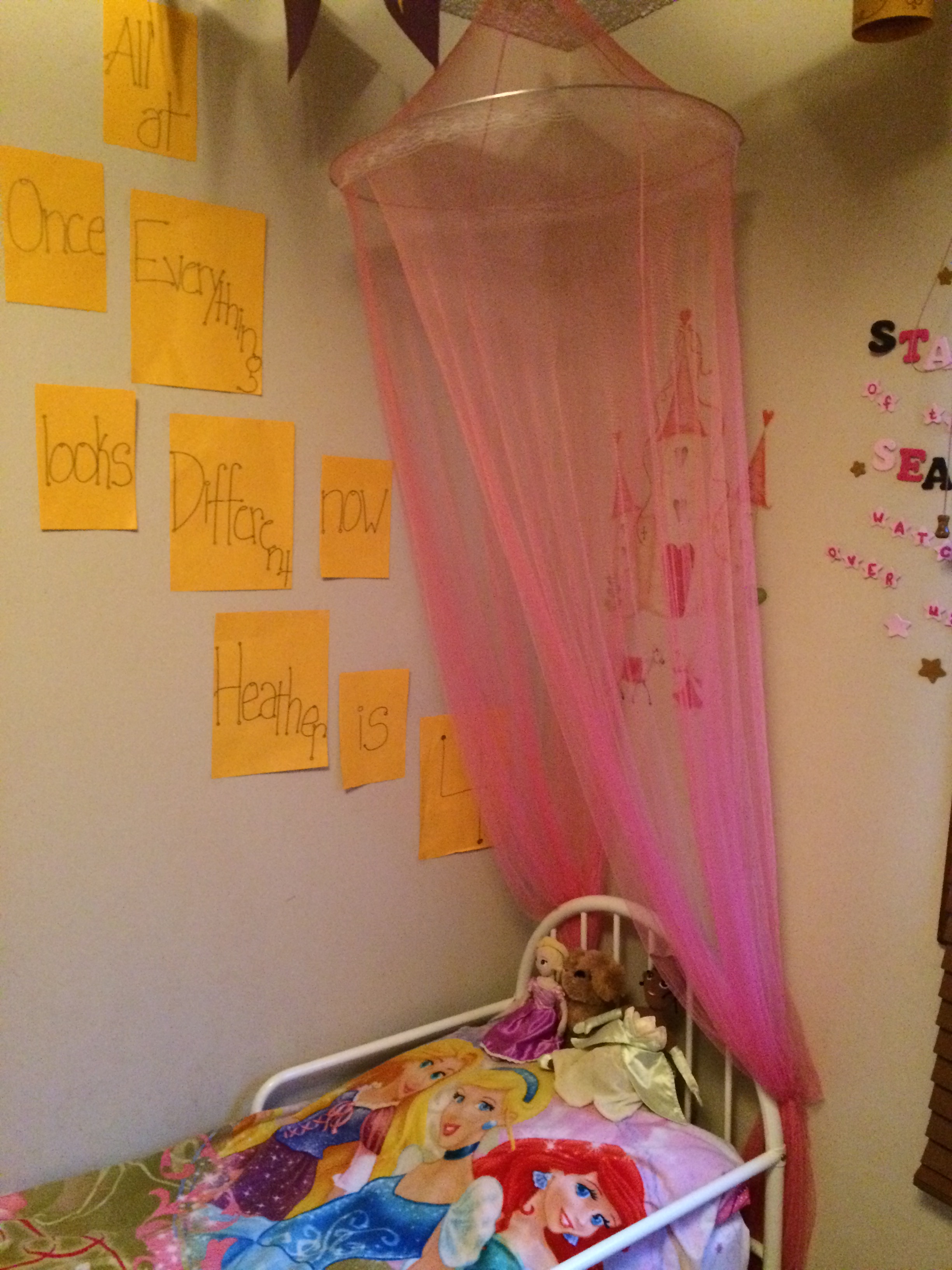 I also created some customized lettering for the walls with little wooden stars and letters from Hobby Lobby that I painted with acrylic paint and arranged on the wall with masking tape: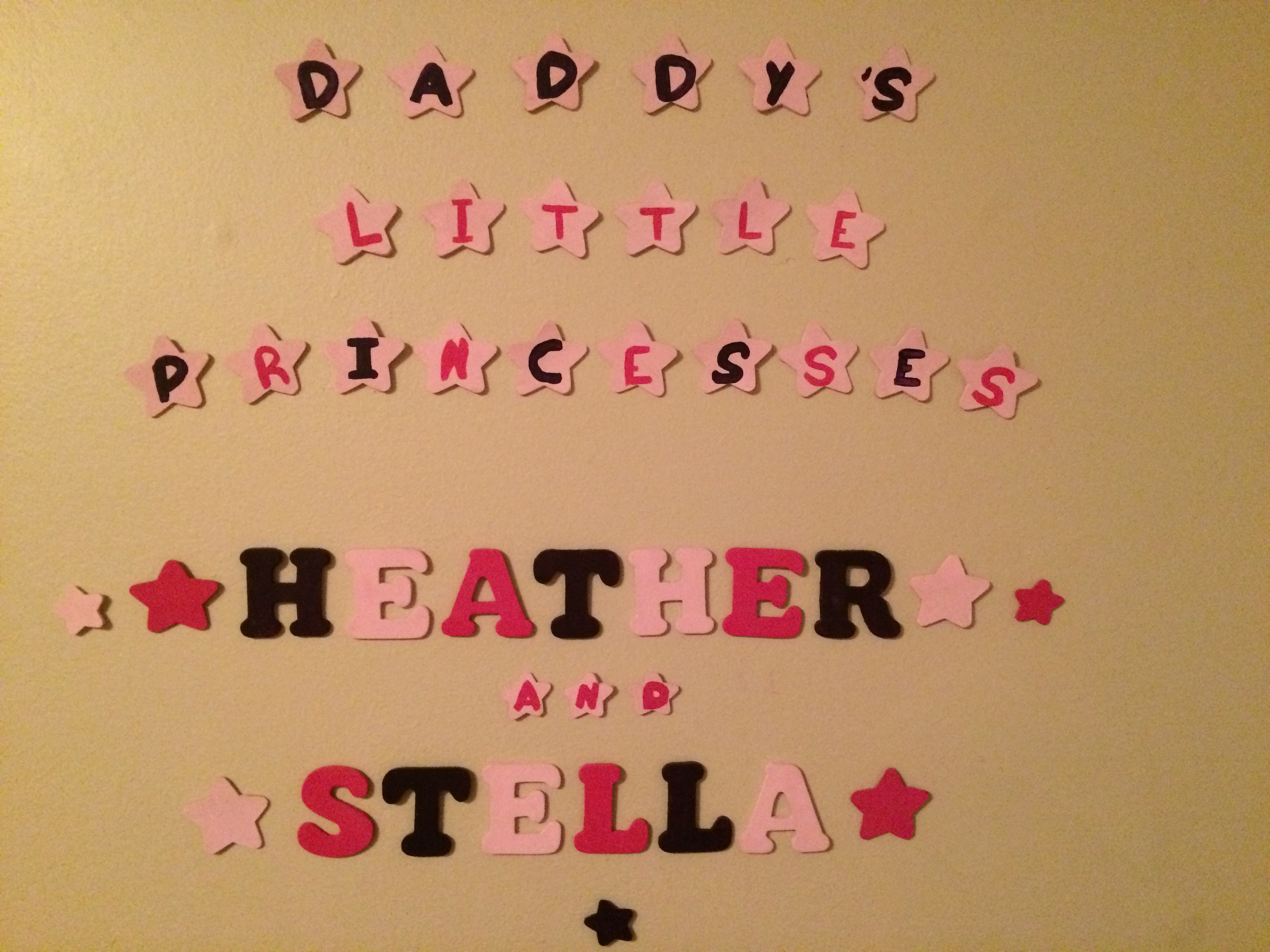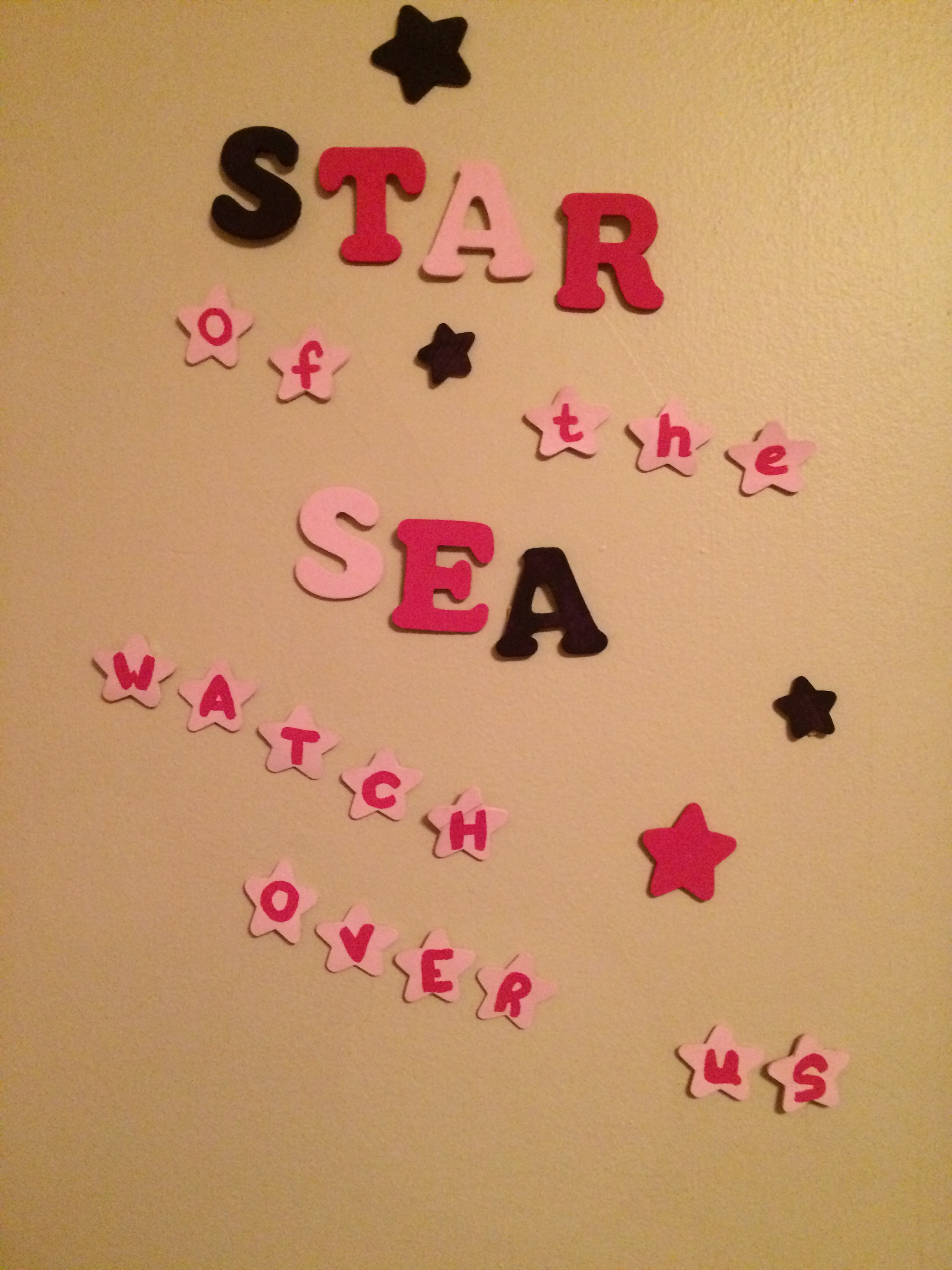 In preparation for our third daughter, who is due in about six weeks, we recently moved the older girls to a bigger room to make space for the nursery. We have acquired enough princess stuff that I even had enough to divide it between the big girls' room and the baby girl's nursery! Plus we bought them bunk beds this year since they have outgrown their toddler beds. I know, a bittersweet day for a mom. After arranging and rearranging their new room, I'm so excited to show off the results!
Relate Post: Princesses at Heart
Disney Princess Toddler Room
First, here is a peek at their old toddler-friendly room: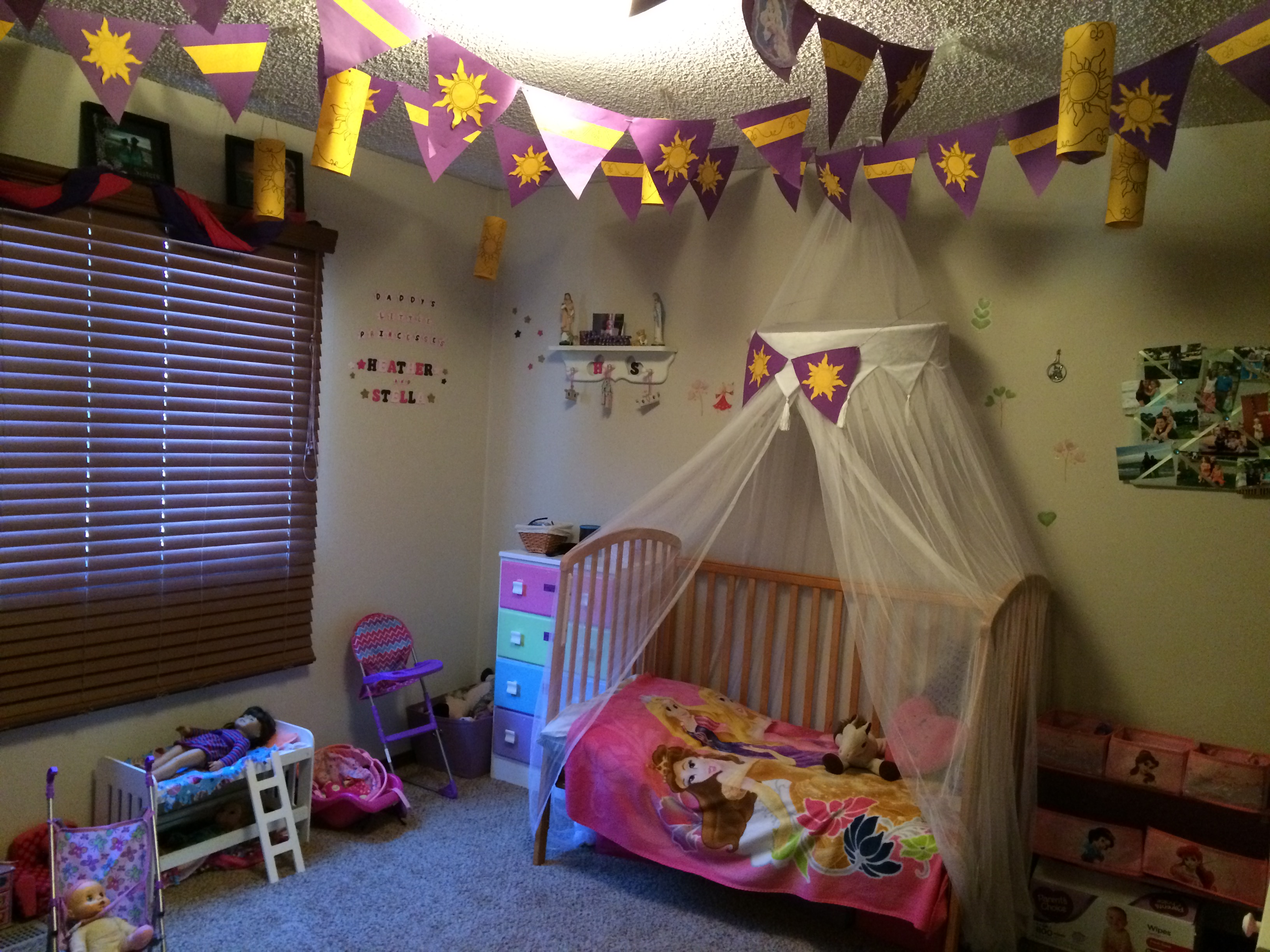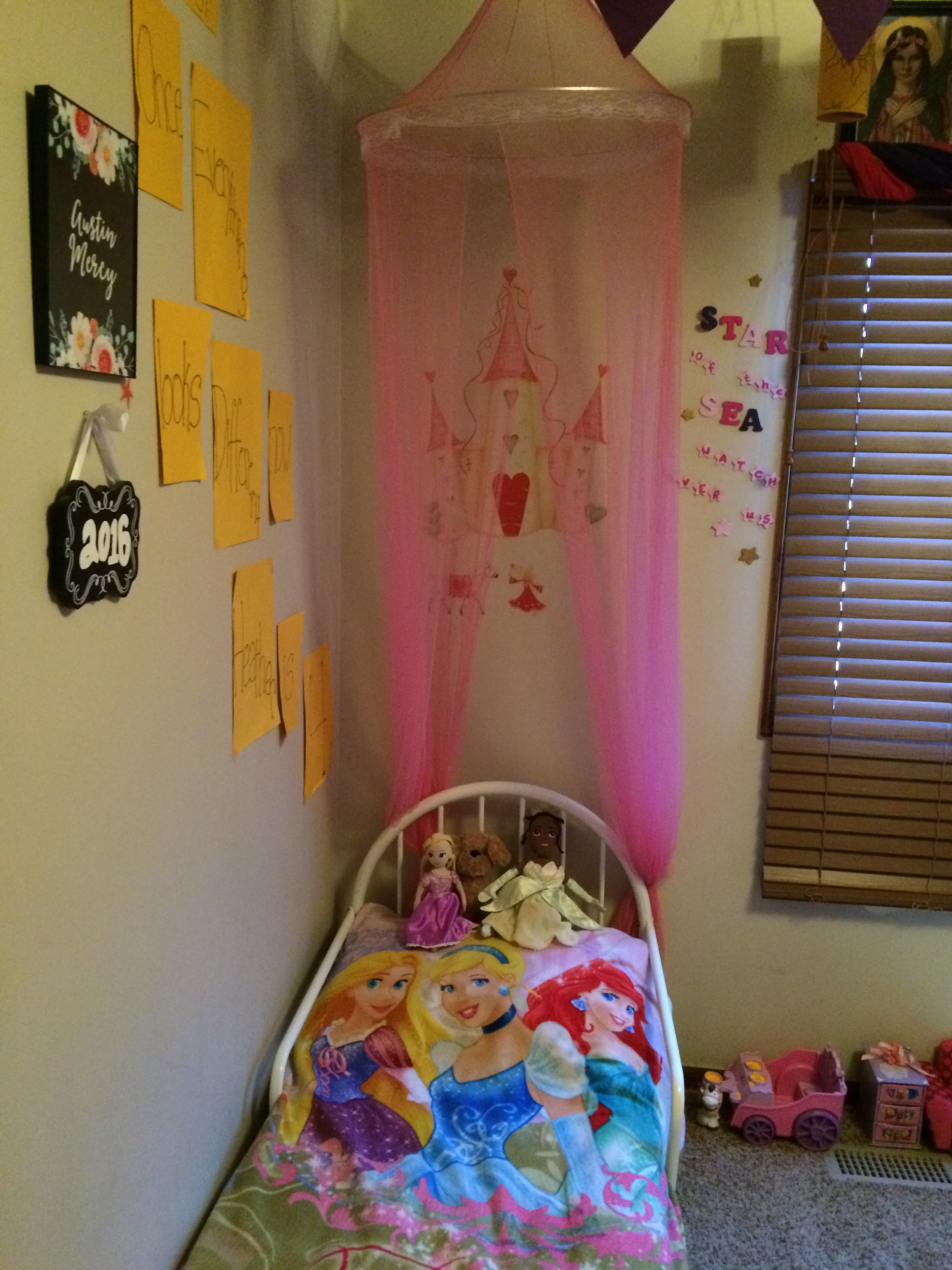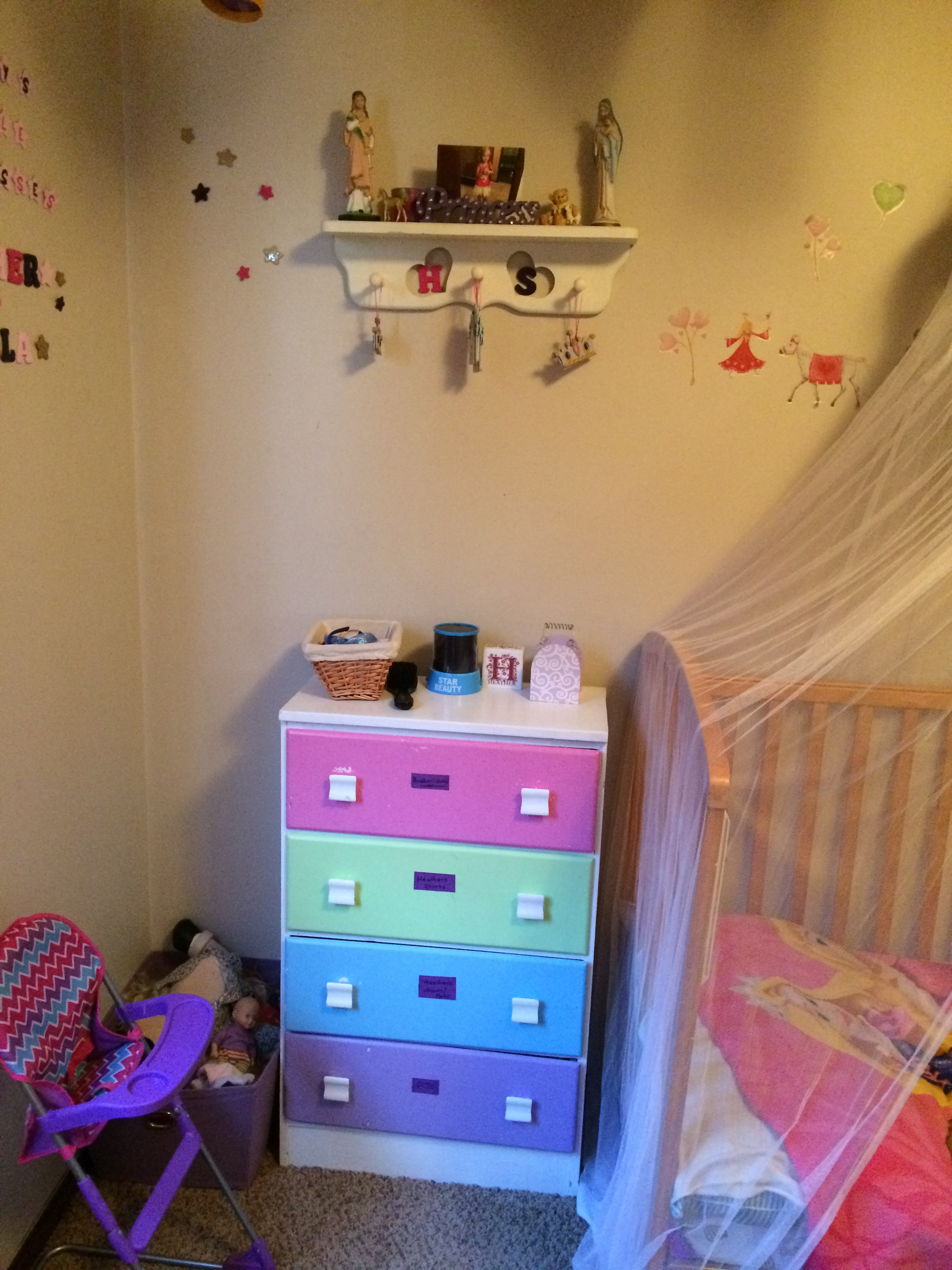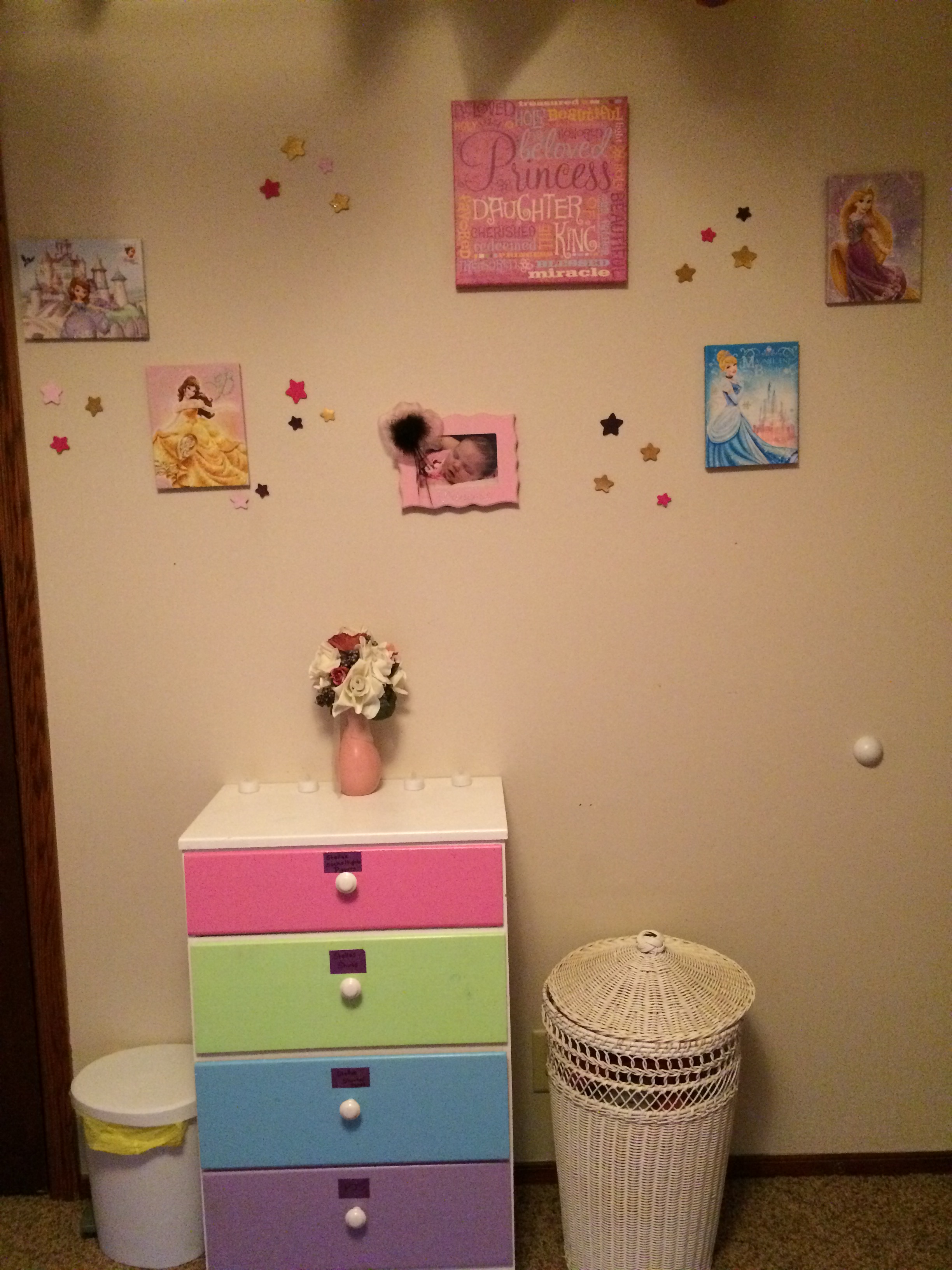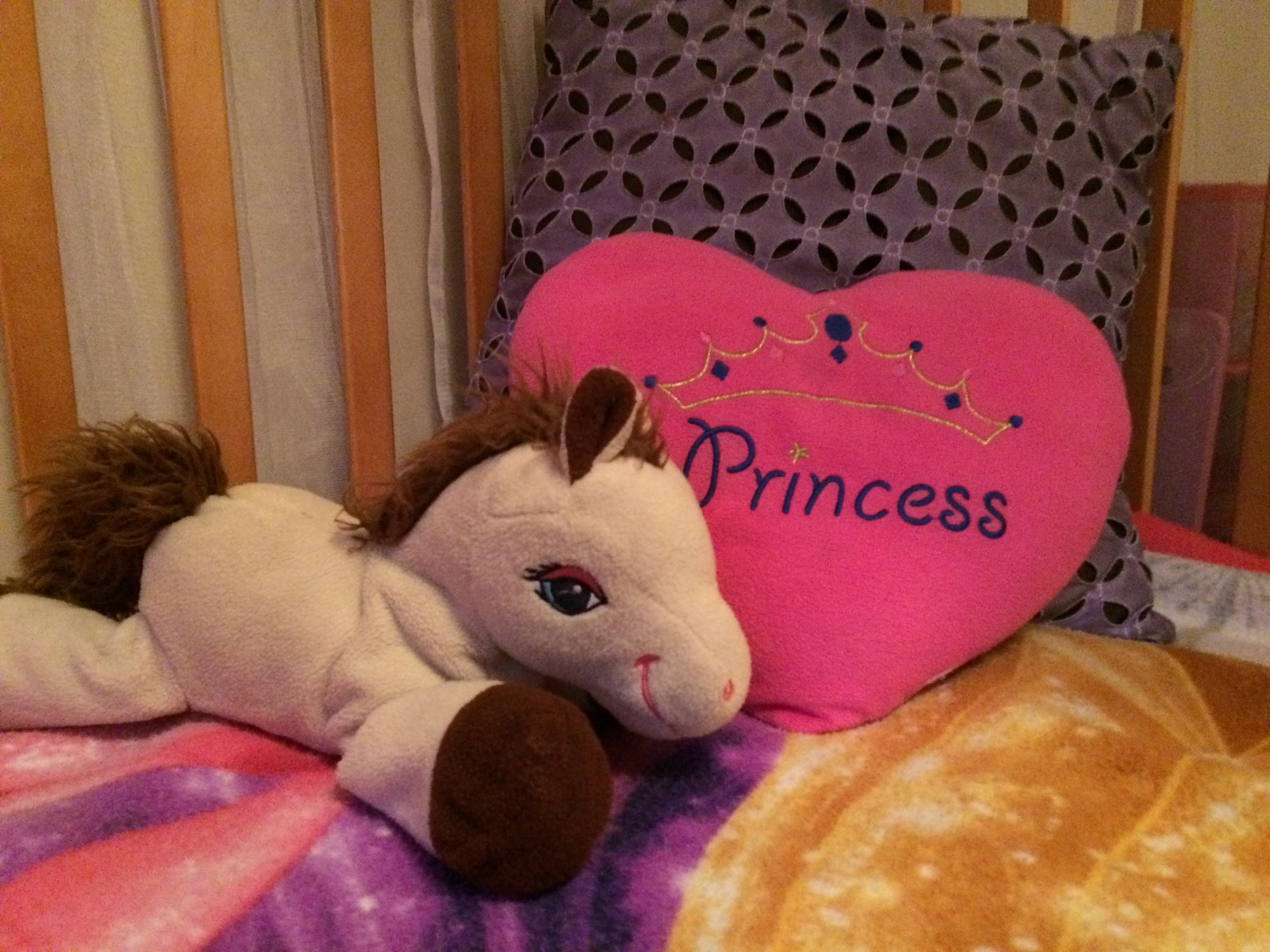 Disney Princess Bedroom Reveal
And here is their new and improved big girls' room! Notice that the majority of the decor is the same just rearranged a little differently.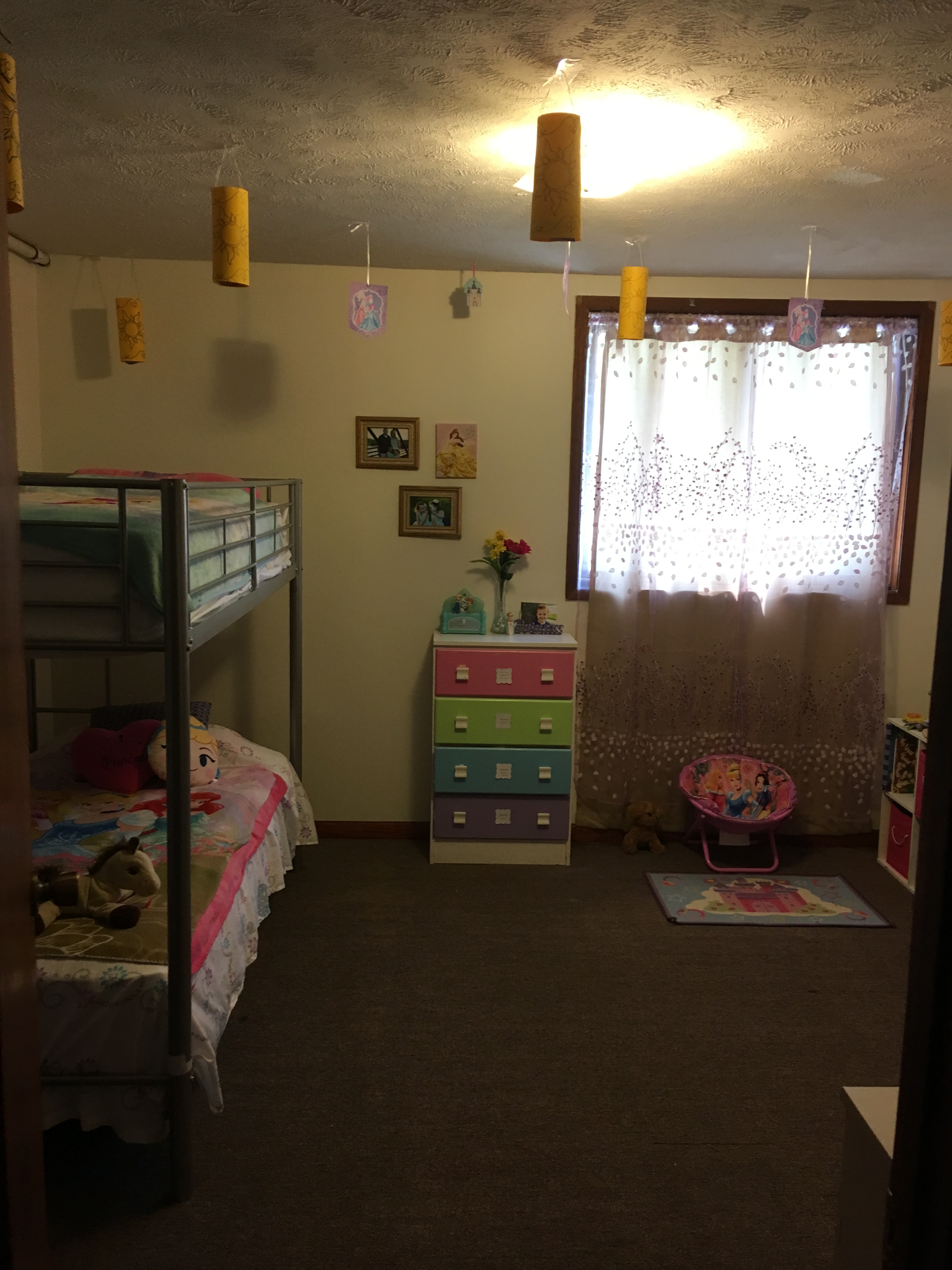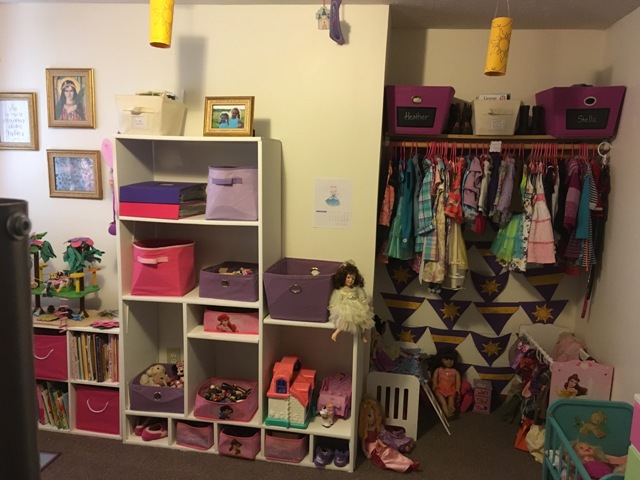 In their open closet, each girl has one side devoted to her clothes, as well as a pair of boots on the shelf above and a tote marked with her individual name. In the totes, I keep their offseason clothes so that they are within easy reach all year. I store their summer clothes such as tank tops and shorts in the winter and then store their pants, fleece pajamas, and long sleeve shirts in the summer. The totes make the exchange very quick and simple plus, it keeps the off-season clothes close at hand for those unusually warm or cold days.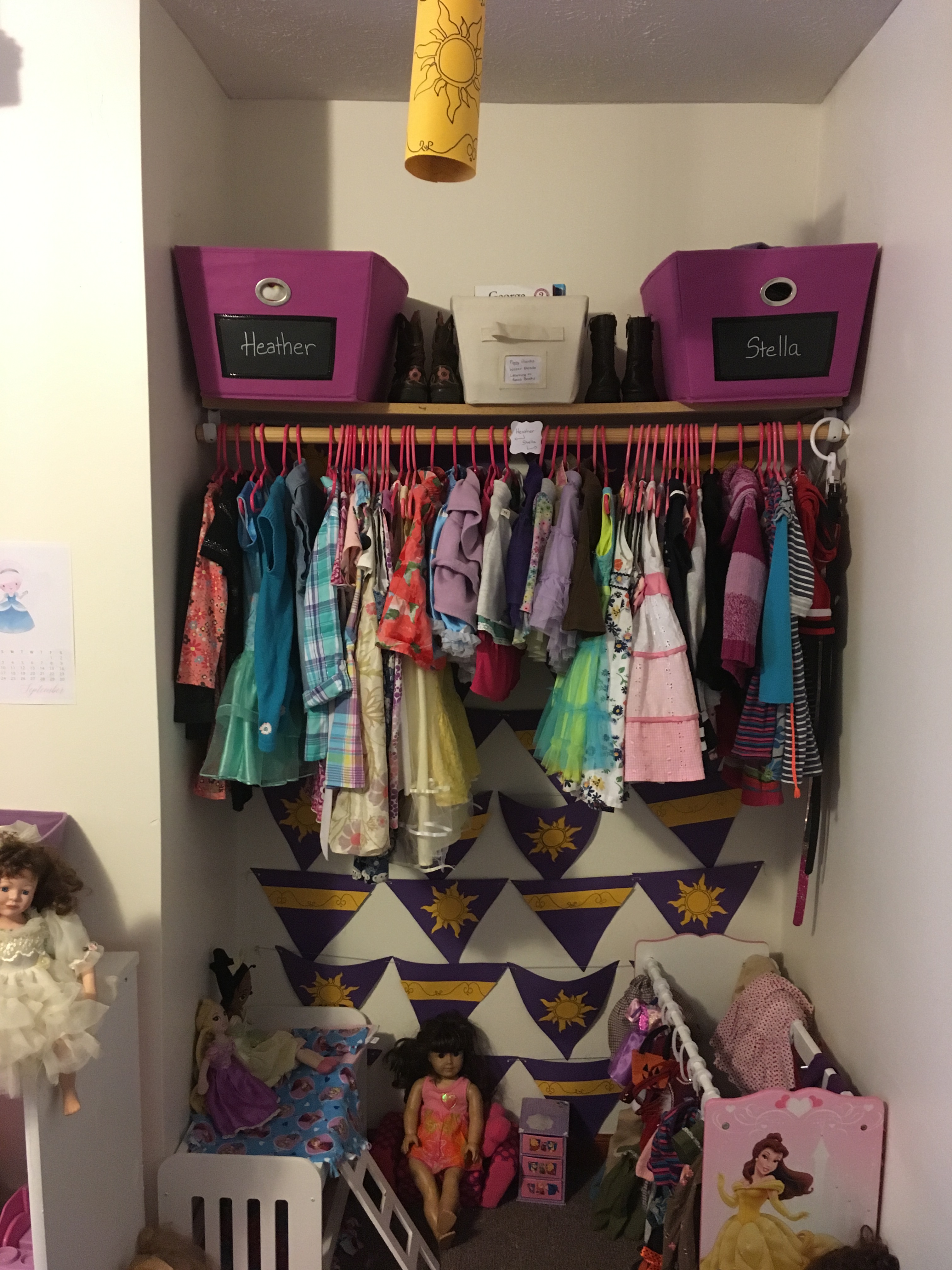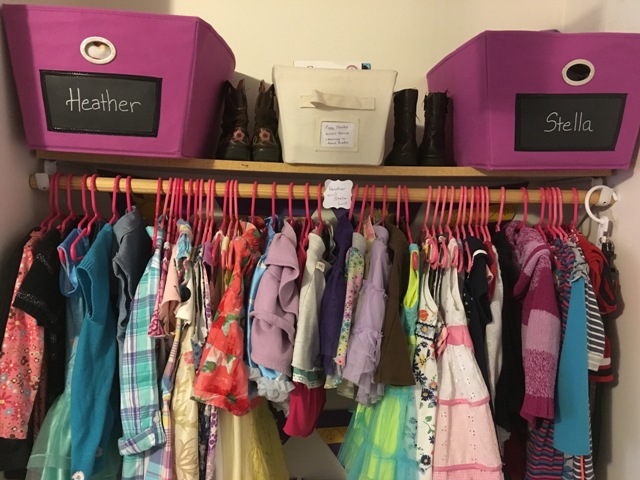 Below the closet space on the floor is their doll furniture corner with the banners from our Tangled birthday party arranged along the back wall. I thought it would be fun to have decorations behind the closet hangers so that when you push their dresses and skirts aside, you can see a pretty purple and gold display.
Here is the YouTube Video for how I made the Doll Clothes Closet and Hangers.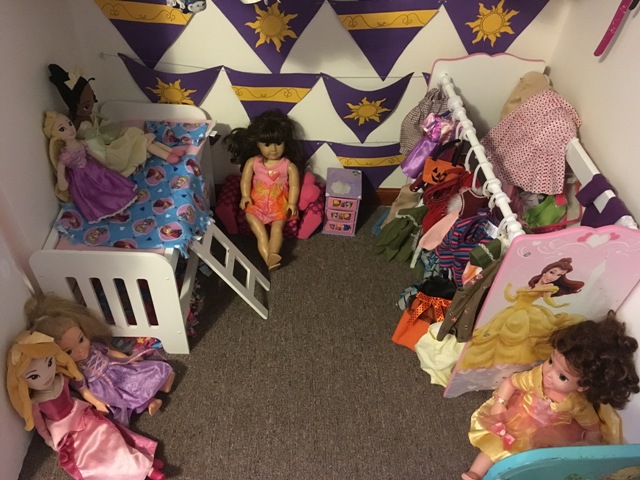 They each have their own dresser which is labeled according to what types of clothes and accessories are stored in each drawer. I got the white labels from Walmart and just wrote on them with gel pens.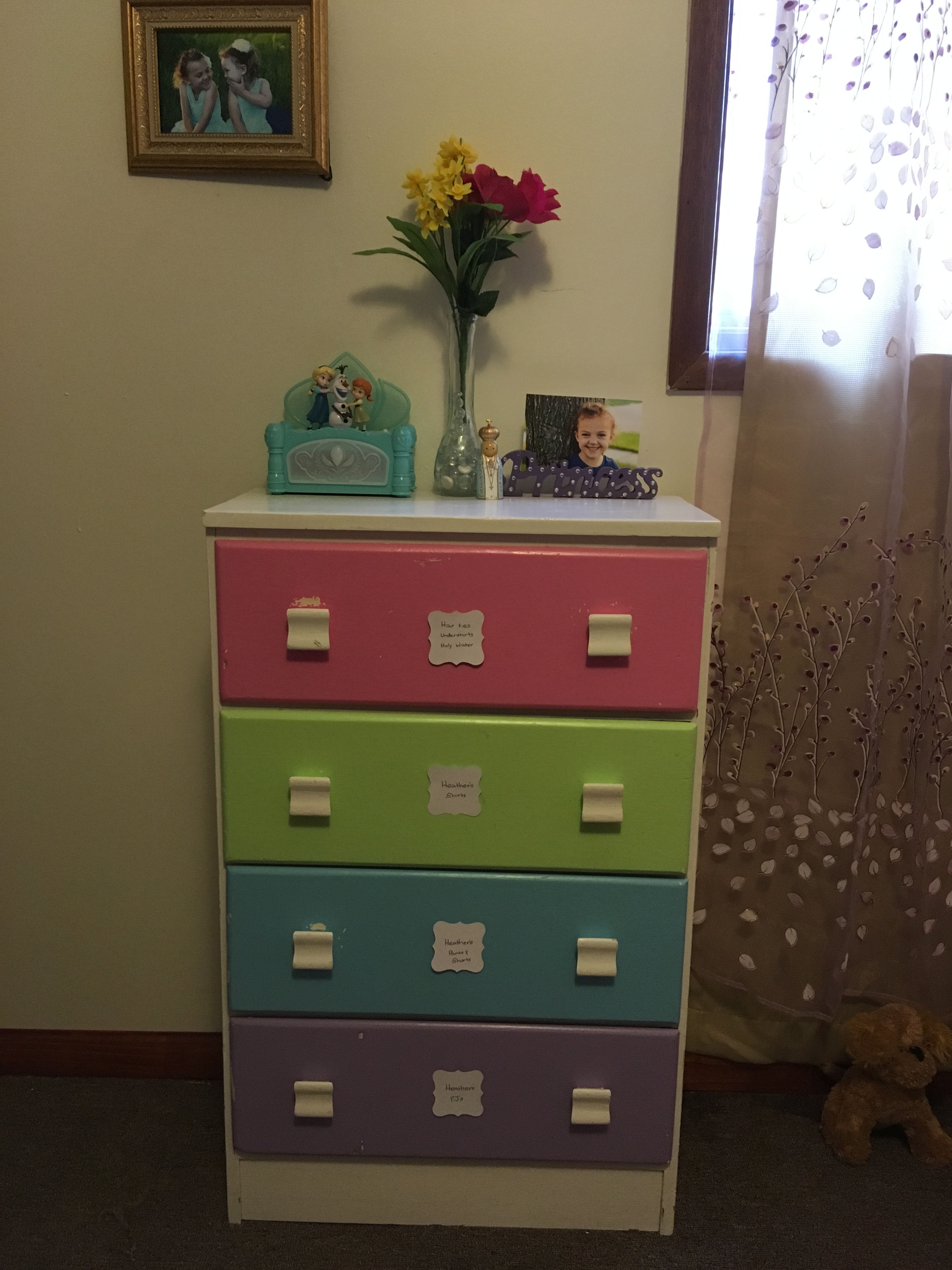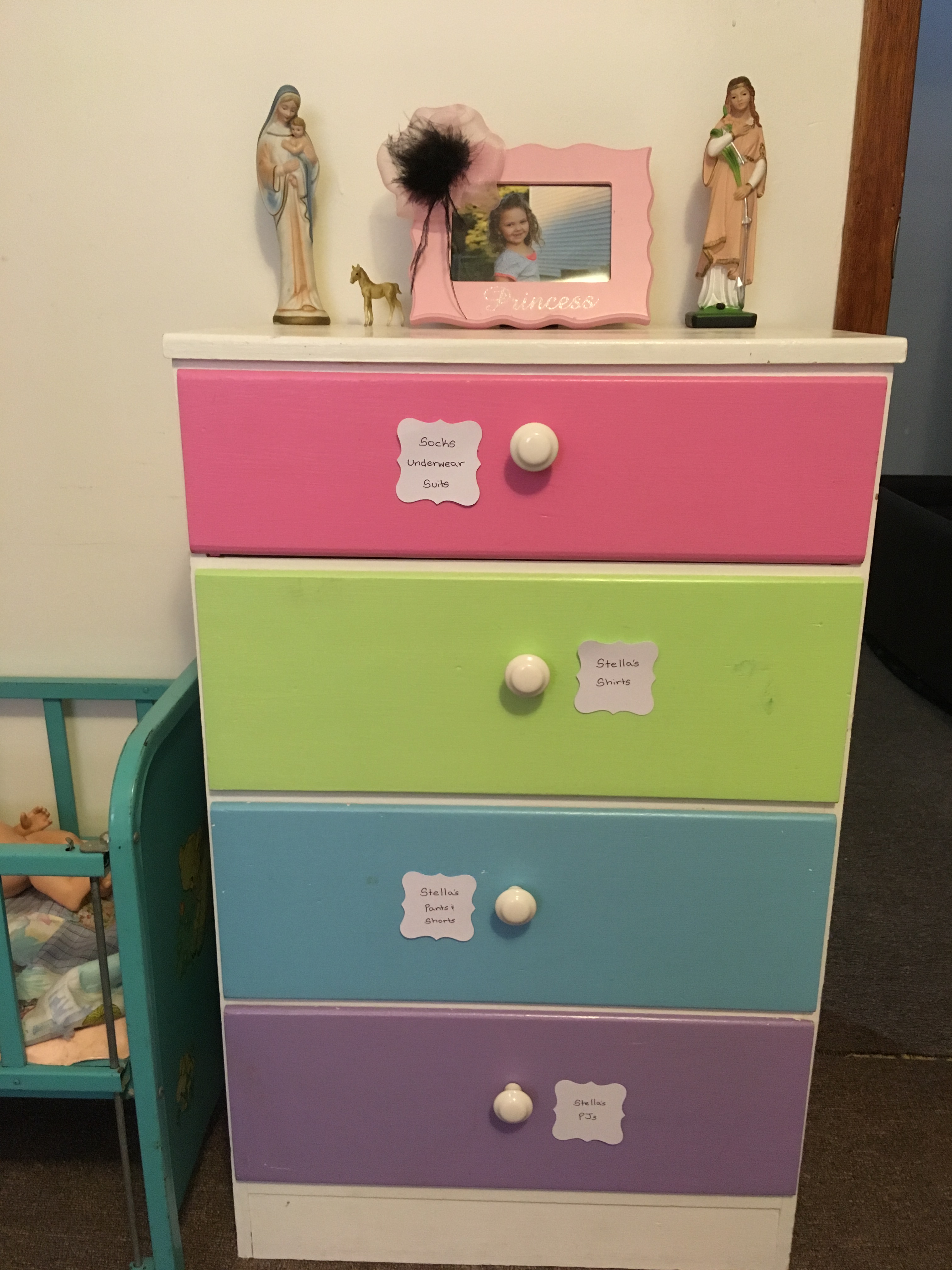 This picture ribbon board hangs on the wall by the closet and is a perfect way to display all their hairbow clips.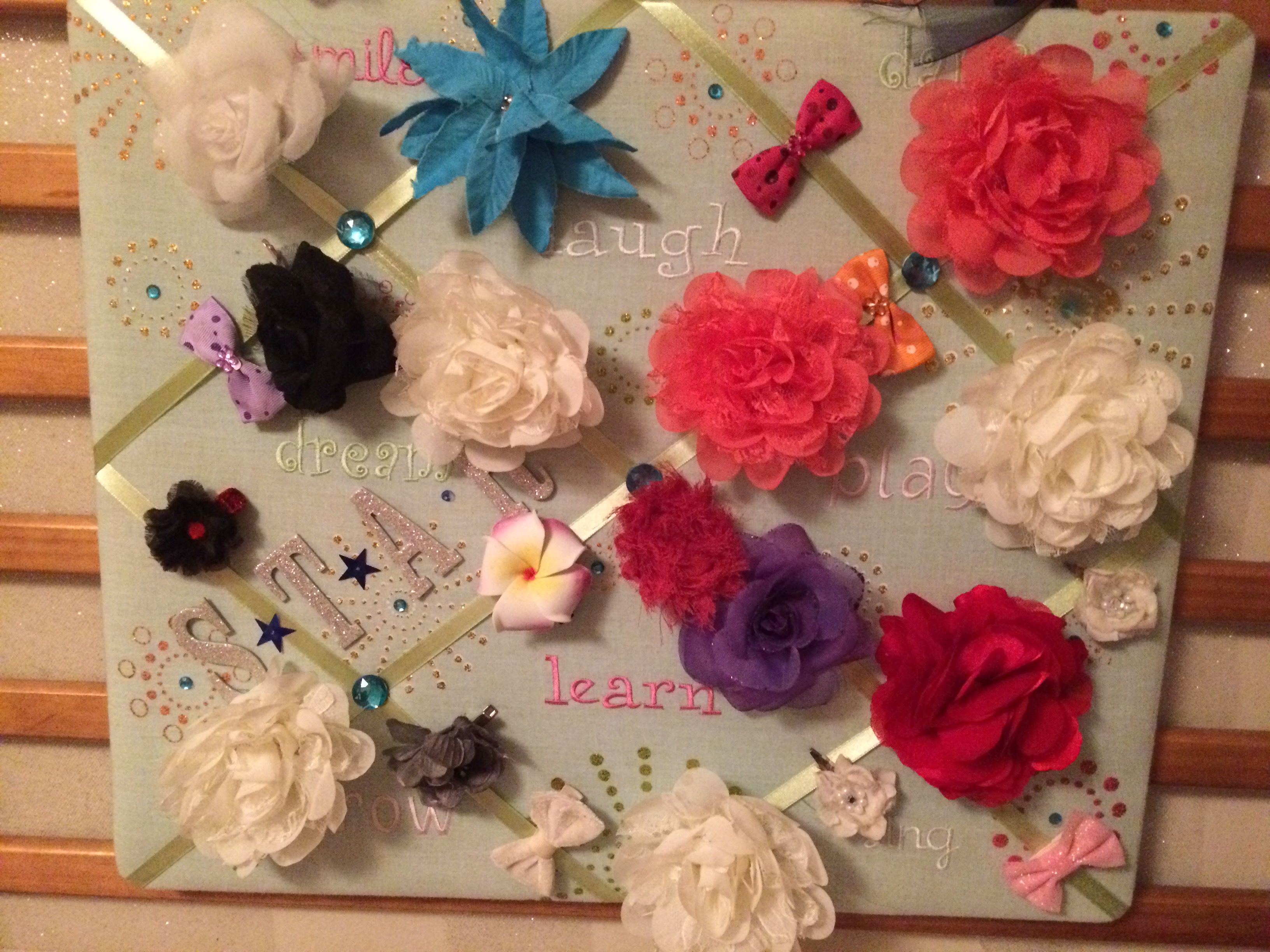 Their toys are stored by type in smaller cloth bins on this oversized shelf that I repainted and repurposed from a previous office cupboard. There are also toys in larger sliding bins under their bunkbed.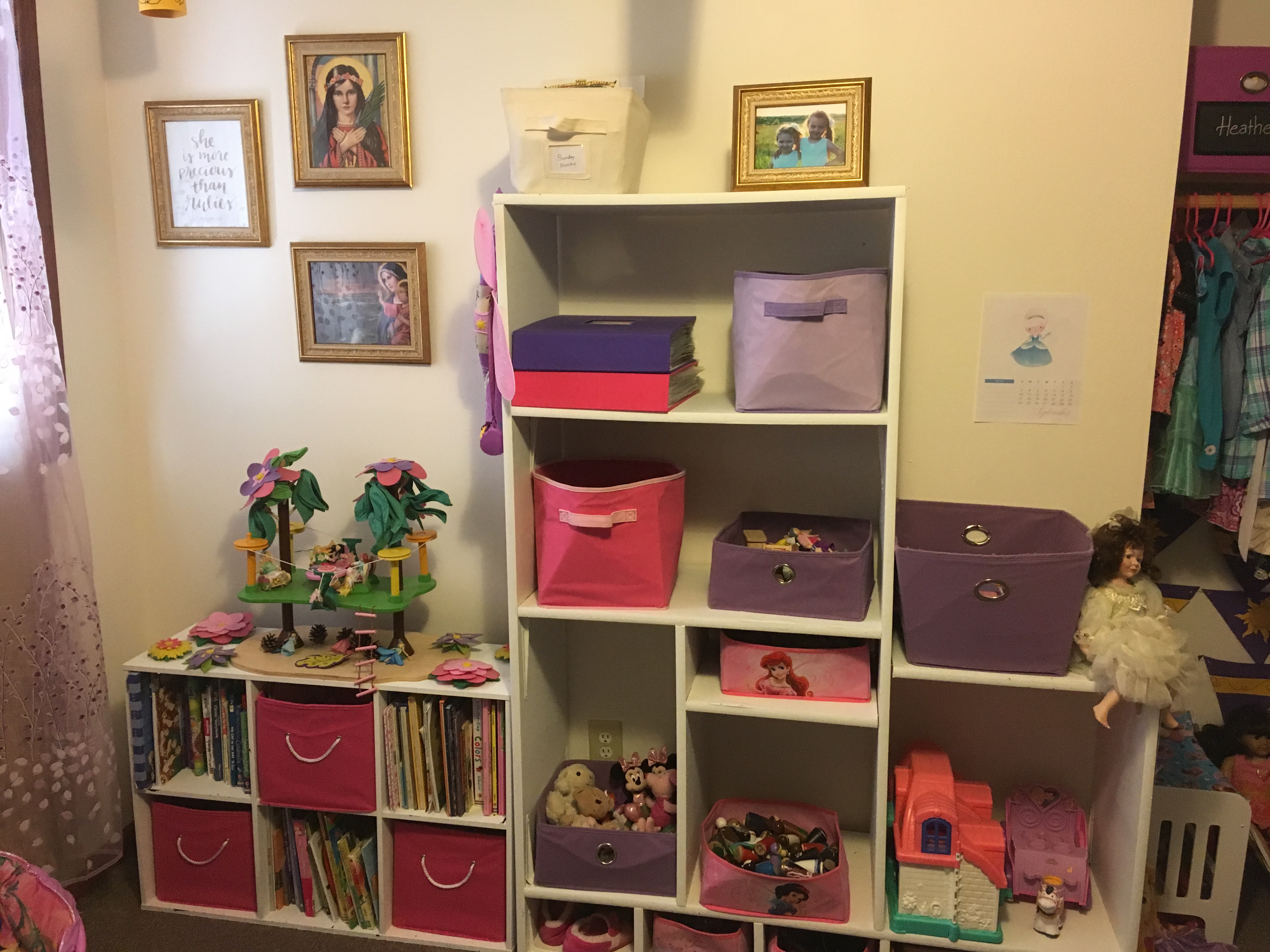 The gold frames on the walls were from Walmart and the pictures about the room are either free printables, purchased Etsy images or photographs from our family photo session.The two pictures below are our daughter's patron saints: St. Philomena and Stella Maris. The printable: "she is more precious than rubies" is from Hope Ink Shop.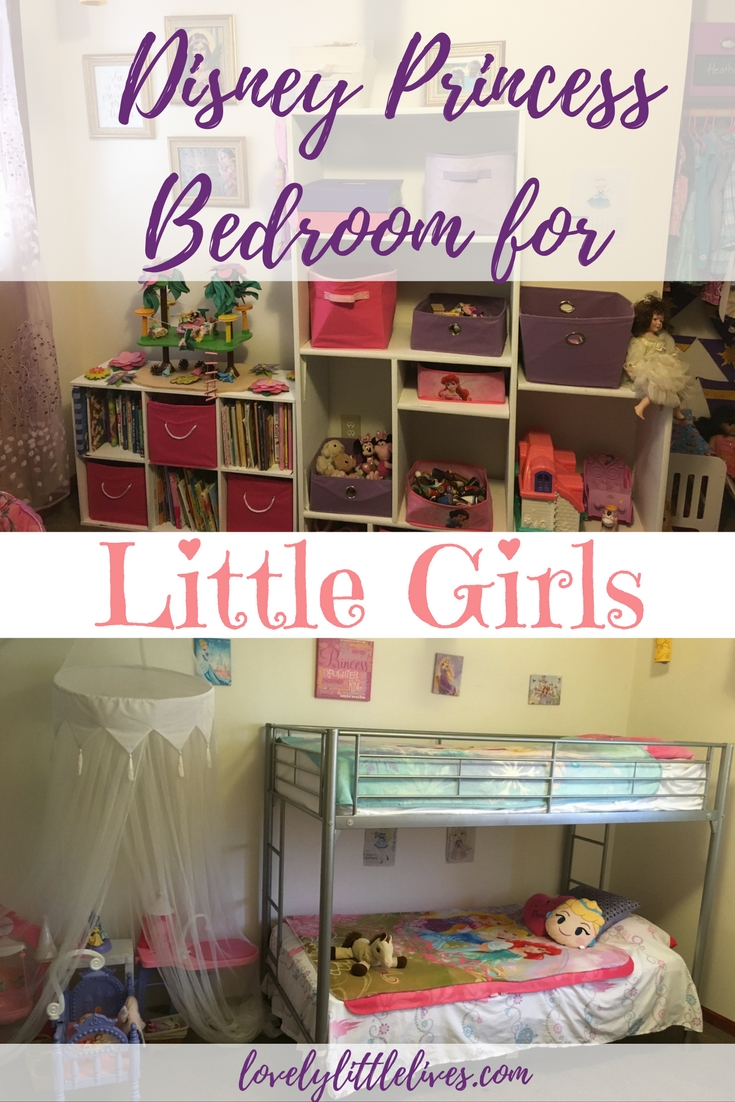 The fairy house that I found second hand sits on top of their bookshelf. I placed the bookshelf right next to the one window in the room to create a book corner with a rug and a little princess chair to encourage reading.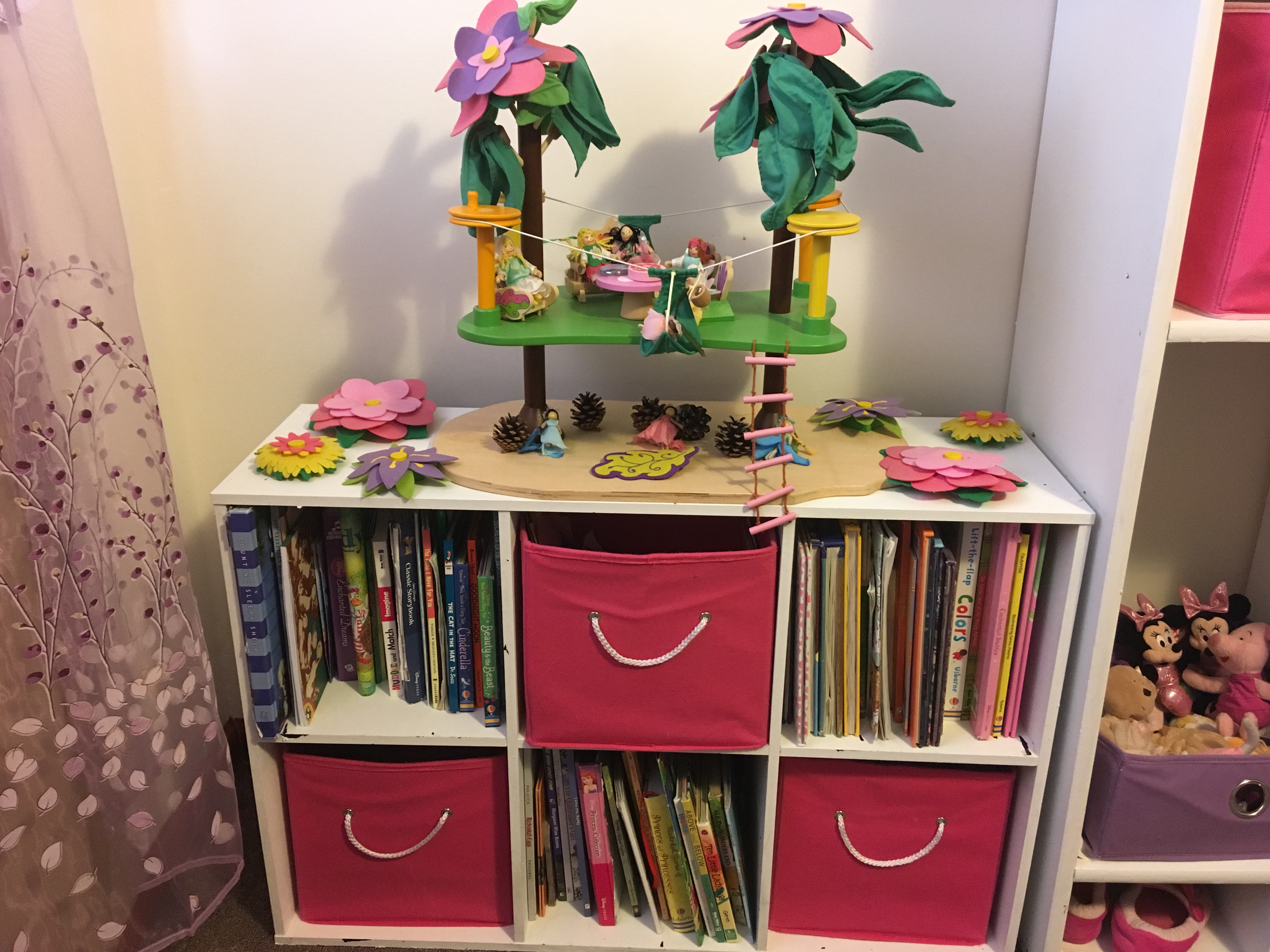 The double curtains for the window include a beige backdrop curtain that I repurposed from the living room and sheer purple curtains from Amazon.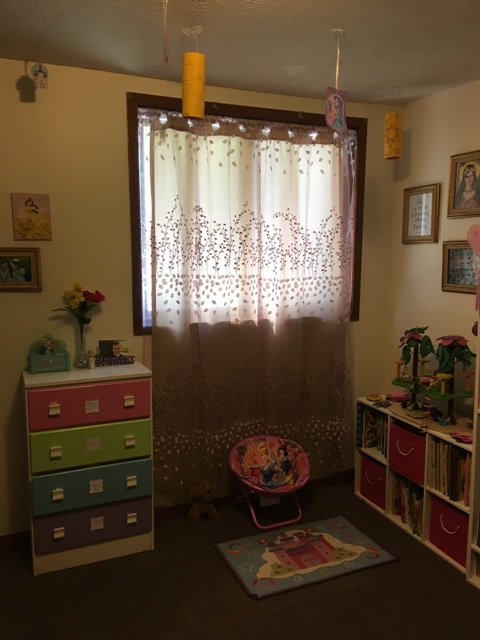 Their bunk beds have princess sheets, pillowcases and fleece blankets from Amazon. The princess canvas art along the wall is from Hobby Lobby and Walmart. Next to the bunk bed is a white princess canopy and a baby doll play center both purchased second hand. But of course, you can find similar ones on Amazon.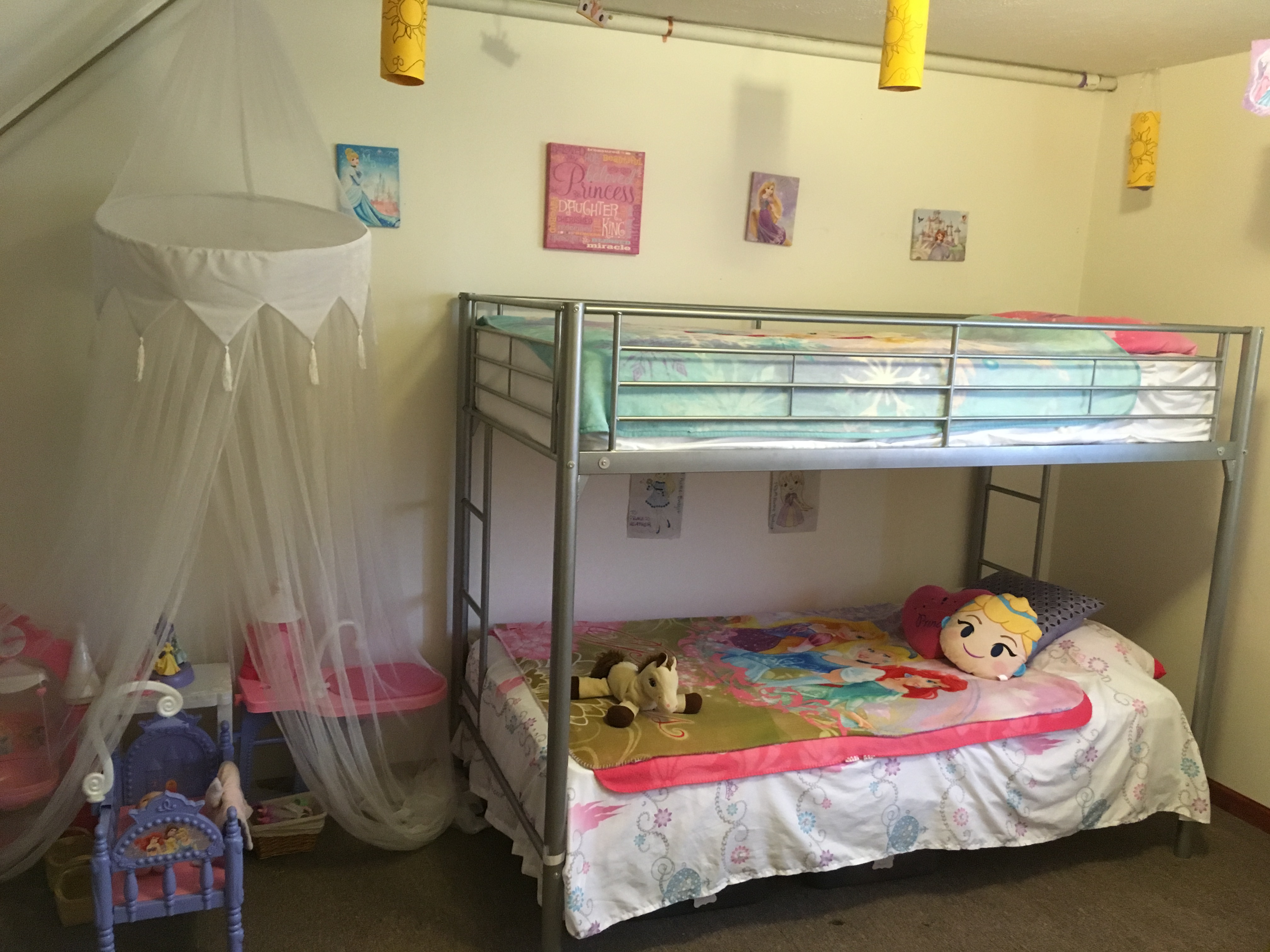 Under the stairs, there is a little nook where I keep their princess play tent with pillows and blankets inside. I have a display on the wall for current family pictures that I made with thumbtacks, mini clothespins, and purple ribbon.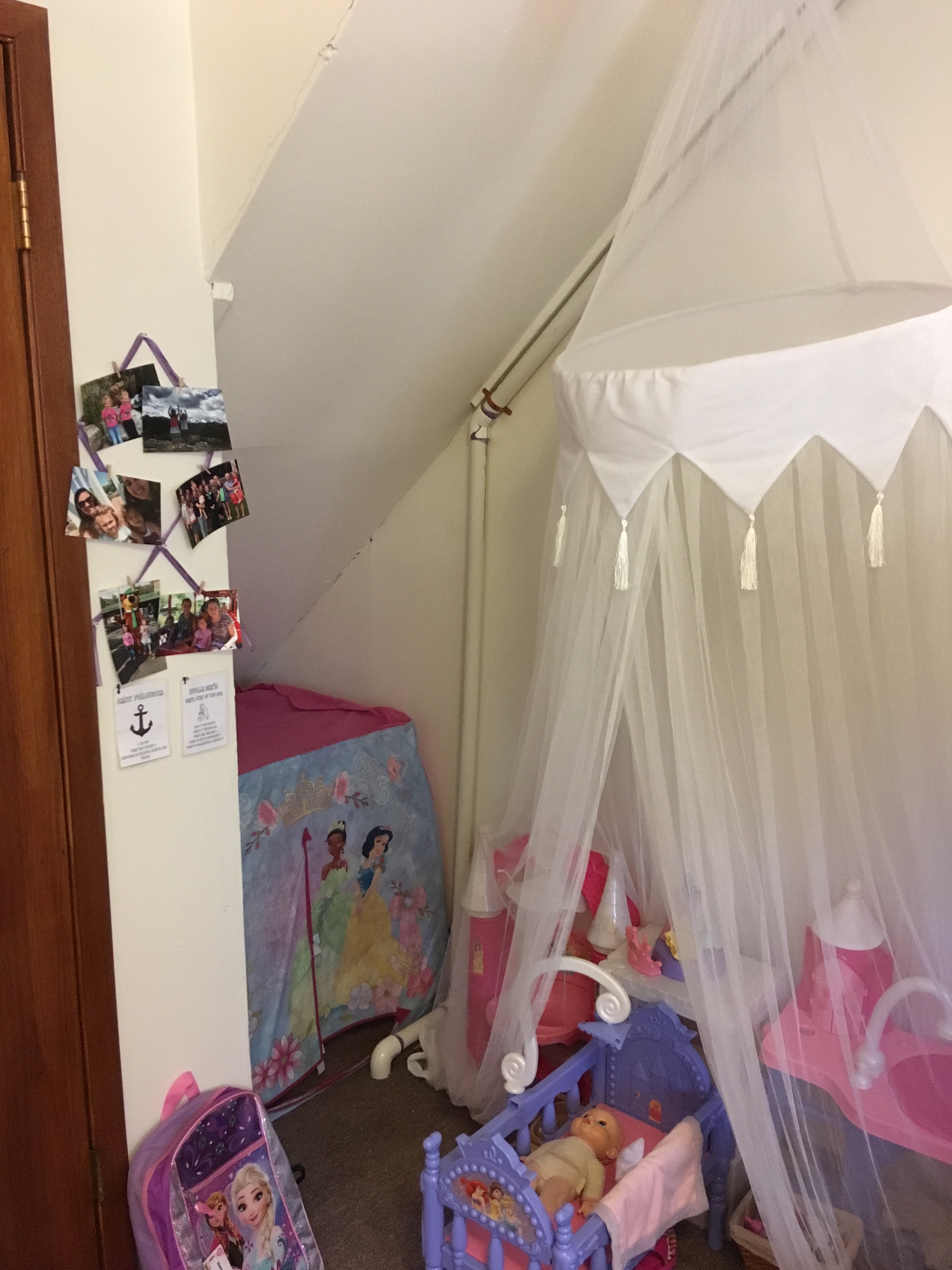 On the back of their bedroom door, I have a hanging shoe rack with their shoes organized vertically by child. The labels at the top have their names with arrows pointing down each vertical row. This keeps their shoes tidy and allows us to grab the shoes on the go.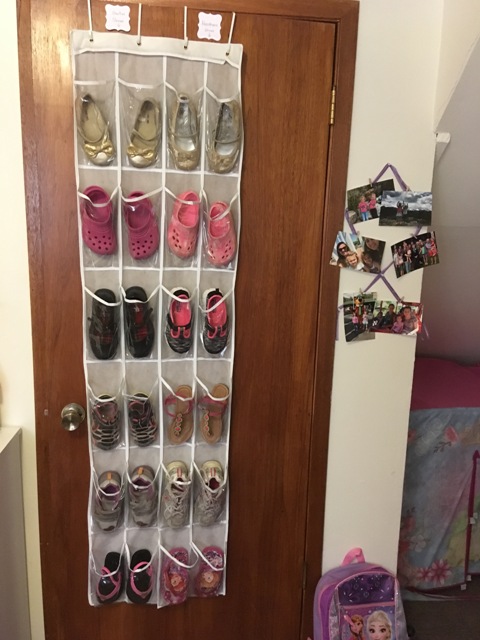 To see the live tour, you can check out my YouTube rendition of the Disney Princess Bedroom:
I hoped you enjoyed this tour of my favorite room in our home. If you have questions about anything in the room, please let me know in the comments! Please pin and share these ideas or save to use in your own daughter's room. If you create a Disney Princess room, I would love to see photos of what you did. Tag me on Instagram or Facebook @lovelylittlelives!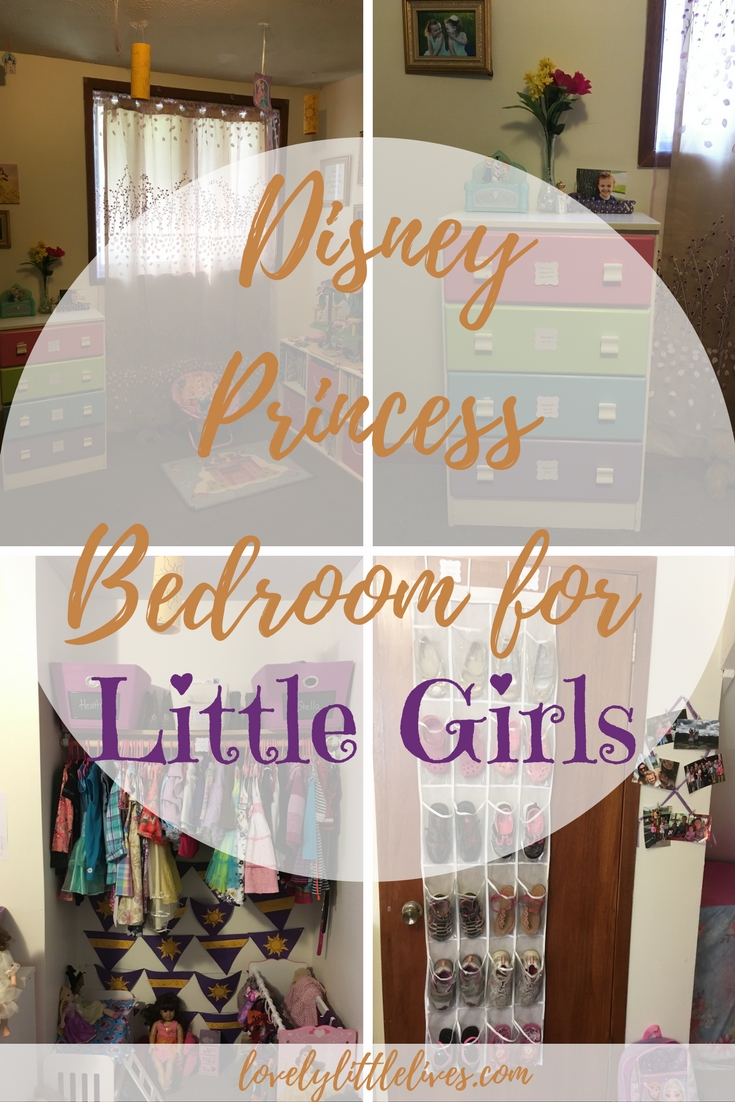 If you liked my organizational tips in this post then you might want to check out my in-depth post on how I organize and declutter my home and snag the free organizational printables: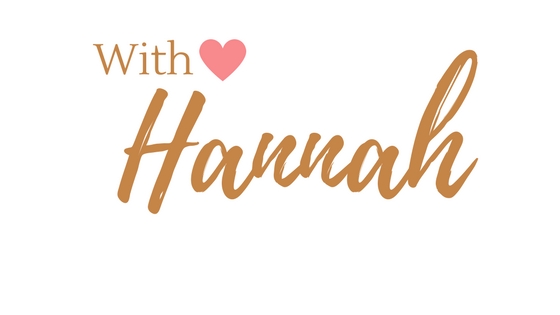 "Finally, brothers and sisters, whatever is true, whatever is noble, whatever is right, whatever is pure, whatever is lovely, whatever is admirable—if anything is excellent or praiseworthy—think about such things" Philippians 4:8.