Today marks a sad anniversary. A year ago today we lost a baby to an ectopic pregnancy. A year ago I was in the ER with terrible cramps, being prepped for the surgery that couldn't be avoided. I was experiencing the first death in my immediate family. The closest grief my heart has ever known began that day as I realized for the first time that healthy pregnancies can not be taken for granted. Like a dip in ice cold water, the shock and the emptiness took my breath away. The helplessness of grief and the darkness of sudden loss was overwhelming. Anyone who has experienced the loss of a loved one knows what I'm talking about.
One minute, everything was fine with my HCG pregnancy levels tripling and the next moment I was being told that my tiny baby was stuck in the fallopian tube and there was no way to save him or her. Faith got me through that heart-wrenching time. And the support and prayers of those around me.
Related Post: Baby Loss-6 Ways to Cope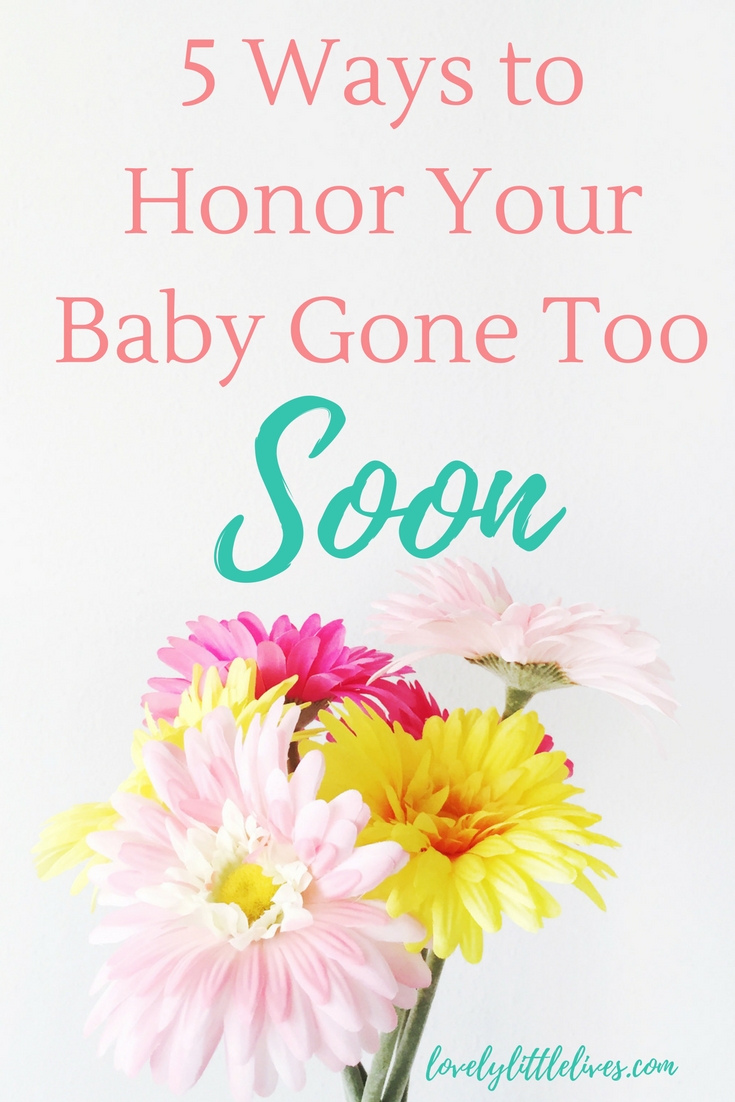 Now a year later, it's hard to believe so much time has already passed. The sense of loss is still with me and it always will be but, as grief does, it becomes less vivid and bitter with the healing of time. I think of my child every day and wonder what he or she would have looked like and remember what age that baby would be at now. I will always have a place in my heart for the little one who never had a chance to live in this life. He or she will always be my third child.
I have found over this past year that it is comforting to remember the baby and to find ways to honor the little life that I carried in my womb for so short a time. Even though the baby has gone onto the next life and we never had a chance to meet him or her, little Austin Mercy is still a member of our family and we will always carry a piece of him or her with us.
If you or someone you know has experienced the loss of a baby either before or after birth, here are my suggestions for honoring and remembering that precious little one.
How to honor and remember your precious baby gone too soon.
Click To Tweet
Affiliate links included below which means if you click through or purchase something through my links. I'll receive a small compensation at no cost to you. see full disclosure here.
Memory book or remembrance journal
You may not have pictures of the baby but you may have memories or thoughts you want to keep alive and writing them down in a journal can be a way to record your grief experiences. You may find it therapeutic to write letters to your child or to just pour out your jumbled emotions from time to time when the aching grief just becomes overpowering. Right after our little one died, I wrote a heartfelt letter in my grief and it was very healing for me to spill all the feelings out.
Related Post: A Letter to My Little One
We also received many sympathy cards and we took pictures at the community memorial service our local hospital hosts for all the babies that have died. These mementos I saved to put together in a small memory scrapbook. There were certain prayers, scripture verses and hopeful moments that all affected me in a positive way during this year of loss and those are items I want to hold dear in a scrapbook because it's all I have.

Name Plaque
A beautiful way to honor your baby is to give him or her a name and display it in your home. Giving the baby a name gives them an identity and makes them more a part of your family even though they are gone. Since our baby's remains are buried in a community crypt we do not have a personalized grave for our child, so we have personalized items around our house instead including:
A small wooden butterfly in a flower bouquet with the baby's name scrawled across it on our dresser.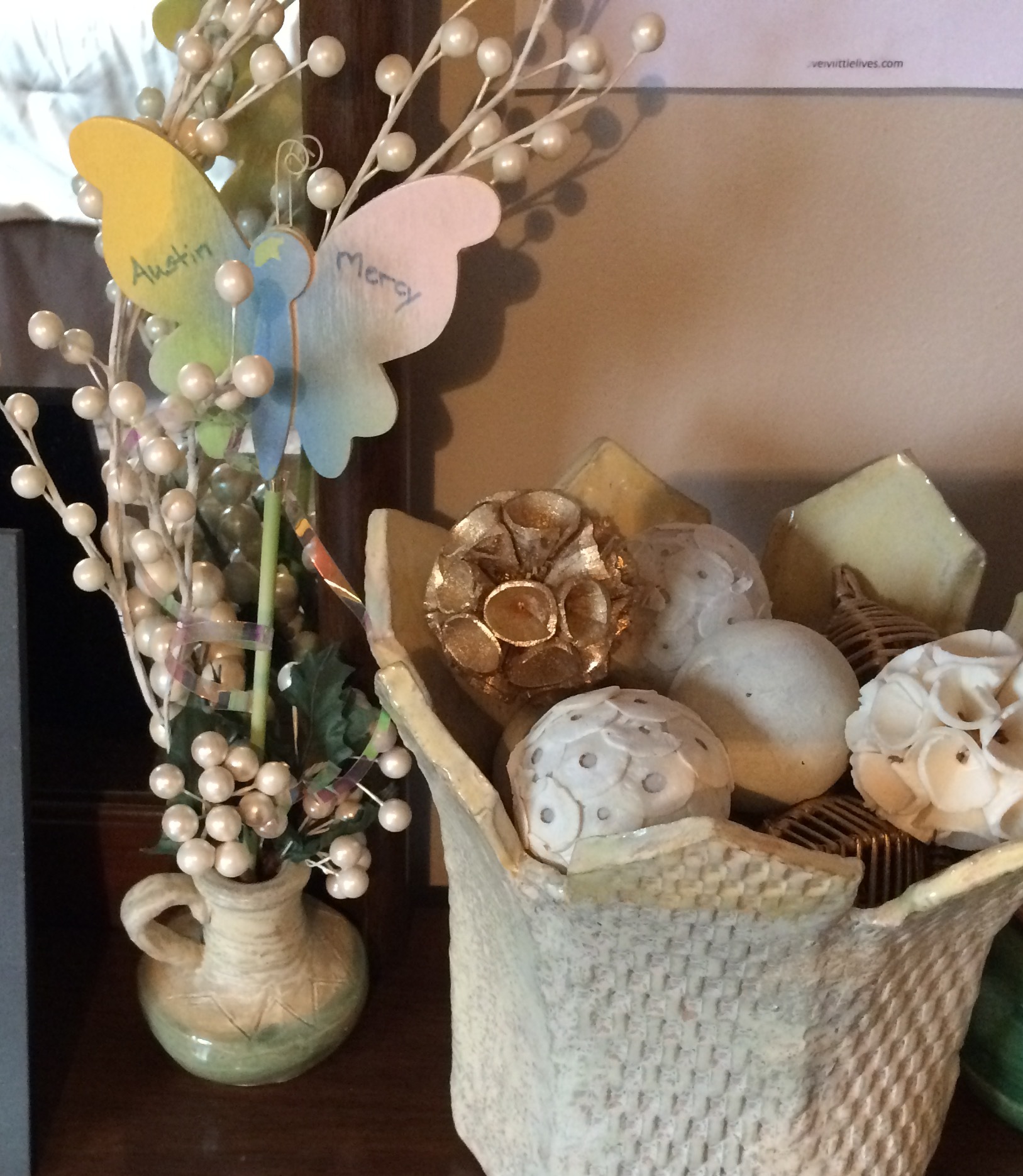 A framed name plaque hung in the kids' room with the death anniversary underneath it so that our older children will always have a visible reminder of their sibling. This print was purchased from Sweet Little Ones Shop and there are plenty of other options on Etsy to order customized name prints. The chalk sign underneath I purchased from Hobby Lobby and painted the year on with white acrylic paint.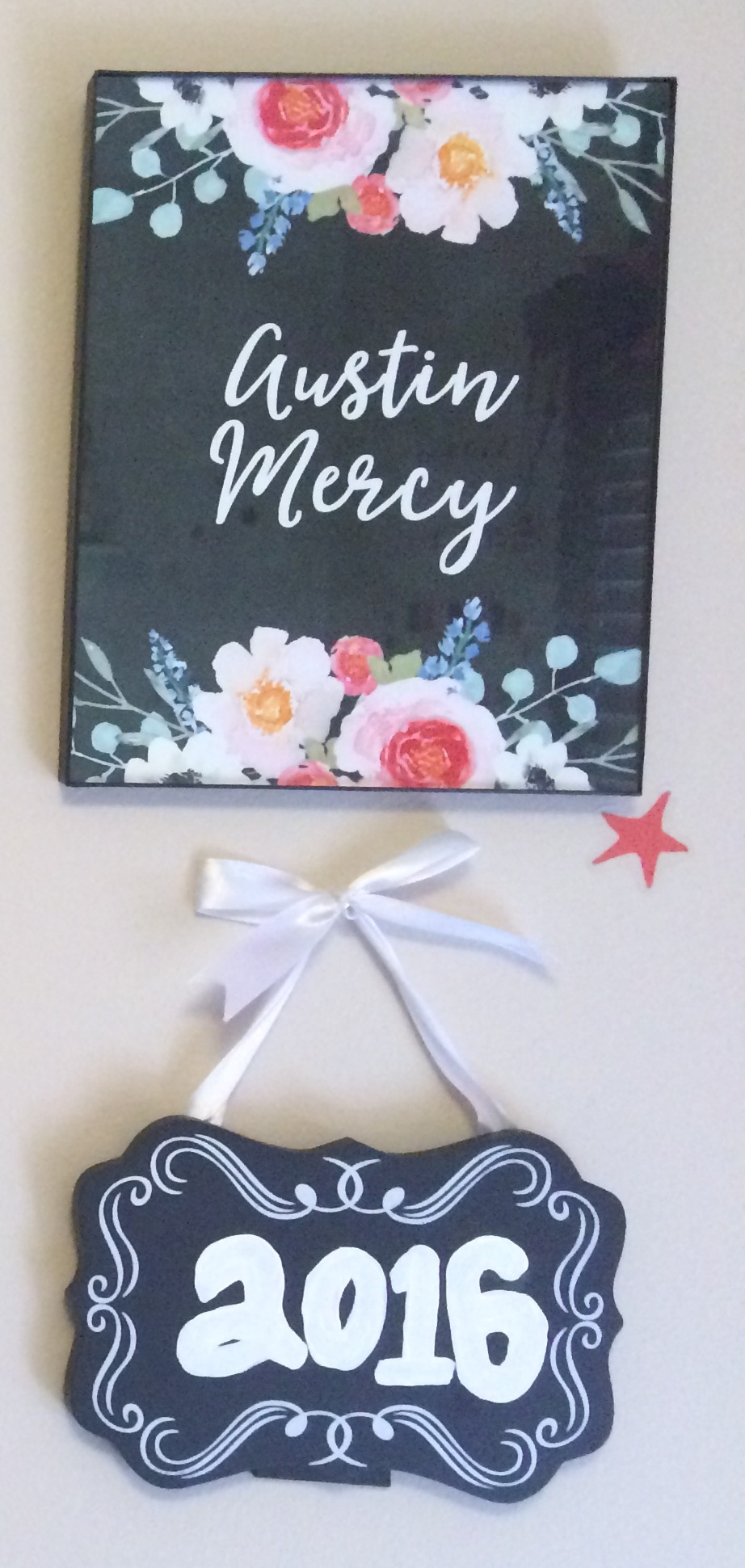 A clear ornament ball with the baby's name handpainted by me that we bring out and hang on our tree at Christmastime.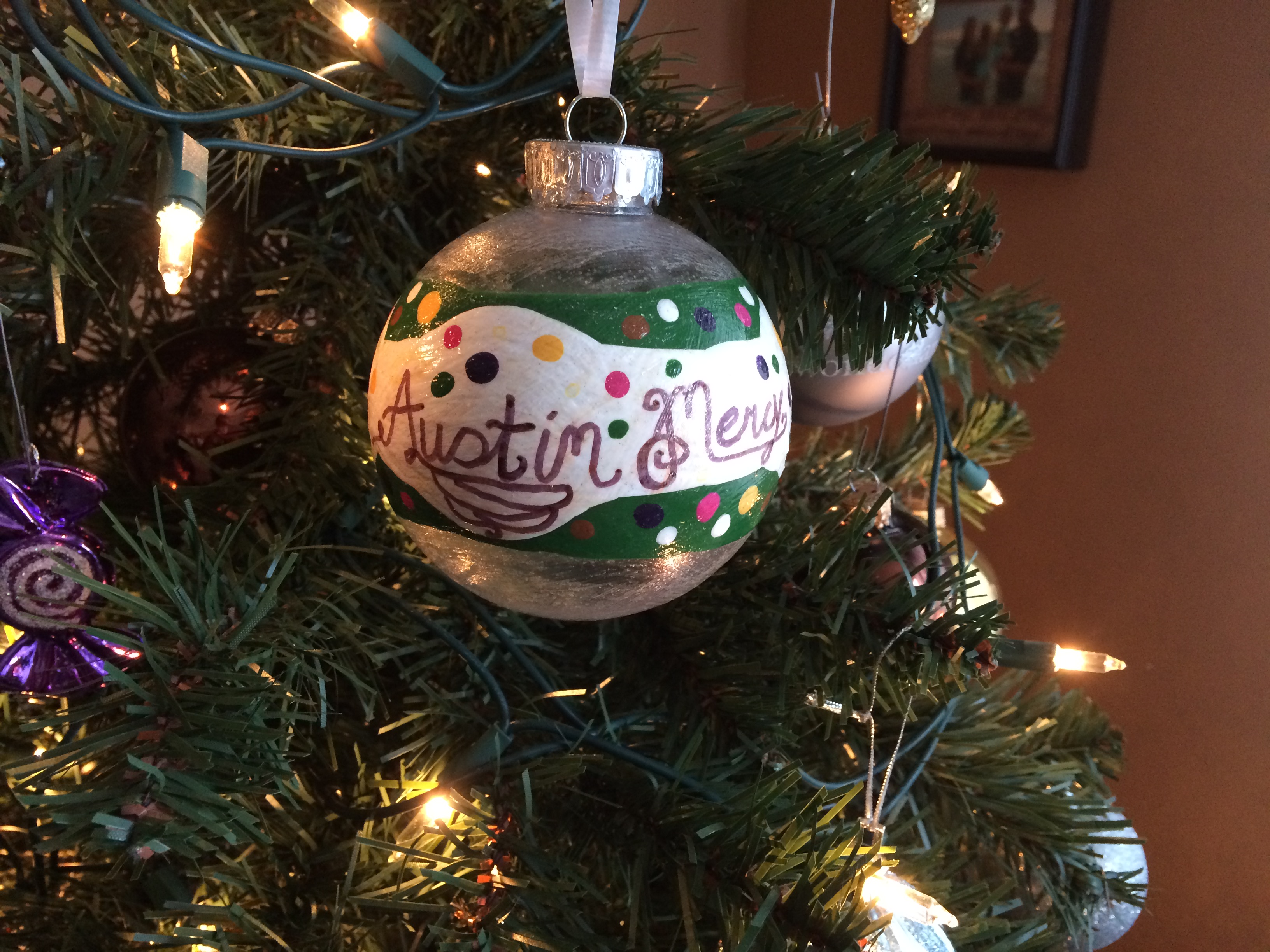 Garden Memorial
In the fall we planted tulips bulbs in honor of baby Austin and this spring they bloomed beautifully. It was a small but comforting gesture to remind us of new life after death and the hope that comes with the spring season. We have fondly named them "Austin's Tulips". I did some research and discovered an online resource that talked about making a baby memorial garden and how different flowers have different meanings in relation to grief. I'm tentatively planning to create one eventually.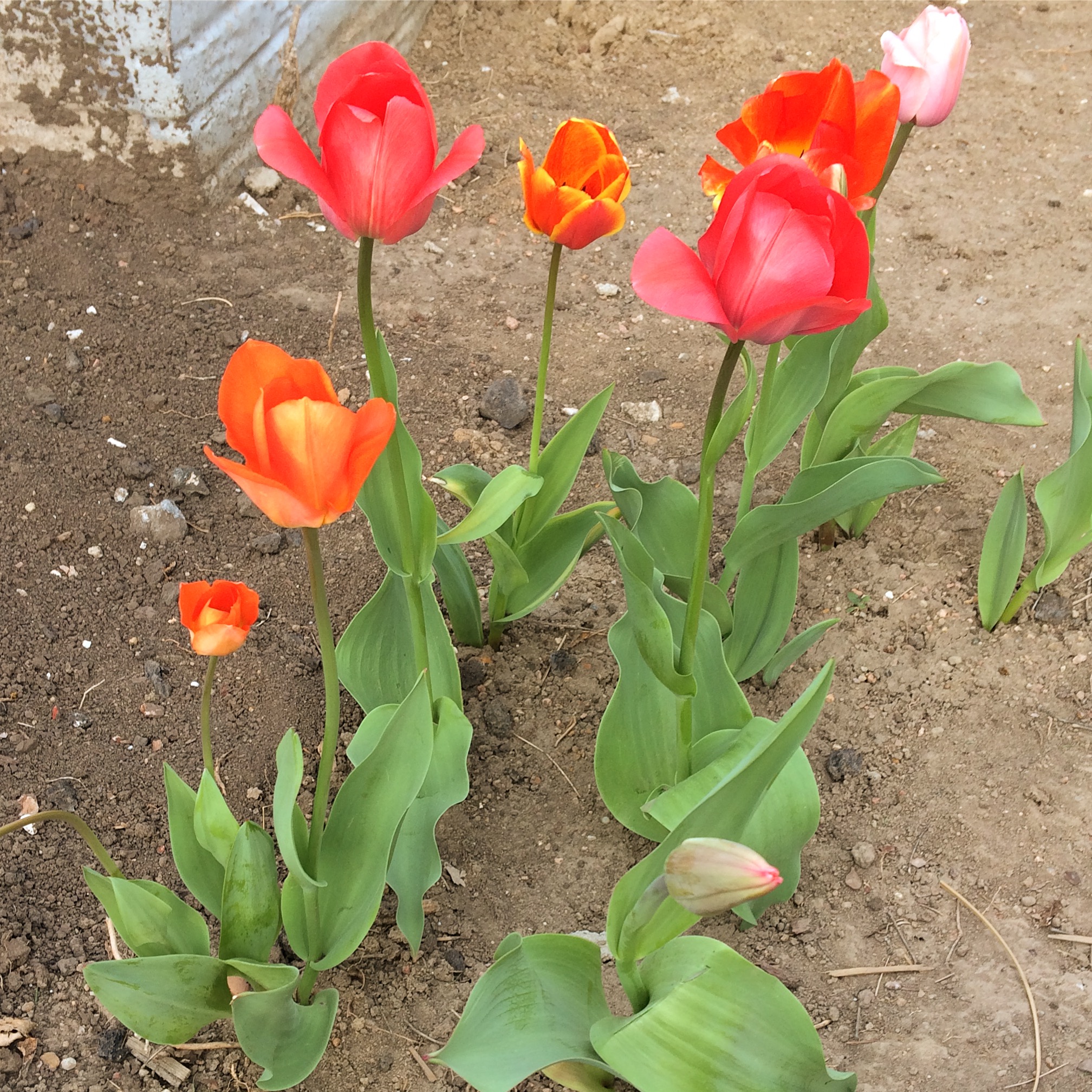 Artistic Pieces
Art has a way of saying more with images than we can often express in words. Here are a few pieces I found that are comforting to gaze upon in times of grief.



Jewelry
It can be comforting to have a piece of jewelry to keep the memory of your baby always close to you in a physical way. A friend of mine made me a charm bracelet with the initials of our baby's name which I deeply cherish. You can find something like that or a locket or a birthstone necklace like this one to remember your little one.

Even though we may not have had much time or even any memories with our babies, they are still a part of us and are members of our families.
When we find ways to remember them we acknowledge and honor their existence, however short it might have been until we can meet again.
Rest in Peace Baby Austin Mercy. 5.24.2016.
I wrote this a few days after we lost our little one: Remembering, loving, missing my precious tiny baby in Heaven today. God's ways are often mysterious, confusing, and hard to bear. Yet His plan is perfect and His way is the best way and someday, all the pieces will make sense when they finally fit together. But in the meantime, as we strive to understand suffering, tragedy, and loss, we place our trust in Him and try to praise Him in this storm. This song brought me comfort in that time of grief:
If you have lost a baby and you want me to pray for you, I have a running list of moms I pray for who are grieving the loss of a little one. Please leave me a comment below and I will add you to the list.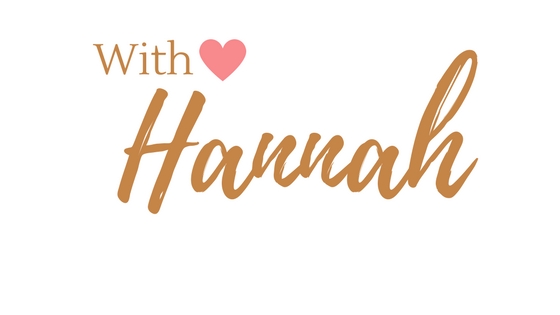 "Finally, brothers and sisters, whatever is true, whatever is noble, whatever is right, whatever is pure, whatever is lovely, whatever is admirable—if anything is excellent or praiseworthy—think about such things." Philippians 4:8